Topps Launching Baseball Card NFTs
Baseball cards are about to hit the blockchain. Topps announced their first set of MLB NFT cards, digital cards that are minted as part of the Worldwide Asset Exchange (WAX) blockchain.
The first set of Topps MLB NFTs uses images from 2021 Topps Series 1. Launching on Tuesday, April 20 at 1 PM EST, there are two different pack types:
Standard Packs – 6 cards, $10 each, 50,000 packs available
Premium Packs – 45 cards, $100 each, 24,090 packs available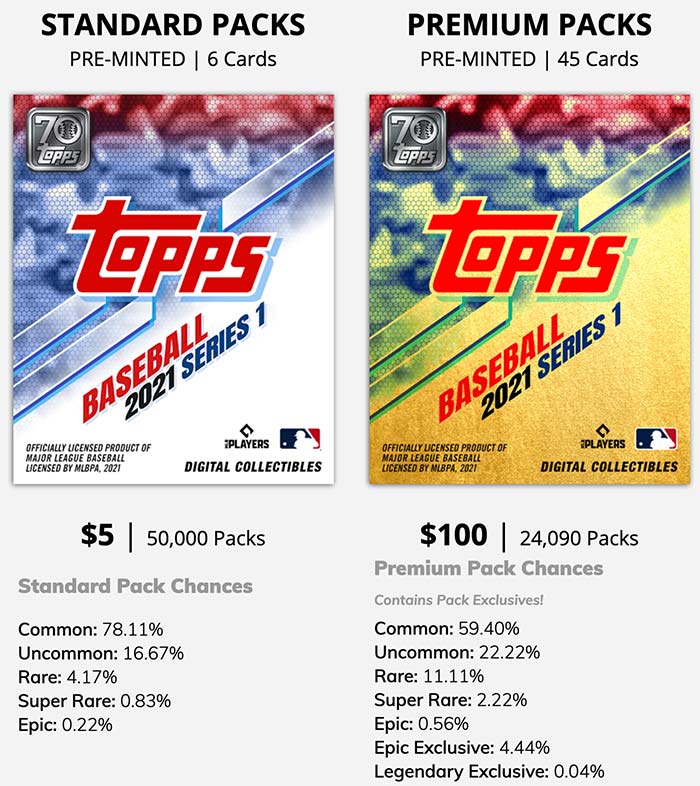 Similar to physical cards, rarity comes into play making some of the NFT cards more scarce than others. In total, there are ten different card types and rarities ranging from Common to Legendary. In many ways, these are like parallels of physical baseball cards.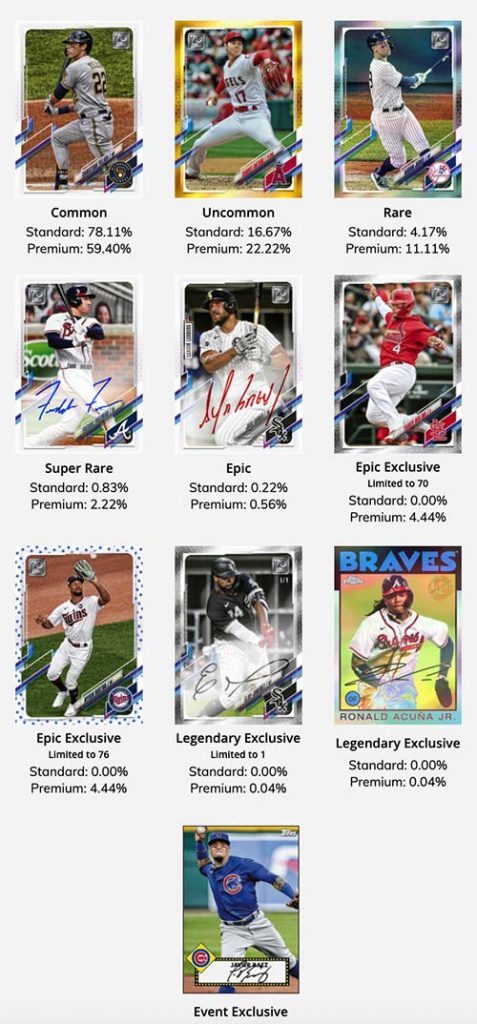 As for the cards themselves, some take advantage of being digital by adding motion elements not typically available on physical baseball cards.
What Are NFTs?
NFT is the short and easy way to say "non-fungible token." At their essence, NFTs are digital collectibles. While they may not exist in a physical form like a traditional trading card, they do become part of someone's collection.
Connected to blockchain technology, this gives NFTs a level of security and authenticity much like ownership of a physical object. Being on the blockchain also track's the item's history and chain of ownership.
Each individual NFT is unique on its own, although, like something printed, there can be multiple copies in a larger run.
Rather than pages and monster boxes, NFTs on the WAX platform are stored in a digital wallet. They can be bought and sold through the platform as well.
NFTs have seen a lot of growth in recent months. In sports it has been most notable in NBA Top Shot. Instead of traditional trading cards, these NFTs come in the form of "Moments," short video highlights.
Not only has Top Shot become popular, but it quickly established a major secondary market presence with some selling for thousands or even hundreds of thousands.
The Difference NFT Cards and Digital Topps BUNT Cards
Topps has been making digital cards for years in its apps like BUNT. But NFTs are different. BUNT cards aren't connected to blockchain technology so collectors have a copy of a card, not something that's individual and unique.
There's also no buying and selling marketplace for these digital cards. Collectors can trade in the app and some do sell on places like eBay, but it's not official. There is the potential for collectors to be taken advantage of if they buy a digital BUNT card and the seller fails to deliver it.
Other Topps NFTs
This isn't the first time that Topps and WAX have partnered on an NFT project. They've already done multiple Garbage Pail Kids series.
Topps recently did a Godzilla NFT set, which coincided with the release of Godzilla vs. Kong.
As for other sports card-related NFTs, Panini has released many for their sports. Some are sold directly while others are part of traditional sports card releases included as digital redemptions.