Topps Is Going Public
When you click on links to various merchants on this site, like eBay, and make a purchase, this can result in this site earning a commission.
For decades, people have been collecting Topps trading cards. Later this year, they will be able to collect pieces of the company. Topps will once again become a publicly traded company on the NASDAQ stock exchange in an agreement announced today with Mudrick Capital.
Through the deal, Topps and Mudrick Capital, is currently traded on the NASDAQ under 'MUDS,' will combine into one new company. When the deal closes, the company will go by the symbol 'TOPP.' The transaction gives the new combined company a valuation of $1.3 billion.
A Big 2020 at Topps
In 2020, Topps had sales of $567 million. That's a 23% increase from $460 million in 2019. More than half of Topps' 2020 revenue, 55%, came from physical trading cards. Digital trading cards accounted for 6% of Topps' 2020 revenue. Candy and confections and gift card production made up the remaining revenue.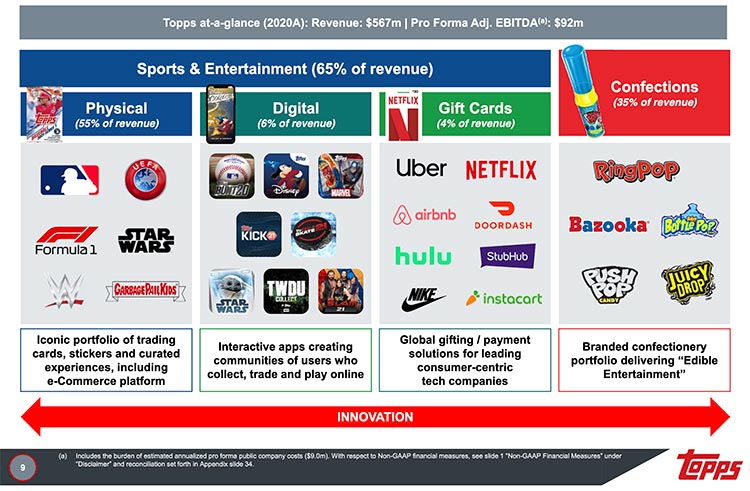 The acquisition is expected to close in late second quarter or early in the third.
The leadership of the new combined company will not see any major changes. Eisner will become Chairman of the board of directors. Michael Brandstaedter will continue to be Topps President and CEO.
"With the support of our new partners at Mudrick Capital, the company will continue its long history of innovation and global expansion, bringing consumers the best of collectibles and confections products while successfully extending into new verticals and emerging categories to take advantage of digital content innovation and high growth opportunities across the globe," Eisner said in a statement.
Topps' Public History
This will be the third time that Topps has become a publicly traded company. The first was in 1972. It went private again in 1984 following a $98 million buyout by Forstmann Little & Company.
Topps went public again in 1987 and remained that way until 2007 when it was acquired by the Michael Eisner-led Tornante Company and Madison Dearborn Partners in a deal worth almost $400 million.
At the time, Upper Deck was also vying to acquire Topps. The Eisner-led group was ultimately successful, though.