Topps Heritage checklist includes Hank Aaron, Willie Mays, Betty White, Keith Olbermann autos and more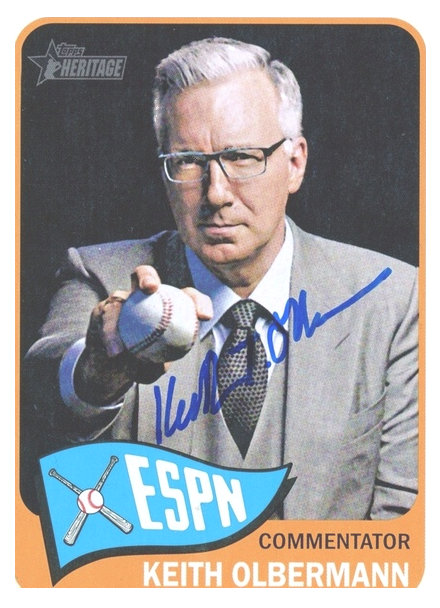 By Chris Olds | Beckett Baseball Editor
The final checklist for this year's edition of Topps Heritage has been released, and there are nearly 60 different signers on the autograph checklist alone as Topps turns back the clock to 1965 in this long-running brand.
Among the signers for this one, which arrives on March 7, are Hank Aaron, Chipper Jones, Don Zimmer, Ernie Banks, Don Larsen, Michael Wacha, Nomar Garciaparra, Willie Mays and plenty more from the past and the present.
Oh, and there will be two Keith Olbermann autographed cards, too — and that's just the solo sigs.
To view or save a copy of the final checklist as released by Topps, click here.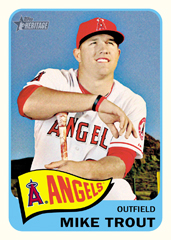 There are 20 1965 Celebrity Cut Sigs cards to chase with, oddly, more than half of the subjects being baseball players. Among the non-players are Art Garfunkel, Betty White, Charlton Heston, Elvis Presley, Jimmy Carter, John Wayne and Jack Lemmon. Notable players in this one include Bob Gibson, Johnny Bench, Ron Santo, Stan Musial, Tommy Lasorda and Tim McCarver.
There are also 20 other 1965 Baseball Cut Sigs cards to chase with some of the notables including Brooks Robinson, Frank Robinson, Johnny Podres, Jim Palmer, Nolan Ryan and Tom Seaver.
For dual Real One autos, there are some nice positional pairings as well as franchise duos. Among them? Ryan and Yu Darvish, Manny Machado and Cal Ripken Jr., Jay Bruce and Frank Robinson, Johnny Bench and Buster Posey, as well as Ken Griffey Jr. and Bryce Harper to name a few.
For Triple autos, there are just five cards — add Fergie Jenkins to that Ryan-Darvish, add Jim Palmer to the Orioles, add Bench to the Reds and throw in a Rod Carew-Josh Hamilton-Don Baylor card for Angels fans and a Bruce Sutter-Billy Williams-Jenkins card for the fans of the Cubs.
The base set will consist of 500 cards (the last 75 being short-prints) with Throwback Uniform, Action Image and Logo Variations to hunt. There are 20 uniform variations, 25 image variations and 25 logo variations in this one with notables such as Mike Trout, Bryce Harper, Derek Jeter and Miguel Cabrera among those getting the switcharoo treatments. (Some players have more than one.) Other variations were not announced.
Among the Rookie Card players in this one will be Xander Bogaerts, Kolten Wong, Nick Castellanos and Billy Hamilton to name a few with nearly all RCs paired on two-player cards like back in 1965. Castellanos and Hamilton will share an RC.
The list of short-printed players is heavy on stars with Yasiel Puig, Jeter, Justin Verlander, Jose Fernandez, Darvish, Paul Goldschmidt, Robinson Cano (Mariners), Matt Harvey and Cabrera among them. There also will be Blue and Red variations, according to the checklist, presumably for retail distribution at Walmart and Target stores as in past years.
There are just three players and four cards in the 1965 MLB Draft insert set — Graig Nettles, Ryan and a pair of Johnny Bench cards. Among the News Flashbacks subjects are Bill Cosby, Muhammad Ali, Joe Namath, The Beatles and The Rolling Stones.
Many of the autograph subjects are players who appeared in the original 1965 Topps set along with other past players. Bill Virdon, Doc Edwards, Don Larsen (Astros), Maury Wills and "The Yankee Killer" Frank Lary are among those on the list.
Signing 1965 Giant box-loaders are 10 players, including Bo Jackson, Craig Biggio, Machado, Palmer and Tom Glavine among others, while names of note on the 10-card autographed Relic list include Cabrera, Goldschmidt and David Freese.  Dual auto Relic signers include Bench, Posey, Yoenis Cespedes, Rickey Henderson, Chipper Hones, Wade Boggs and Evan Longoria.
Players signing Flashbacks auto Relics include Al Kaline, Gibson, Williams, Banks, Frank Robinson, Juan Marichal, Luis Tiant, Wills, Orlando Cepeda and Mays.
Check out the checklist in the link above for more.
Chris Olds is the editor of Beckett Baseball and Beckett Sports Card Monthly magazines. Have a comment, question or idea? Send an email to him at colds@beckett.com. Follow him on Twitter by clicking here.