Topps football complete sets to feature exclusive bonuses again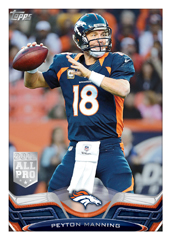 By Susan Lulgjuraj | Beckett Football Editor
The yearly tradition of being able to pick up a complete set in one swoop continues with Topps.
The company released information on 2013 Topps Football Complete Sets on Friday. Once again, Topps will include an exclusive bonus.
Each box will contain the 440-card base set with all the rookies and subsets. But it will also have a five-card pack of numbered orange-bordered parallels.
The complete set comes out in October.
Last season, the completed sets had extras that differed from retail to hobby shops. Hobby shops got the exclusive orange-bordered parallel while several different versions popped in retail including, manufactured relic patches of Robert Griffin III and Andrew Luck, or a five-card rookie photo variation pack.
Susan Lulgjuraj is an editor of Beckett Football. You can email her here with questions, comments or ideas. Follow her on Twitter here. Follow Beckett Media on Facebook and Twitter.