Topps' final Allen & Ginter autograph checklist includes new names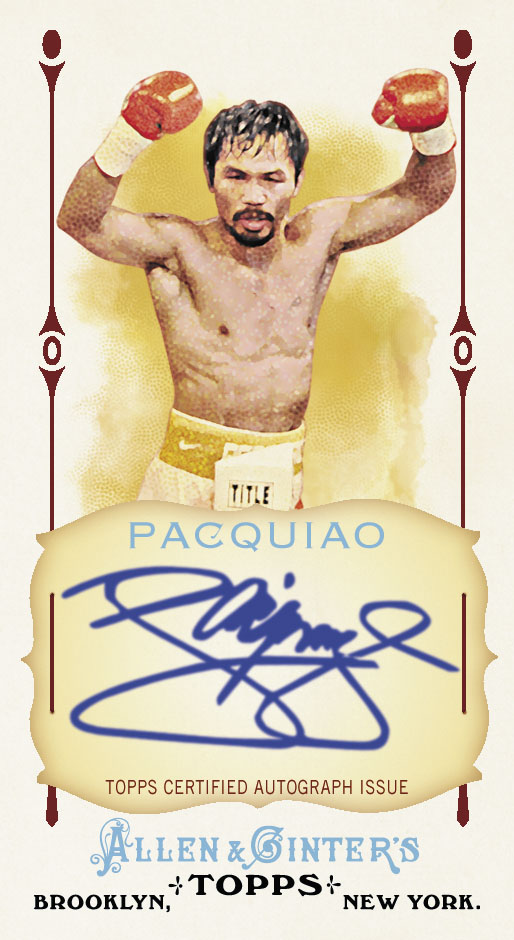 By Chris Olds | Beckett Baseball Editor
With the arrival of one of its most-popular baseball card lines a week away, Topps took the time Wednesday to tout Allen & Ginter's ecclectic autograph checklist comprised of everyone but baseball players.
As it turns out, it's added some new names to the list, too.
New inclusions not previously announced on the preliminary checklist include WWE Hall of Famer Shawn Michaels, Bullpen Gospels author and MiLB journeyman Dirk Hayhurst, Jackass stuntman Wee Man, boxing trainer Angelo Dundee, BMX champ Mat Hoffman and a dual-autograph card of Al Gore and Keith Olbermann among others.
A few of those cards had been teased in recent months but hadn't appeared on any final lists.
See the list of non-baseball signers after the jump.
Aimee  Mullins    paralympic champion / world record holder
Ana Julaton    women's boxing champion
Annika  Sorenstam    women's golf champion
Cheryl  Burke    two-time champion, Dancing with the Stars
Chrissie  Wellington    champion triathlete and Iron Man world record holder
Chuck  Woolery    game show host
Daniel  Boulud    award-winning French chef
Diana  Taurasi    champion women's basketball player
Dick  Vitale    basketball broadcaster
Evan  Lysacek    Olympic figure skating gold medalist
Geno  Auriemma    basketball coach
Guy Fieri    Food Network star and host of Minute to Win It
Heather  Mitts    women's soccer star
Hope  Solo    women's soccer star
Jim  Nantz    broadcaster
Jo Frost    host of Supernanny
John  McEnroe   tennis legend
Kristi  Yamaguchi    Olympic figure skating gold medalist
Kyle  Petty    NASCAR driver
Lou  Holtz    college football coach and broadcaster
Manny Pacquiao   champion boxer
Marc Forgione    restauranteur & winner of The Next Iron Chef
Micky Ward    Boxer and subject of The Fighter
Nancy  Lopez   golf champion
Peter Gammons    baseball writer/broadcaster
Picabo  Street    Olympic skiing gold medalist
Rudy  Ruettiger    College football player and speaker
Sanya  Richards    Olympic track and field Gold medalist
Stan Lee    Marvel Comics icon
Sue  Bird    women's basketball star
Tim  Howard    soccer star
Timothy Shieff    freerunning  and Parkour champion
Eric Jackson   freestyle kayaking champion
Jake  LaMotta    champion boxer and subject of Raging Bull
Wee Man    world's smallest stuntman
Mat Hoffman    champion of BMX and extreme sports
Matt Guy    2011 ACO World Championships "King of Cornhole" tournament winner
Dirk Hayhurst    author of The Bullpen Gospels
Al Gore & Keith Olbermann
Ron Turcotte    champion race horse jockey
Larry Holmes    champion boxer
Rafer Johnson    champion decathlete
Shawn Michaels    professional wrestler
Angelo Dundee    boxing trainer and cornerman
Chris Olds is the editor of Beckett Baseball magazine. Have a comment, question or idea? Send an email to him at colds@beckett.com. Follow him on Twitter by clicking here.