Topps Enlists Some Help to Relaunch Topps of the Class Program
When you click on links to various merchants on this site, like eBay, and make a purchase, this can result in this site earning a commission.
With the new school year underway, Topps is relaunching their Topps of the Class program to give kids some added incentive to do their best in school — and visit participating card shops.
Topps made the announcement recently during their annual Q & A at the National Sports Collectors Convention in Cleveland. To help with the relaunch, the card maker enlisted some help from Brody, a young baseball fan and card collector with a love for Allen & Ginter and Topps Inception.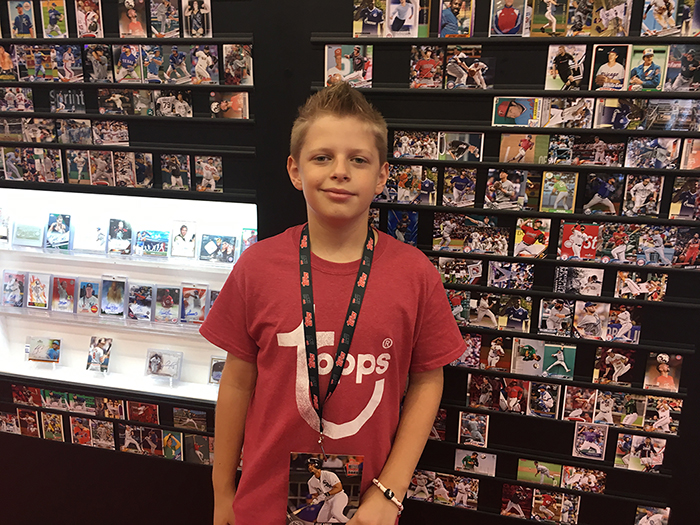 Brody credits his dad as getting him into the hobby. "He collected so I got into it," Brody said.
Brody's journey to being a Topps helper actually started at the 2017 National in Chicago. During that Q & A, Brody got on the mic and asked how he would go about getting a job with the company.
While there were some initial chuckles and a hint of astonishment (Brody was nine at the time), Topps staff didn't forget.
"They let me work for them because they thought it was a great question," Brody said.
Topps staff got in touch with his parents before the start of the 2018 National and put him to work.
Besides making the Topps of the Class relaunch announcement, Brody also lent a hand at the Topps booth during the National. He also did some interviews and helped out during Pack Wars.
The fifth grader counts Jose Abreu as his favorite player. He figures his collection of the White Sox slugger currently has about 100 cards in it.
Topps of the Class Program Returning
The Topps of the Class program revolves around kids visiting participating card shops with their report cards.
"Basically, you get good grades at school and you can bring it to your local card shop and you could receive a gift courtesy of Topps," said Brody.
There is no specific grade criteria but kids do need to be able to show that they're working hard.
Brody explained, "Definitely no D's. That's definitely not going to cut it at all."
During the Q&A, Topps didn't detail exactly what the gifts were but suggested it could be a small binder to start with cards to fill it with in future terms.
With some help from his family, Brody's adventures in collecting and life are being chronicled on Twitter and Instagram.