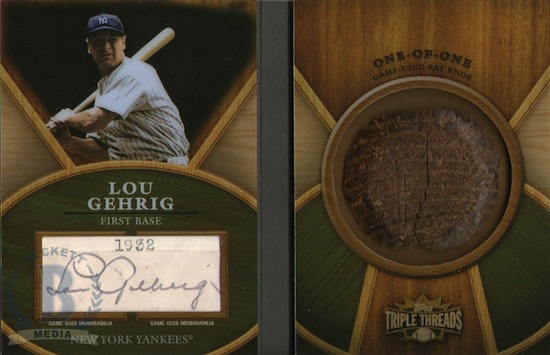 By Chris Olds | Beckett Baseball Editor
Topps has corrected a high-profile mistake on a high-profile game-used memorabilia card for an Arizona-based collector in a pretty grand fashion.
With a cut autograph.
Chris Malav originally received the 2010 Triple Threads Bat Knobs booklet card of New York Yankees legend Lou Gehrig as a gift from a family member last year. In September he needed to sell the card and when it hit eBay, many collectors noted that the two game-used memorabilia pieces on its left panel were not made of fabric used for uniforms during Gehrig's playing days. That's when Topps called.
"I want to acknowledge [Chris Olds] for your observation and article and Mark Sapir at Topps for going beyond doing the right thing," said Malav, a thirtysomething long-time collector of autograph cuts and 1/1 cards. "Maybe this card can generate enough interest and put some 'spark' back in the hobby."
—
Malav said he "got a ton of emails on eBay" after the Beckett story, which noted that Topps would be looking into what happened in its processes for the mistake to happen.
"[I] also suspected something was 'off' when [the auction] got over 800 hits in less than 24 hours," he said.
After the card made the rounds, Topps contacted Malav.
"I was initially contacted by Topps management to see if the card could be sent to them for review," he said. "After they reviewed the card, they said they were going to correct the problem. During the past three months, we have maintained contact with each other throughout the process."
Landing such an impressive card is rare — but a glaring mistake on a card of that caliber was one that disappointed many collectors. Now, though, it's way more impressive to Malav.
"The card was already incredible because it had Mr. Gehrig's game-used bat knob alone," he said. "But now it is off the charts with the cut auto! Also, very cool that it has a story behind it, too."
So, what are Malav's future plans for the card?
"Ideally, I would like to pass it on as an inheritance — we are talking about a game-used bat knob and cut autograph from one of top ballplayers of all time," he said.
"But the reality is, we all have bills."
Chris Olds is the editor of Beckett Baseball magazine. Have a comment, question or idea? Send an email to him at colds@beckett.com. Follow him on Twitter by clicking here.