Topps confirms final checklist for Major League autographs in upcoming Archives set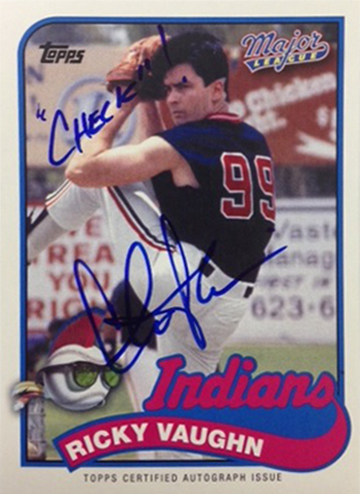 By Chris Olds | Beckett Baseball Editor
The red tags were put into lockers so we now know who's in the Major League autograph set coming in 12 days from 2014 Topps Archives.
The 25th anniversary of Major League will be celebrated with autographs from five cast members as confirmed by Topps on Friday: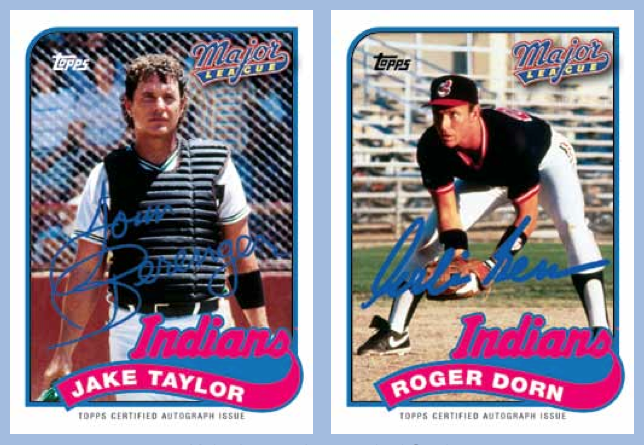 Corbin Bernsen — aka Roger Dorn, the ground-ball phobic, high-paid veteran diva of the team.
Tom Berenger — aka Jake Taylor, the veteran catcher with bad knees who makes the league minimum.
Chelcie Ross — aka Eddie Harris, the old-timer who preaches the benefits of jalapeno, Bardahl, Crisco and Vagisol — and also steals Jobu's rum.
Margaret Whitton — aka Rachel Phelps, the ex-showgirl wife of late team-owner Donald Phelps who just wants to move the team to Miami to ensure her dog doesn't have to eat real dog food.
Charlie Sheen — aka Ricky Vaughn, a veteran of the California Penal League who finds his control and becomes a rebellious superstar with a pair of black horn-rim glasses.
>>RELATED: Olds details what he would do with a Major League set and creates cards, too.
Sheen is no stranger to signing for card companies as he has 73 certified autographs in the Beckett.com database (click here for checklist), but this will the first to show him on an officially licensed, studio-backed Major Leaguecard. In 2011, he signed 60 cards celebrating Topps' 60th Anniversary for the company's American Pie release. Bernsen also has signed for a few non-sport releases, while Ross, Whitton and Berenger are first-time signers for certified autographs from card companies.
Company officials have not disclosed details on the checklist or odds/production volume for autographs or the standard cards to be found in Archives.
Topps also announced that Chicago White Sox slugger Jose Abreu has been added to the autograph lineup for the product, while cards for the film The Warriors have been removed from the product due to a production error.
Chris Olds is the editor of Beckett Baseball and Beckett Sports Card Monthly magazines. Have a comment, question or idea? Send an email to him at colds@beckett.com. Follow him on Twitter by clicking here.
MORE MAJOR LEAGUE
>> First Look: 2014 Topps Archives
>> Olds details what he would do with a Major League set and creates cards, too.
>> A long-awaited Major League mailday
>> BACK ISSUES: Beckett Sports Card Monthly's Sports Movies Issue (2011) and the 2013 issue with 42