Topps confirms Axl Rose, Yasiel Puig autographs will appear in Allen & Ginter baseball set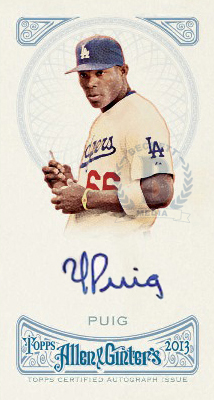 By Chris Olds | Beckett Baseball Editor
Perhaps they can be called sweet cards o' mine?
Topps confirmed to Beckett Media on Wednesday that Guns N' Roses frontman Axl Rose and Los Angeles Dodgers rookie Yasiel Puig will have autographed cards in the forthcoming Allen & Ginter baseball card set that arrives on Aug. 7.
The product styled after the late 1800s products of the same name will include nods to "world's champions" in other sports beyond baseball as well as newsmakers in pop culture and beyond. This year's version will include a few musicians as well as a set of guitar pick Relics.
Topps Assistant Brand Manager for Baseball Jon Einalhori confirmed the inclusions in an interview on Wednesday for the September issue of Beckett Baseball.
Here's a short excerpt from the piece:
Q: How about Axl Rose autographs? Seems like an easy one to piggy-pack with Archives, especially considering it seems like there might be a bigger music presence this year.
A: Just as we were thinking! He is indeed in the product and a subject who we are extremely excited about.
Q: Ginter has had plenty of stars from "other" sports as well as pop culture. Which past autos surpassed in-house expectations receptions-wise – and which do you think will have the most buzz this year?
A: Obviously every year we have our "can't-miss" subjects: Manny Pacquiao, Arnold Palmer, Michael Phelps, Roger Federer, Tony Hawk, Serena Williams, Mike Tyson, etc. We expect subjects like Pele, John Calipari, Nick Saban and Roy Jones Jr. to continue that tradition this year. There are also some very exciting names to watch, such as Nik Wallenda, Lindsey Vonn, Chrissy Teigen, Bud Selig and Mark Cuban to name a few, who are all notable in their respective fields and could see Kate Upton-like popularity in their Ginter autos.
 Q: I presume the Ginter Code will be back once again — and this time code-breaking has its own insert set. Any teasers or clues for the code-breakers seeking any clues right here?
A: Only @TheGinterCode can help you there. He hasn't released any clues yet, but it's about time.
Look for more on this year's edition of Allen & Ginter in the September issue of Beckett Baseball arriving in hobby shops next month.
— RELATED: Ginter to include non 1/1 Babe Ruth Relics for first time
Chris Olds is the editor of Beckett Baseball magazine. Have a comment, question or idea? Send an email to him at colds@beckett.com. Follow him on Twitter by clicking here.