Topps confirms 60 sparkles in Series 1 baseball set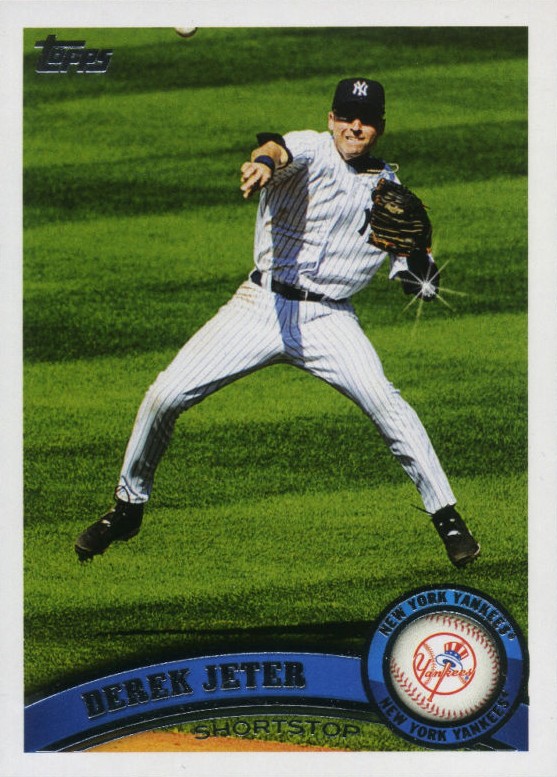 By Chris Olds | Editor
Topps confirmed on Friday morning that 60 cards in the first series of its flagship 2011 baseball set have sparkle variations.
As previously reported here, there is a sparkle — or twinkle — of a diamond digitally placed into the photograph on the short-printed cards. While Topps did not announce how scarce the cards are, they have been falling roughly one per case in hobby and also have been found in retail packs.
Get the full list of 60 after the jump.
1 Ryan Braun
3 Jon Lester
5 Joey Votto
15 David Wright
20 Hanley Ramirez
23 Jaime Garcia
25 Carl Crawford
35 Shin-Soo Choo
40 Justin Upton
42 Mariano Rivera
44 Martin Prado
50 Alex Rodriguez
60 Andrew McCutchen
61 David Price
67 Vladimir Guerrero
70 Kyle Drabek
75 Jered Weaver
78 Mike Stanton
80 Desmond Jennings
100 Albert Pujols
102 CC Sabathia
108 Zack Greinke
110 Aroldis Chapman
120 Mat Latos
128 Manny Ramirez
140 Brett Anderson
150 Miguel Cabrera
165 Jeremy Hellickson
166 Josh Johnson
169 Chipper Jones
174 Roy Oswalt
177 Brian Matusz
195 Nick Markakis
200 Ichiro
208 Clay Buchholz
209 Carlos Santana
210 Brian Wilson
214 Chase Utley
216 Jose Bautista
218 Victor Martinez
236 Nelson Cruz
240 Andre Ethier
241 Wandy Rodriguez
247 Starlin Castro
250 Carlos Gonzalez
255 Torii Hunter
269 Stephen Drew
270 Ubaldo Jimenez
271 Adam Dunn
275 Clayton Kershaw
290 Ike Davis
293 Justin Morneau
294 Luke Scott
299 Chris Carpenter
300 Roy Halladay
307  Alex Rios
315 David Ortiz
320 Michael Young
322 Brent Morel
330 Derek Jeter