2011 Topps Heritage Baseball Short Prints and Variations
Collectors have been examining their 2011 Topps Heritage baseball cards closely since their arrival earlier this month, discovering variations and nods to the past here and there.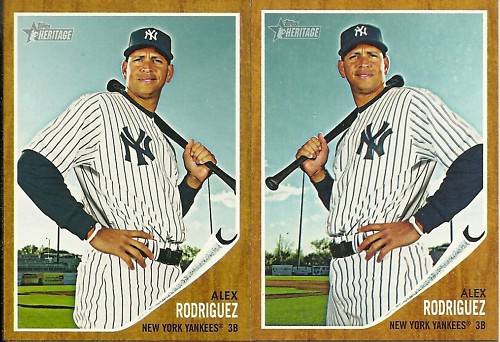 But on Thursday Topps made all the guessing games end as it confirmed a group of variations in the set.
The short-printed base cards are Nos. 426-500, while card Nos. 110-158 and 160-196 have green-tinted variations. There also are blue-tinted versions of those cards found in Walmart loose packs and red-tint cards found in Target loose packs.
Six short-printed variations in the set include:
— No. 490: Alex Rodriguez (reversed negative), a card that has sold for as much as $300.
— No. 125: Vladimir Guerrero (listed as a pitcher on the back)
— No. 139: Joba Chamberlain (normal one is a Babe Ruth Story card)
— No. 279: Bengie Molina (Wrong birthday on back)
— No. 392: Ryan Zimmerman (batting average incorrect on back)
— No. 478: David Wright (Cincinnati Reds listed on front)
Topps also confirmed that Green Refractor Hot Boxes are found one per hobby case. It also confirmed that the Babe Ruth Story cards have a short-printed Jackie Robinson Story counterpart that also can be found with as a limited edition Relic card.