Topps Chrome Basketball Is Coming Back, But at What Level?
When you click on links to various merchants on this site, like eBay, and make a purchase, this can result in this site earning a commission.
Tyler Herro is at the center of some sports card speculation thanks to something he posted on his Instagram. The former University of Kentucky player showed off some basketball cards he'd signed. With the NBA Draft coming up, that's to be expected. But these were Topps Chrome basketball cards, something that hasn't been seen since early 2009-10 when Stephen Curry was a rookie and James Harden had no beard.
What does this mean? While it does look like we're getting new Topps Chrome basketball cards, there are still several scenarios for these cards. We have reached out to Topps and have not heard back on any specifics.
Let's look at some of the possibilities and speculate on their likelihood.
1. Are Both Panini and Topps Making NBA Basketball Cards in 2019-20?
Crystal Ball Says: Not Happening
Topps is not returning to the NBA basketball card market, at not for Tyler Herro's (and Zion Williamson's) rookie season. A quick glance at Herro's signed cards show that no NBA marks are present. There's nothing for the University of Kentucky, either.
Panini's exclusive deal at both the NBA and collegiate levels continues in 2019-20.
"Nothing has changed with our NBA and Collegiate licenses. We look forward to celebrating our tenth year as the exclusive trading card partner of the NBA," a company spokesman with Panini said.
2. Is Topps Doing a Draft-Style 2019-20 Topps Chrome Basketball Set?
Crystal Ball Says: Maybe
Basketball cards are going to be big this year with Zion Williamson leading the way. And it could be big enough to entice another player into the market to see what they can do, even in the short term. If anyone were going to jump into the basketball card market for draft-style sets, like Leaf and SAGE do in football, this would be the year.
And if Topps were thinking of doing it, Topps Chrome would be their best opportunity. As mentioned, 2019-20 basketball cards are going to be big. One would think there are opportunities to get in on some of the breadcrumbs, even with a very small number of releases outside the traditionally licensed realm.
With Panini still holding exclusives with the NBA and college teams, don't expect any logos or marks if this turns out to be the case. The Topps Chrome name, the players and their ink would be the driving forces in such a scenario.
Along these same lines, it could be an online-only offering as part of something their Topps On-Demand line. This are usually mini sets with smaller checklists. Many often come with chase elements like autographs. This would probably be an easier fit than a full-blown release and wouldn't require a massive roster of players.
3. Are These Simply Inserts for a Non-Basketball Set?
Crystal Ball Says: Strong Possibility
Here's the thing. While Topps has been without an NBA license for a decade, they haven't full left the market. They've been doing cards and autographs of rookies periodically in the years since. Usually, these are found in Allen & Ginter. In 2018, the set featured autographs from Marvin Bagley III, Mikal Bridges, Jaren Jackson Jr. and Collin Sexton. Willie Cauley-Stein, Sam Dekker, R. J. Hunter and Justise Winslow were all part of 2015 Topps Allen & Ginter.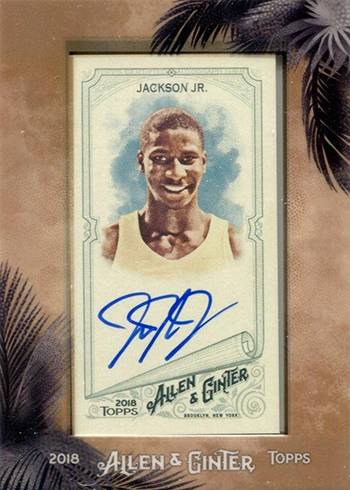 So Topps and basketball have continued, albeit in a much more limited capacity.
It could very well be that the company opted to shift the focus to Topps Chrome instead of Allen & Ginter. And it makes sense.
In the current market, Panini Prizm is one of the most dominant basketball brands gaining popularity at all levels. It was similar for Topps Chrome when Topps had the NBA license. In fact, in its absence, Topps Chrome Basketball might be more popular than ever with key Rookie Cards continuing to climb and the brand being one a lot of collectors look to.
So a very possible scenario might be that Topps is simply moving the basketball inserts they've done in the past to a different banner. If this is the case, it'll be Herro and maybe a few other players with spots on the checklist of another set, possibly 2019 Topps Chrome Baseball.
So there you have it, three possible scenarios in which Topps Chrome Basketball may — or may not — return.