Topps adds some metal to 2013 Archives (with preliminary checklist)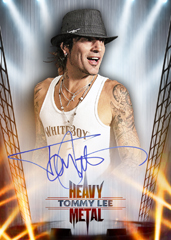 By Chris Olds | Beckett Baseball Editor
Get out the hairspray and dial it back a couple of decades.
It's time for some metal — and some more throwback card designs, too.
Topps announced on Monday that it's adding three additional insert sets to the previously announced 2013 Topps Archives baseball set, and one of them is the chance at autographs from notable musicians from the 1980s.
There will be 10 Heavy Metal Autographs to be found in Archives. Among them? Motley Crue's Tommy Lee, Skid Row's Sebastian Bach and Twisted Sister's Dee Snider. The cards will be limited to 25 copies and printed on metal.

In addition, if that's not enough 1990s action for you, Topps will be including two throwbacks from the baseball card world among the inserts.
There will be 15 Gallery of Heroes cards along with the return of Topps Triumvirates, which were a short-lived insert set that paired three diecut cards together to form one strip.
Along with the arrival of Archives, Topps is planning a two-week hobby shop promotion where a limited number of 25-cent packs will be made available. These will include a parallel card only found in these packs. In addition, a Father's Day promo will allow collectors to bring in a 1980s card and receive a free cello pack of 2013 Topps Series 2. Those packs will include parallels only found as part of this promotion along with randomly inserted autographs.
Topps also will be doing a redemption program tied to Archives where one redemption card will be found in every hobby box good for a throwback single-card pack with a 1950s-1980s card inside.
Chris Olds is the editor of Beckett Baseball magazine. Have a comment, question or idea? Send an email to him at colds@beckett.com. Follow him on Twitter by clicking here.
Here is the raw preliminary checklist for these additions as provided by Topps:
Heavy Metal Autographs
Sebastian Bach Skid Row
Tommy Lee Motley Crue
Kip Winger Winger
Reb Beach Winger
Lita Ford
Bobbie Brown
Stephen Pearcy Ratt
Scott Ian Anthrax
Dee Snider Twisted Sister
TBD
Gallery of Heroes
Babe Ruth New York Yankees®
Mike Trout Angels®
Buster Posey San Francisco Giants®
Derek Jeter New York Yankees®
Roberto Clemente Pittsburgh Pirates®
Jackie Robinson Brooklyn Dodgers™
Cal Ripken Jr. Baltimore Orioles®
Albert Pujols Angels®
Yogi Berra New York Yankees®
Lou Gehrig New York Yankees®
Sandy Koufax Los Angeles Dodgers®
Miguel Cabrera Detroit Tigers®
Ted Williams Boston Red Sox®
Mariano Rivera New York Yankees®
Willie Mays San Francisco Giants®
Topps Triumvirate
1-Albert Belle Chicago White Sox®
2-Robin Ventura Chicago White Sox®
3-Frank Thomas Chicago White Sox®
1-Mike Trout Angels®
2-Albert Pujols Angels®
3-Josh Hamilton Angels®
1-Cole Hamels Philadelphia Phillies®
2-Cliff Lee Philadelphia Phillies®
3-Roy Halladay Philadelphia Phillies®
1-Edgar Martinez Seattle Mariners™
2-Ken Griffey Jr. Seattle Mariners™
3-Alex Rodriguez Seattle Mariners™