Topps adds Rusney Castillo & more to Tribute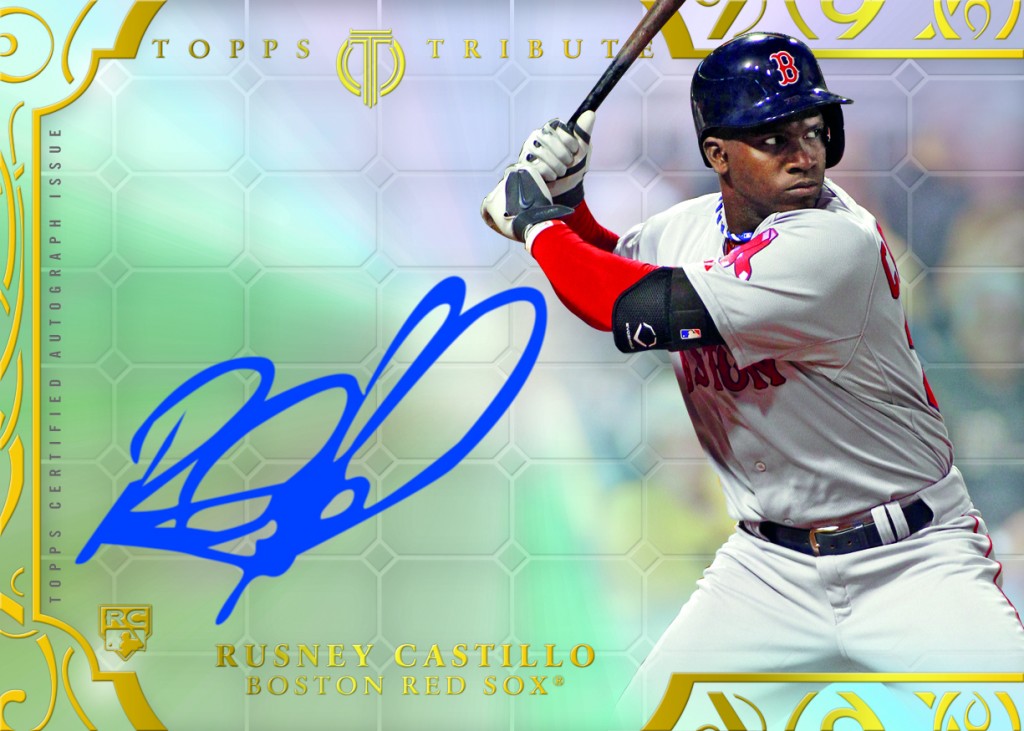 By Chris Olds | Beckett Baseball Editor
Topps is already adding to the lineup for next year's edition of Topps Tribute. 
One of those additions is Boston Red Sox rookie Rusney Castillo, who is now in the fold for autographs.
Another expanded lineup in this one, according to the company, is the Milestone Baseball Relics list that will include 40 players with game-specific memorabilia swatches complete with MLB Authentication stickers. They will include baseballs from Masahiro Tanaka's first start, Albert Pujols' 500 home-run game, and Clayton Kershaw's debut game to name a few as well as World Series baseballs for Buster Posey and World Series MVP Madison Bumgarner. 
Also new will be Dimensions of the Game, which Topps described as "an all-new three dimensional memorabilia piece featuring an autographed baseball." Among those signing, according to the company, are Kershaw, Hank Aaron and Don Mattingly.
To see our First Look story from August, click here.
The 2015 Topps tribute autograph lineup as it stands right now:
Hank Aaron
Roger Clemens
Yu Darvish
Yasiel Puig
Mariano Rivera
Ernie Banks
Frank Thomas
Nomar Garciaparra
Hanley Ramirez
Tom Glavine
Ozzie Smith
John Smoltz
Giancarlo Stanton
Jose Fernandez
Reggie Jackson
Mark McGwire
Miguel Cabrera
Robinson Cano
Adrian Gonzalez
Andre Dawson
Lou Brock
Javier Baez
Jorge Soler
Bryce Harper
Rickey Henderson
Troy Tulowitzki
Bo Jackson
Buster Posey
David Wright
Ryan Braun
Dustin Pedroia
Yoenis Cespedes
Freddie Freeman
Clayton Kershaw
Mike Piazza
Nolan Ryan
Carlton Fisk
Rod Carew
Juan Marichal
Orlando Cepeda
Dennis Eckersley
David Ortiz
Jorge Posada
Albert Pujols
Mike Schmidt
Chipper Jones
Paul O'Neill
Roberto Alomar
Steve Carlton
Johnny Bench
Jim Palmer
Joc Pederson
Jorge Soler
Rusney Castillo
Maikel Franco
Daniel Norris
Chris Olds is the editor of Beckett Baseball and Beckett Sports Card Monthly magazines. Have a comment, question or idea? Send an email to him at colds@beckett.com. Follow him on Twitter by clicking here.