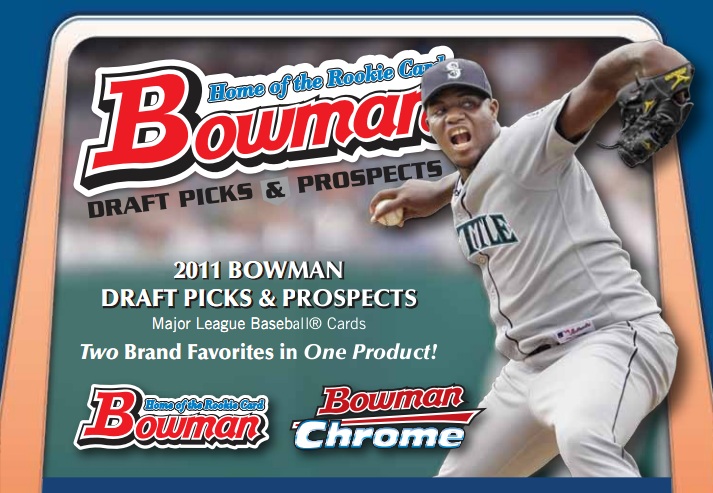 By Susan Lulgjuraj | Contributing Editor
With Bowman Draft Picks and Prospects set to release in two months, Topps has finalized the autograph prospect list.
The four final players added to the list Monday included three of the top 10 picks from the 2011 MLB First-Year Draft.
Bubba Starling, Dylan Bundy, Archie Bradley and Taylor Guerrieri add to the long autograph checklist. Of the 34 signing for Draft Picks and Prospects, 33 of them are first-round picks, including the supplemental round.
There is one on-card Chrome autograph guaranteed per box.
In addition to the current prospects, Bryce Harper will have an on-card autograph card in the set, which was previously announced. Harper will also have a relic card from the Futures Game, numbered to /69.
Player                                        Team
Tyler Anderson                     Rockies
Javier Baez                              Cubs
Matt Barnes                            Red Sox
Trevor Bauer                          Diamondbacks
Jed Bradley                             Brewers
CJ Cron                                    Angels
Kyle Crick                               Giants
Jose Fernandez                    Marlins
Michael Fulmer                    Mets
Tyler Goeddel                       Rays
Sonny Gray                            A's
Larry Greene                         Phillies
Jake Hager                              Rays
James Harris                         Rays
Travis Harrison                    Twins
Taylor Jungmann                Brewers
Francisco Lindor                 Indians
Brandon Martin                    Rays
Kevin Matthews                    Rangers
Brandon Nimmo                   Mets
Blake Snell                               Rays
George Springer                   Astros
Corey Spangenberg            Padres
Robert Stephenson             Reds
Trevor Story                          Rockies
Blake Swihart                         Red Sox
Dan Vogelbach                      Cubs
Keenyn Walker                      White Sox
Kolten Wong                          Cardinals
Joe Panik                                Giants
Susan Lulgjuraj is a contributing editor for Beckett Media. You can email Susan here. Follow her on Twitter here.