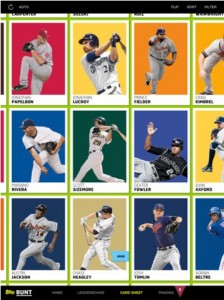 By Susan Lulgjuraj | Contributing Editor
The Topps Company continues its journey into the digital world. This time, looking for ways to reach the average baseball fan, not just collectors. Topps introduced two new apps in the iTunes store bearing the company's name.
Topps Bunt and Topps Pennant were added to the digital marketplace early last week, but the news of the apps swirled with collectors on Monday morning with a New York Times article talking to Topps' Michael Eisner about the direction of the company and the card industry.
The apps were produced as part of Topps' digital plan.
Topps Pennant is described as a "modern box score" in the description. It has every play from every season dating back to 1952. It doesn't go beyond 1952 yet because "before '52 data becomes a unreliable," a spokesperson said on Twitter. Although, the company is working on getting data back to 1948.
In addition, the app updates daily to include games from the day before.
A video demo shows a simple-looking application that scrolls through teams, years and games with a simple touch of the screen or a scrolling motion to carry users through the length of the game, describing every play.
Topps Pennant costs $2.99, which is currently lowered from $3.99.
Topps Bunt is a game that incorporates fantasy baseball type of strategies. Users pick nine players regardless of position and can trade with other users. You rack up points and see how you do against others players in the game.
The baseball players are depicted on baseball cards.
Topps Bunt is currently free.
Pennant is only available for iPad and iPhone right now, while Bunt is an iPad exclusive. They will eventually be available for Android devices.
The roll out of these apps is just the beginning, according to the New York Times article. A couple of new apps a year are expected from Topps with a significant annual investment.
Susan Lulgjuraj is a contributing editor for Beckett Media. You can email Susan here. Follow her on Twitter here.