Holy, Snikt! 18 Awesome Wolverine Trading Cards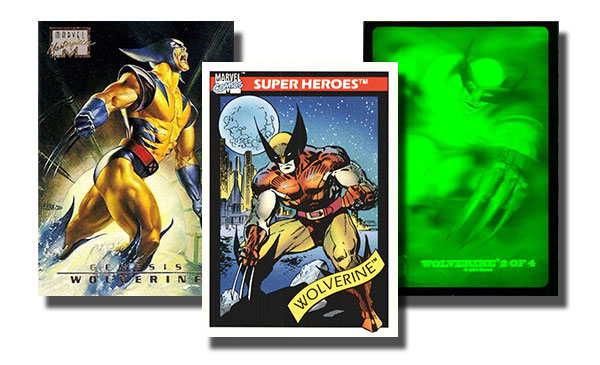 By Ryan Cracknell | Hobby Editor
Wolverine is the superhero anti-hero with a heart of gold (if you're on his good side). He's among the elite not only when it comes to the X-Men, but all comic heroes. It shouldn't be surprising then that there are a lot of Wolverine trading cards out there.
From comic interpretations to high-art, from the animated X-Men TV series to the live-action movies, Wolverine cards cover a broad spectrum of styles. Simple base cards and inserts are just the beginning.
Wolverine was a focal point of Marvel products during the mid-1990s, which can be seen as a Golden Age for comic trading cards as far as quality and variety go.
Once the X-Men hit the big screen, this opened up another avenue including costume cards and autographs. Hugh Jackman signed for multiple Topps and Rittenhouse sets.
With so many to choose from, we've picked out 18 wonderful Wolverine trading cards. Don't take this as a ranking of his best cards. Rather, it's a celebration of a classic characters and a selection of cards that are just plain cool.
Wolverine Trading Cards Appreciation Gallery
If you're looking to collect some Wolverine trading cards to your collection, you can see what's list on eBay and the Beckett Marketplace.
1990 Impel Marvel Universe #10 Wolverine
It might not be Wolverine's "Rookie Card" but Impel's first set in their long-running Marvel Universe line remains iconic. So for many, this is a card that's ingrained in comic card history.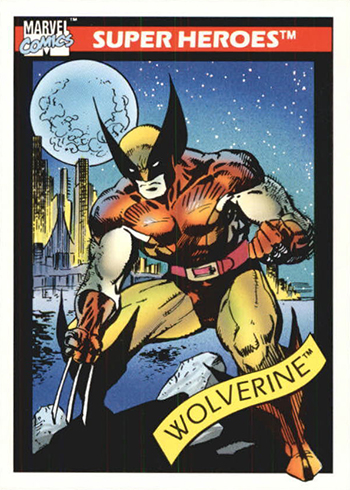 1990 Impel Marvel Universe Holograms Wolverine #HM4
Holograms! We'll get to one that's a little bit fancier in a moment, but this one still has that "I had that!" nostalgia going for it.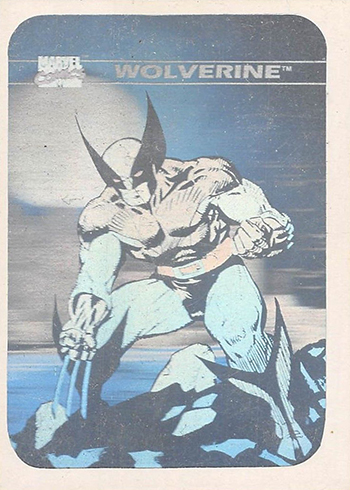 1992 SkyBox Marvel Masterpieces Battle Spectra Wolverine/Sabretooth #3-D
1992 Marvel Masterpieces brought the mainstream heroes into the realm of premium trading cards for the first time. And what's cooler than Joe Jusko's interpretation of Wolverine and his arch nemesis, Sabretooth, having at it on an etched foil insert? Not much.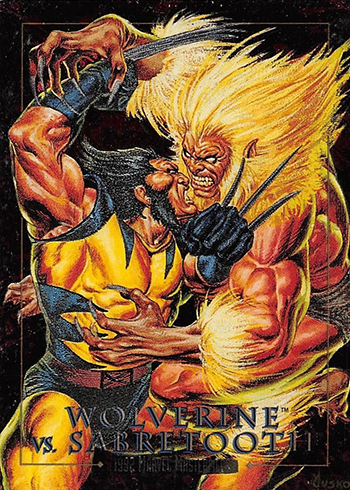 1994 Fleer Marvel Masterpieces #137 Wolverine
For the third installment of Marvel Masterpieces, Greg and Tim Hildebrandt brought their beautiful and instantly recognizable style. Here's Wolverine presumably in his natural habitat of the Canadian wild.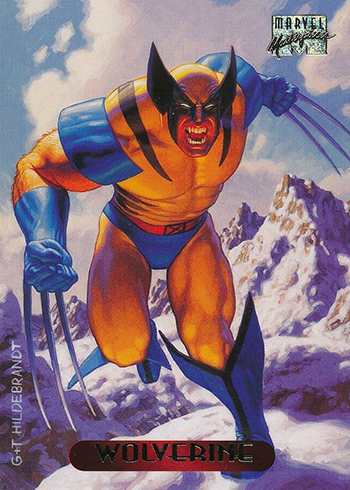 1994 Fleer Marvel Universe Series 5 3-D Holograms #2
It's impressive to see how far holograms came in a short time. And if your eyes are drawn to his claws first, you might think it's Freddy Krueger.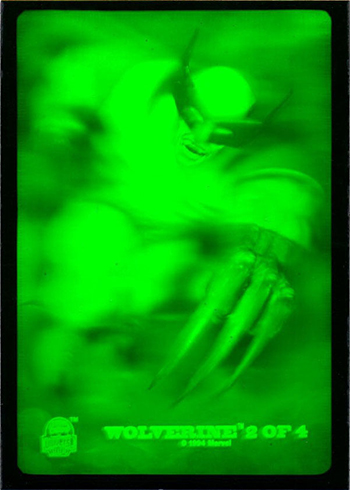 1995 Fleer DC Versus Marvel #55 Wolverine/Lobo
In retrospect, not a lot of good came out of the DC/Marvel crossover of the mid-'90s. This card is one of them. Even if you don't remember the battle between Wolverine and Lobo in the comics, you can appreciate them both on a single card. With the complications of licensing, it's possible we may never see this pair on an official trading card again, either.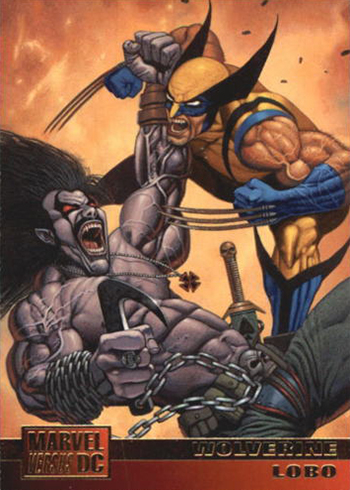 1995 Fleer Ultra X-Men #52 Wolverine
Dave DeVries perfectly captures the rage Wolverine is known for. Poor, Sentinel, didn't stand a chance.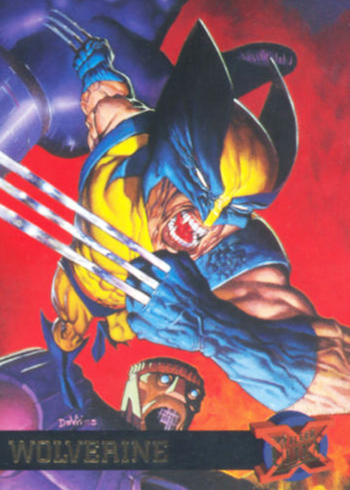 1995 Fleer Ultra X-Men #149 Wolverine "Spring Break"
Here's a different side to Wolverine. While much of the Spring Break subset was an excuse to show off swimsuits, we get a Speedo-wearing Logan manning the grill. This is not your normal Wolverine card, which is exactly what makes it interesting.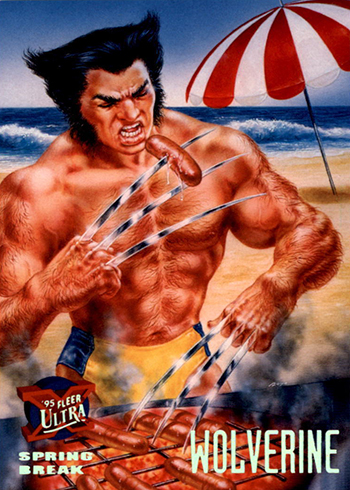 1996 Fleer/SkyBox Marvel Masterpieces #92 Wolverine
There's nothing in the 1996 Marvel Masterpieces set that isn't valuable. The set proved to be rare compared to other sets of the era. Combine that with the beauty of Julie Bell and Boris Vallejo and you've got a comic card classic. This particular card is done by Bell. I'm not sure if he's hunting Ninja Turtles, looking to recreate Harrison Ford's jump in The Fugitive or just looking majestically enraged, but it's beautiful.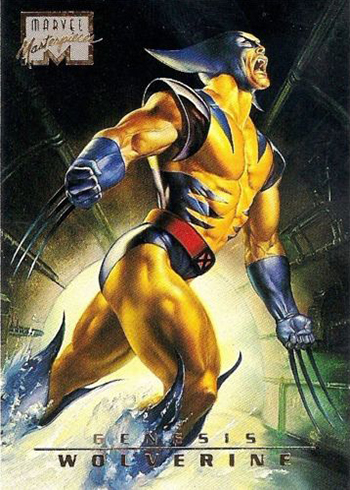 1996 Fleer/SkyBox Marvel Masterpieces Double Take # 6 Wolverine/Venom
These double-sided inserts have the work of Boris Vallejo on one side and Julie Bell on the other. Wolverine is on the front, this time with a more mystical interpretation from Vallejo.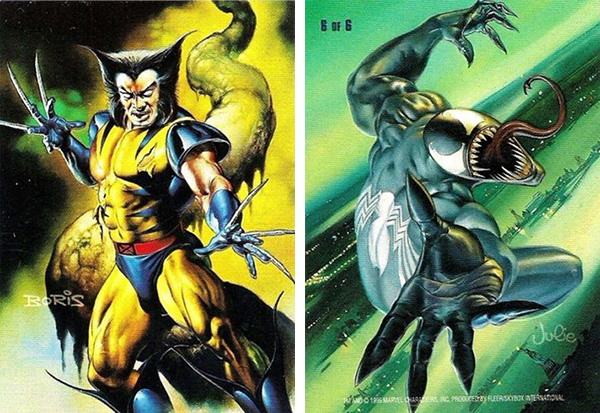 2000 Topps X-Men Movie Autographs Hugh Jackman
There was a time not that long ago that this card was an overlooked gem in the entertainment trading card-sphere. Not any more. Although the X-Men movies are hit and miss as a whole, Jackman's turn as Wolverine is iconic and helped launched him to Hollywood's A-list. He has other autograph cards, but this was the first.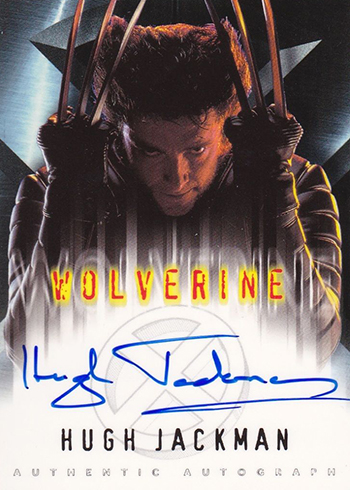 2000 Topps X-Men Movie Memorabilia Wolverine's Costume
You won't be able to dress up as ole' Wolvie at Comic-Con with this card, but it's one of only a handful of costume cards connected to the X-Men movie franchise. A second Wolverine memorabilia card was also included in Topps' set for the 2002 sequel.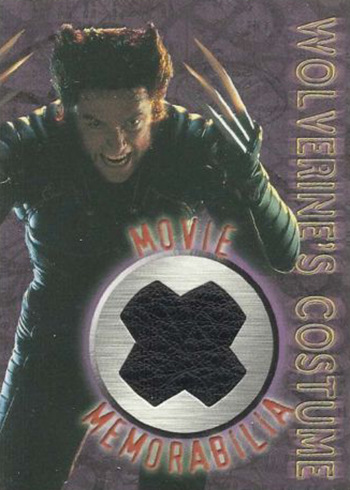 2006 Rittenhouse X-Men 3: The Last Stand Autographs Hugh Jackman
Jackman's second Wolverine autograph card wasn't in packs. Rather, it was given to dealers who ordered six cases. Needless to say, it's not the most plentiful of cards. Jackman went on to have two more autograph cards connected to 2009's X-Men Origins: Wolverine.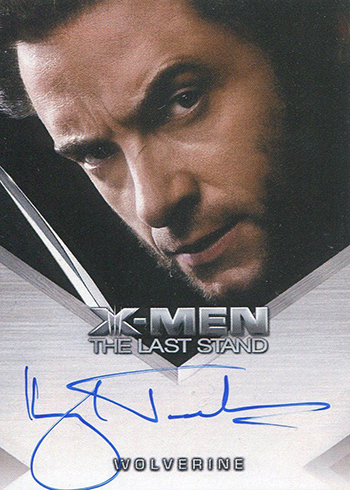 2006 Rittenhouse X-Men 3: The Last Stand Take a Stand #T1 Wolverine
This is one of those cards that just looks cool. Not only is the image packed with more emotion than anything in the actual movie, but it's done on acetate stock adding to the overall look.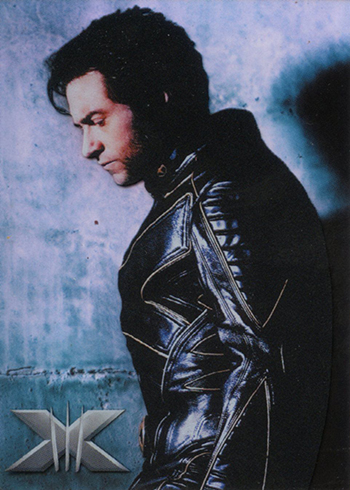 2010 Rittenhouse Marvel 70th Anniversary Clearly Heroic
Here's another take on acetate. It's straightforward but still looks great with both strong artwork and the less frequently used card stock.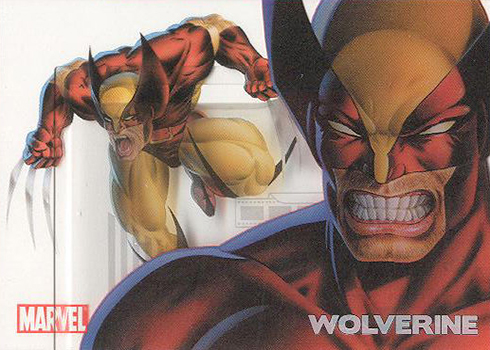 2012 Upper Deck Marvel Premier Shadow Box #S41 Wolverine vs. Sabretooth
2012 Upper Deck Marvel Premier took comic trading cards to another level of high-end standards. Among those were Shadow Box cards that have a layered approach. High-end + Wolverine + Sabertooth = fancy.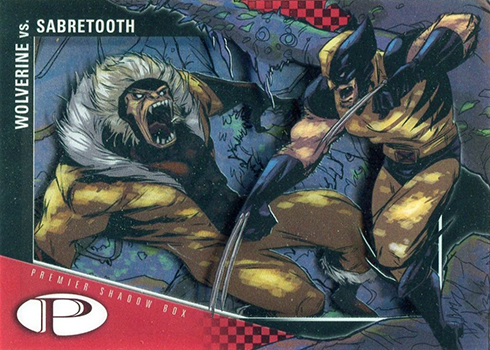 2014 Upper Deck Marvel Premier Classic Covers Shadow Box #CSB-29 Wolverine #1
Shadow box cards returned in 2014, this time adding a new dimension to classic comic covers. Wolverine had multiple cards in the set, but it's the one from his first solo issue that triggers lots of memories. And in case you're wondering, images don't do these Shadow Box cards justice. They need to be seen in person to be truly appreciated.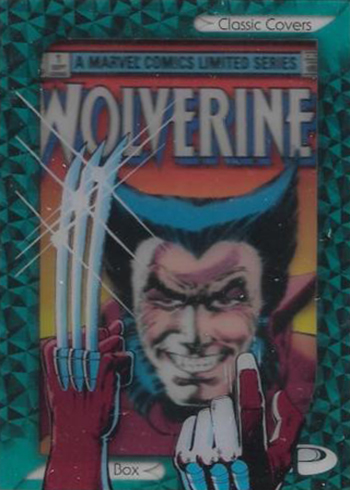 2016 Upper Deck Marvel Masterpieces What If #89 Wolverine
Joe Jusko returned to Marvel Masterpieces for Upper Deck's 2016 revival. What If cards are parallels that use the same artwork as the main set but add elements to make them look like an alternate comic cover. This particular card shown is the signed version.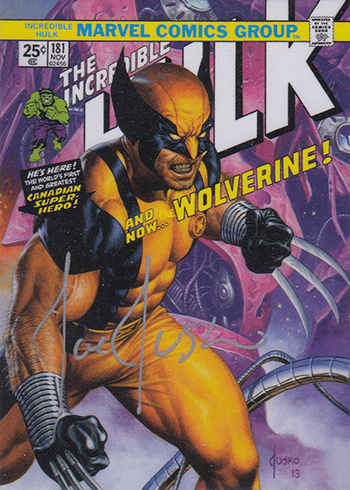 Have you got a favorite Wolverine trading card? Maybe a particular Marvel set? Feel free to discuss it below or let us know on Twitter.
Comments? Questions? Contact Ryan Cracknell on Twitter @tradercracks.