Big Birds: 13 Sue Bird Cards That Soar
When is a Bird a GOAT? When you're Sue Bird, a modern basketball legend. Although Sue Bird cards might not get the mainstream attention seen by the likes of Tom Brady, LeBron James or Mike Trout, that doesn't mean that they're ignored. In fact, many of the key Sue Bird cards are extremely healthy on the secondary market.
Bird is a proven winner. Two NCAA Championships at Connecticut, four WNBA Champions, four Olympic gold medals (so far) and four more gold medals at the World Championships are just some of her accomplishments.
The first overall pick in the 2002 WNBA Draft, she has been with the Seattle Storm for her entire career. Her first WNBA title with the team came a couple of years later in 2004. Through 2020, Bird had been selected to a dozen All-Star teams and received numerous other personal accolades.
As far as Sue Bird cards go, she really doesn't have a lot. Her Rookie Cards are found in two sets, 2002 Ultra WNBA and 2002 Fleer Authentix WNBA. However, if collectors want to go back a little further, they'll find a couple of earlier cards from her time at the University of Connecticut.
Bird's star power has taken her beyond just WNBA cards, landing in a handful of other products — mostly multi-sport products.
When Panini took over the WNBA card license in 2019, it changed the dynamic of Bird's cards, opening up the avenues for more chase sets and parallels.
Top Sue Bird Cards and Notable Releases
The following list highlights many of the most notable Sue Bird cards out there. It's not a definitive list. A comprehensive Sue Bird cards checklist is available in the Beckett database.
1998-99 Connecticut Women Sue Bird
It's off to school for the first Sue Bird card. It's part of a 19-card team set given out at the University of Connecticut. Sets came wrapped and sealed in tight plastic so looking at corners of ungraded copies could be wise.
This is certainly a tough Sue Bird card but it's not overly expensive considering its significance.
Buy on: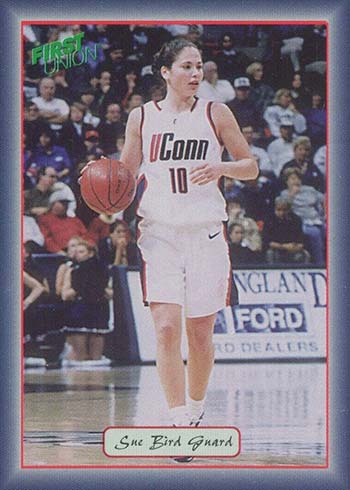 ---
1999-00 Connecticut Women Sue Bird
Like the previous year's set, this is another promo card that was given out as part of a Huskies team set. Now a sophomore, Bird is one of 18 people on the checklist.
It might not have the same prestige as her first card, but that means a lower price tag. It's still an extremely early release with moderately limited availability.
Buy on: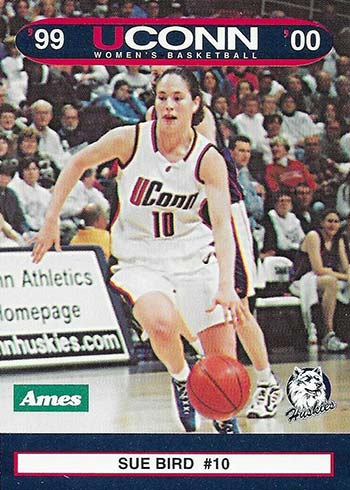 ---
2002 Fleer Authentix WNBA Sue Bird Rookie Card #101 /2002
One of two Sue Bird Rookie Cards, 2002 Fleer Authentix WNBA takes on a ticket theme for its design. Bird is one of 20 rookies at the end of the base set to get the serial numbered treatment.
Besides the base versions, there's also a Front Row parallels that has just 100 copies.
Buy on: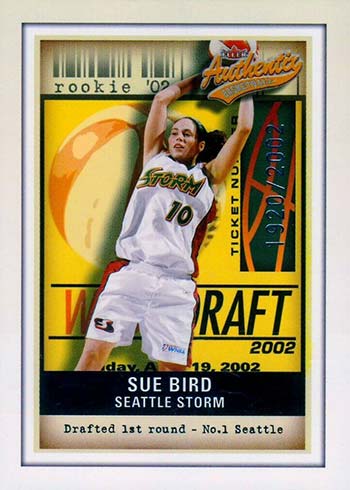 ---
2002 Fleer Authentix WNBA Memorabilia Authentix Ripped Sue Bird
At first glance, Sue Bird's first memorabilia card looks like a pretty standard relic with a smallish white swatch. However, there's a lot of history embedded in that jersey piece. As noted on the back, it comes from her first WNBA game.
The card also has an Unripped parallel that's numbered to 50. The biggest difference in the design, besides the serial number, can be found at the bottom of the card. The edge is straight, meant to mimic an unused ticket.
Buy on: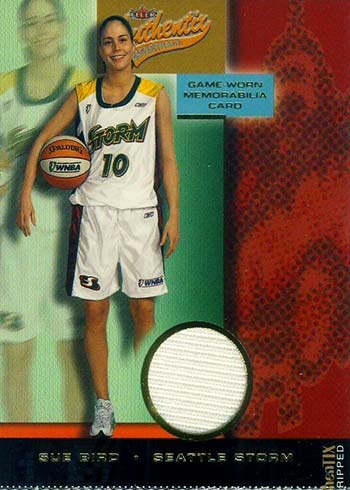 ---
2002 Sports Illustrated for Kids Sue Bird #275
For many athletes, especially those outside of the main leagues traditionally covered in the hobby, Sports Illustrated for Kids magazine is where they get their first cards. This isn't the case with Bird, which prices reflect, but it's still on the early side.
Found in the July issue, Bird has some strong company on the nine-card sheet including Ken Griffey Jr., Emmitt Smith and Venus Williams
Buy on: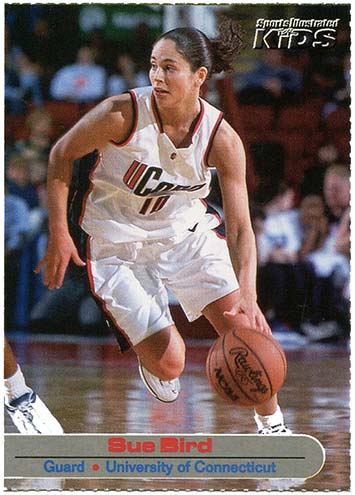 ---
2002 Ultra WNBA Sue Bird Rookie Card #101
The 2002 Ultra WNBA Sue Bird Rookie Card might not look like a massive card. But it is. It's one of 20 rookie redemptions in the product. With a limited window to send them in before they expired, these have long dried up. It's not quite on the level of her Authentix RC, but prices are still strong.
As far as the ultimate chase goes, there's also a Gold Medallion parallel that's numbered to 25.
Buy on: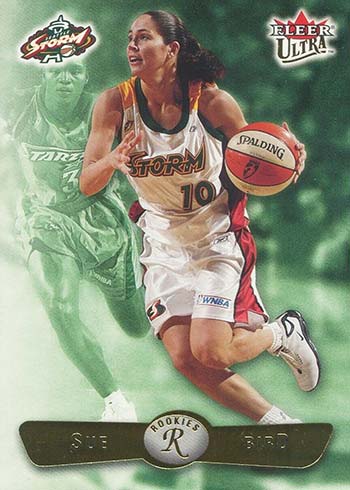 ---
2003 Ultra WNBA Sue Bird #1
With both Sue Bird Rookie Cards typically selling for hundreds, many collectors are looking for something more affordable. Moving down the ladder, is her second-year card from 2003 Ultra WNBA. Kicking off the set, the full-bleed design puts action at the forefront. It's a nice contrast from her two 2002 base cards as well.
A die-cut Gold Medallion parallel of the card also exist.
Buy on: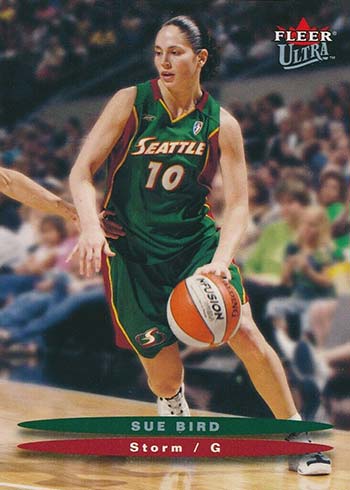 ---
2005 Rittenhouse WNBA Autographs Sue Bird
Sue Bird has five different autograph cards in 2005 Rittenhouse WNBA, the company's first product for the league. Four of the autographs have a similar layout but different photos: Action, Posed (Street Clothes), Posed (Uniform) and Trophy. The final one is actually a dual autograph with Seattle teammate Lauren Jackson. The two were part of the Storm's 2004 WNBA Championship squad.
These are Bird's first WNBA autograph cards. While five variations might give the impression that Bird's signature is plentiful in the product, they're not easy to find today.
Buy on: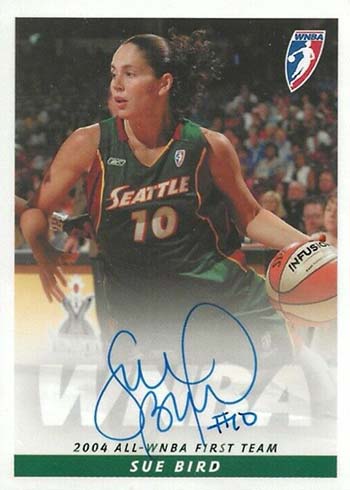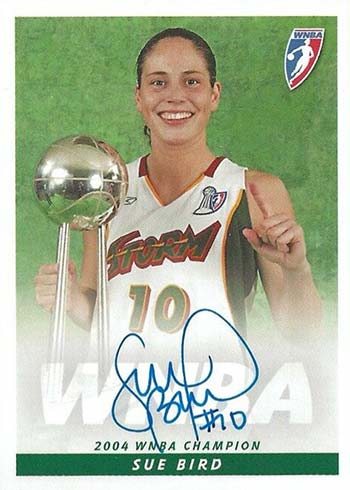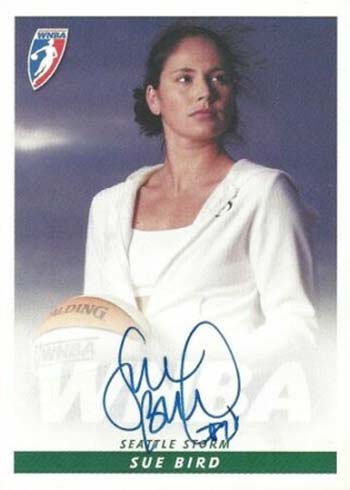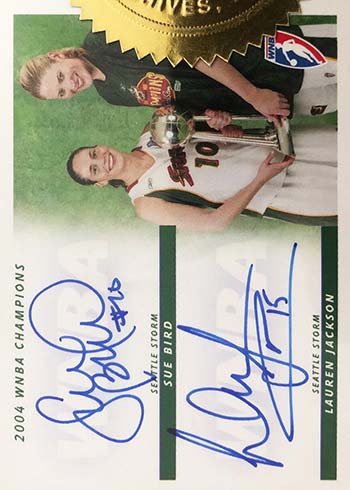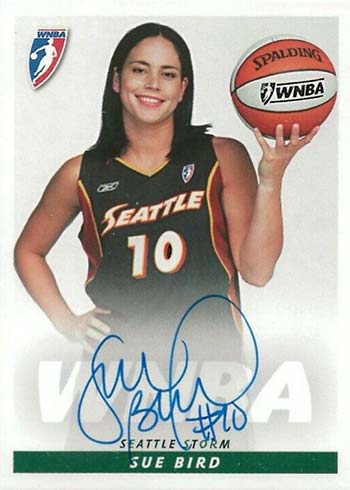 ---
2020 Panini Prizm WNBA Sue Bird #53
With the overall popularity of the Prizm line in the industry, it's hard to ignore Sue Bird's card in the brand's WNBA debut. The base card has more than a dozen Prizms parallels, creating a rainbow chase of sorts for collectors:
Green
Green Ice
Hyper
Ice
Ruby Wave
Silver
Red – /275
Blue – /149
Purple – /125
Premium Box Set – /99
Orange – /65
Green Pulsar – /25
Mojo – /25
Gold – /10
Black Gold – /5
Black – 1/1
Although her first Prizm card, it's not her chromium debut. 2019 Donruss WNBA includes a series if Optic versions. Parallels here are limited to Holo, Gold (/10) and Gold Vinyl (1/1) so there's not nearly the same level of chase.
Buy on: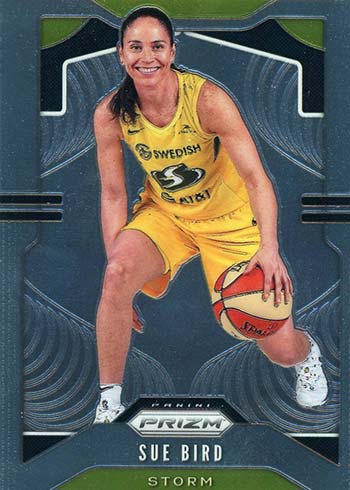 ---
More Sue Bird Autographs
Compared to modern NBA superstars, Sue Bird doesn't have a lot of autographs. That's shouldn't be surprising given the relatively small number of WNBA products. In fact, many Sue Bird autograph cards come in multi-sport sets.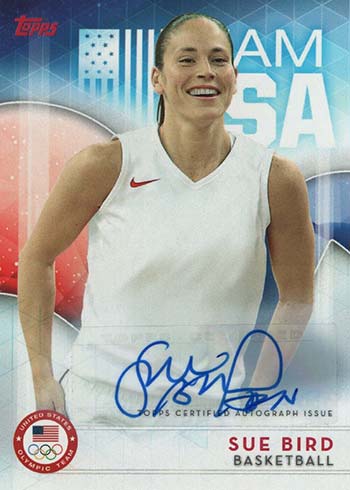 Here's a quick breakdown of the products with her signature (click on the links to see what's available on eBay):
A full checklist including card specifics and parallels is available in the Beckett database.