11 Serena Williams tennis cards worth checking out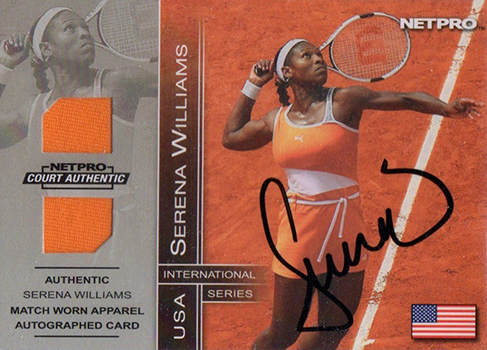 By Ryan Cracknell | Hobby Editor
Serena Williams is a tennis legend. Serena Williams tennis cards, on the other hand, make hardly a blip on the hobby radar. Tennis doesn't have the widespread appeal of baseball, football or even soccer and golf. And that's unfortunate because there have been some important players in the sport in the last 20 years.
Because of tennis' fringe appeal in the world of collecting, there actually aren't a ton of Serena Williams cards out there. Of those, many are in products that had limited distribution. She also hasn't been a regular signer for those products that are put out.
For some, this might be seen as an opportunity. For legends in other sports, there is a daunting amount of product out there to chase. For Serena Williams cards, there aren't.
The 2015 Sports Illustrated Sports Person of the Year has transcended the sport, spending much of her professional career as the top-ranked woman's player in the world. She's won all four of the sport's majors except the French Open six times. She's won at Roland-Garros only three times. Williams is also a four-time gold medalist at the Olympics (one for singles and three for doubles). More than that, she has become a mainstream celebrity, appearing in movies, commercials and all the surrounding publicity.
When it comes to the best and most important Serena Williams cards, we've narrowed the field down to 11 to watch for.
11 Key Serena Williams Tennis Cards
1999 Sports Illustrated Kids Serena Williams #814
Like a lot of athletes playing outside of the major four sports (at least as far as the hobby goes), the first Serena Williams card came with an issue of Sports Illustrated Kids magazine. It was included with eight other cards in the July, 1999 issue. These cards are somewhat tricky to find, but definitely not impossible. One thing to watch for is condition. The quality isn't as high as traditional products. Also, because it comes on a sheet, it needed to be separated from the other cards. This means perforated edges around the sides. It also makes the card susceptible to damage from casual handling. The magazine is, after all, aimed at young readers.

2000 Sports Illustrated Kids Serena Williams, Venus Williams #877
This card came in the February, 2000 issue of Sports Illustrated Kids. While it doesn't have the same prestige as being the first Serena Williams card, it offers a look at the tennis legend with sister, Venus. When discussing Serena, Venus is an important part of the narrative. They have other cards together, but the look back is unique. All of the quality and condition issues with the 1999 card still apply here.

2003 NetPro Serena Williams RC #1
This is generally considered to be the Serena Williams rookie card given that it is the first to come in a traditional pack configuration. Despite her standing, it doesn't carry much value. 2003 NetPro Tennis is probably the most over-produced product the sport has ever had. But just because it's not worth much, it doesn't mean that it's not an attractive card. The full-bleed design showcases lots of action.

2003 NetPro Serena Williams #100 SP
The final cards in 2003 NetPro Tennis are  short prints. That doesn't mean that they're rare given the massive supply that's still out there, but the card is still somewhat tougher to find compared to her first card in the set.

2003 NetPro Elite 2000 Serena Williams #2
NetPro released a lot of different cards and series in 2003 as they launched heavy into tennis. While the basic cards are available in bulk still more than a decade later, this isn't the case for all their releases. 2003 NetPro Elite 2000 is a 20-card set that was packaged separately. Limited to 2,000 total copies, they're somewhat tough to find, especially as singles.

2003 NetPro Glossy Serena Williams #1
Speaking of additional releases, 2003 NetPro Glossy is a factory set version of the main release. It's done in the vein of Topps Tiffany with the card stock getting a more slick finish. The limited edition nature, with 5,000 sets, is the big appeal of the card.

2003 NetPro International Series Authentic Autographs Serena Williams #2C /500
Whereas regular 2003 NetPro is still everywhere, 2003 NetPro International Series is a lot tougher to come by. A big part of the reason is the inclusion of autographs and memorabilia cards from a lot of top players, including Serena Williams. Her basic autograph, her first signed card, comes numbered to 500. It's also one of the few tennis products for a long time that didn't use holographic stickers for signatures.

2003 NetPro International Series Authentic Match-Worn Apparel Serena Williams #2B /500
Signed Serena Williams cards can get expensive. Her first basic memorabilia card is relatively reasonable. Also numbered to 500, it comes with a pair of swatches from gear she wore during a match. Cards can be found with a couple of different color combinations for those wanting a bit more of a challenge.

2003 NetPro International Series Authentic Match-Worn Apparel Autographs Serena Williams #2A /100
This card simply combines both of the premium components. Limited to 100 serial-numbered copies, much of the supply has dried up. Given its timing and rarity, this is the type of card that should be considered a cornerstone for a Serena Williams collection.

2008 Donruss Sports Legends Champions Signatures Serena Williams #17 /50
2008 Donruss Sports Legends combines athletes from several sports and generations. Besides a regular card in the set, Serena Williams appears on a variety of parallels and autographs. The most plentiful of the signed cards isn't exactly that plentiful, though, with just 50 copies. The use of a sticker and the overall overlooked status of the product makes it one of the more affordable Serena Williams autographs — if you can find one.

2008 Topps Allen and Ginter Autographs Serena Williams #SJW
When it comes to autograph cards in the hobby, Allen and Ginter has some of the most popular. Yes, the product is primarily baseball. However, ever year there are some additions from other sports and pop culture. The 2008 Topps Allen and Ginter Serena Williams autograph has a lot of crossover appeal because of this. Tennis fans are going to want the card for obvious reasons. However, they have to compete with Ginter collectors, who represent some of the most avid set builders in the hobby. Although not numbered, the card has a confirmed print run of 190. A Red parallel has just ten copies.