Top Naomi Osaka Tennis Cards to Collect
If you're looking to collect Naomi Osaka tennis cards, you don't have a lot to chase. However, what is out there is available in small numbers, fairly hard to find and not cheap.
At the time of her second U.S. Open win in September, 2020, the number of Naomi Osaka cards is about the same as her career pro titles. If you exclude parallels, the number of cards is smaller. Granted, tennis cards haven't been in regular production for a while and those that do exist are generally limited in nature.
But with Osaka's emergence as a hobby star, that number could grow in the future.
One thing to be aware of is that there are lots of homemade Naomi Osaka cards out there, particularly on eBay. These are not licensed or recognized in any official capacity.
Top Naomi Osaka Tennis Cards
2018 Sports Illustrated for Kids Naomi Osaka #779 (November, 2018 issue)
Similar to so many other stars outside of the "big four" sports, the first Naomi Osaka card is found in an issue of Sports Illustrated for Kids magazine. The November, 2018 issue to be exact (Larry Fitzgerald is on the cover). She's on the typical nine-card sheet alongside Jayson Tatum and others. Like all SI for Kids cards, perforated edges are the norm. To make it a single, it had to be separated from the sheet. This can lead to some condition issues with even the slightest slip up causing a potential tear or crease.
Buy on: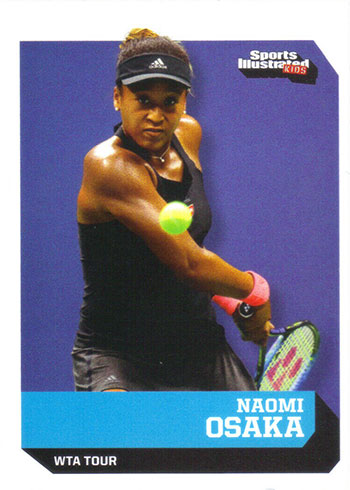 ---
2019 Topps International Hall of Fame Naomi Osaka #50
The first traditional Naomi Osaka card is one that went overlooked for a very long time. It's from an online-exclusive box set that was available for more than a year for $19.99 before prices surged on account of Osaka's rise. The 50-card checklist is primarily tennis greats from the past with Osaka and Roger Federer being the only active players.
Buy on: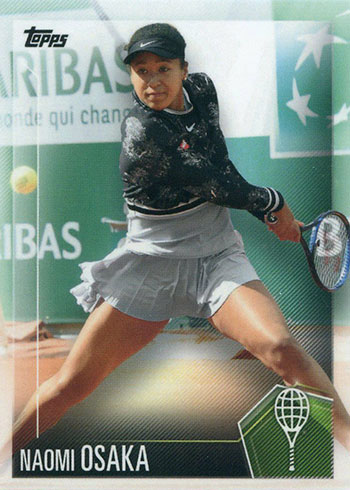 ---
2020 Topps Transcendent Tennis Hall of Fame Naomi Osaka #32 /50
2020 Topps Transcendent Tennis Hall of Fame can be seen as something of an experiment. The sport has never seen a massively premium set like this before. While autographs are most prominent, each box also has a full base set. Numbered to just 50 copies (with no parallels) and built with a metal frame, it has a luxury level appropriate for Transcendent.
Buy on: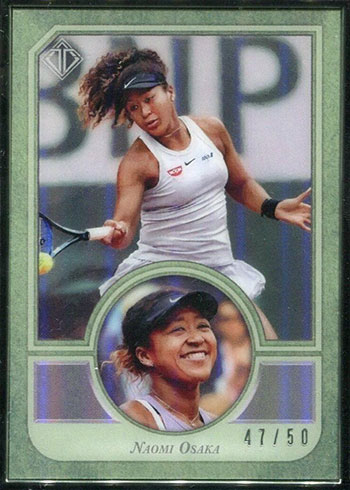 ---
2020 Topps Transcendent Tennis Hall of Fame Framed Autographs Naomi Osaka #TCA-NO /25
Yes, there's a Naomi Osaka autograph card in 2020 Topps Transcendent Tennis as well. The base version has 25. Parallels include Emerald (/5), Platinum (1/1) and Red (1/1). That means 32 total copies. Needless to say, it's one that doesn't pop up often and is fetching big amounts.
Technically, Osaka has a second Transcendent autograph. Done with the 1952 Topps Baseball design, it's a one-of-one Superfractor.
Buy on: