Top Five: Overlooked Joc Pederson baseball cards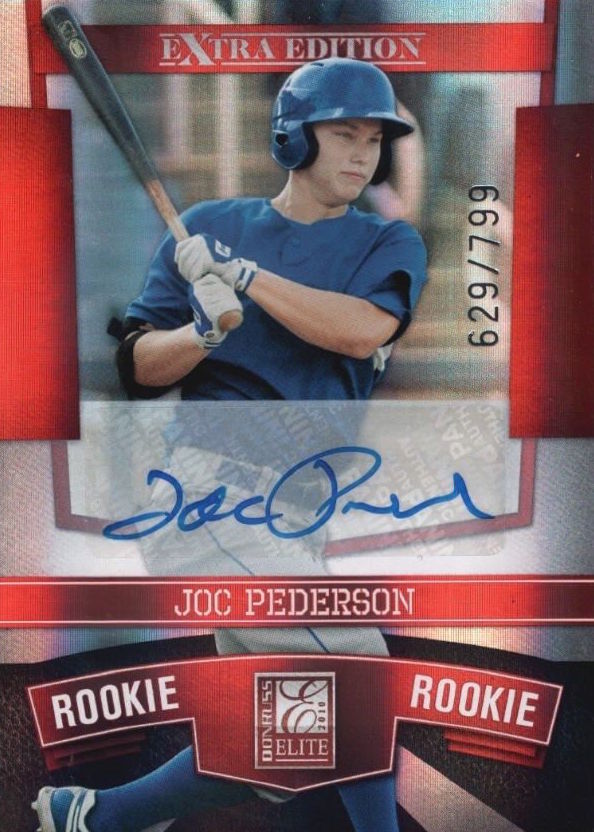 By Chris Olds | Beckett Baseball Editor | Commentary
Los Angeles Dodgers rookie Joc Pederson joined elite company Monday night with his 20th home run of the season — a 460-foot blast that catapulted him into rare air in the National League history books.
He's just the second NL rookie to hit 20 or more home runs before the All-Star Break with the NL record of 21 set by Albert Pujols in 2001. Pederson has 12 more games until The Mid-Summer Classic, so, barring injury or slump the record should be his soon.
Just like Pujols, Pederson's first Bowman Chrome autograph gets all the attention among his 640 cards valued at more than $15,700 (excluding rarities) in the Beckett database. Pederson's first Bowman Chrome autograph arrived in 2012, but it wasn't his first autograph.
Here's a rundown of five overlooked Pederson baseball cards …
1. 2010 Donruss Elite Extra Edition #168 AU /799, $100 (above)
The 2010 rookie crop was one that had plenty of big names, but there was one prospect autograph that snuck into the mix in a single brand that year. Elite Extra Edition included the first certified autographs for Pederson, and it's an undervalued card compared to its Bowman Chrome counterpart from two years later. The most-plentiful version of this card has a mere 799 copies and some of them have a more-complete autograph than the cards we see today.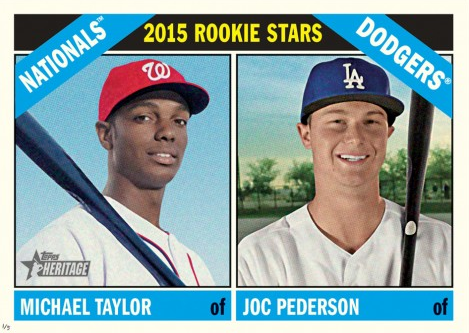 2. 2015 Topps Heritage #11 RC with Michael Taylor, $5
Pederson has just 13 Rookie Cards so far this season with many undoubtedly still to come. This one is not his priciest by any means, but it's one that he shares in the oldschool 1966 Topps design with another player with potential.
—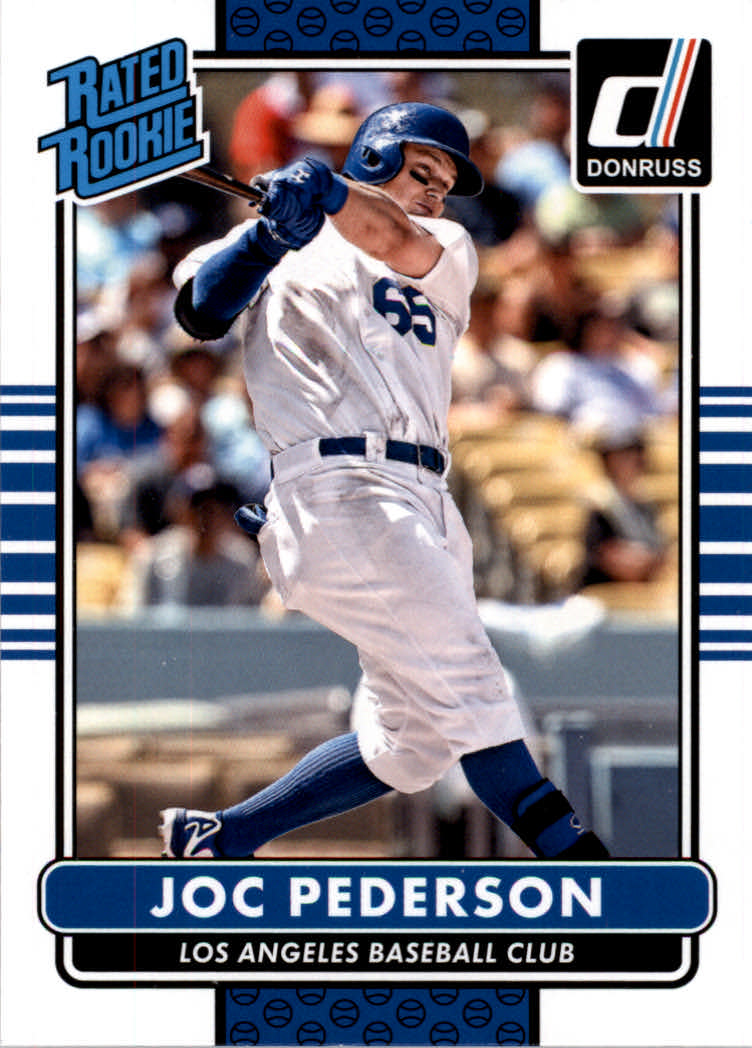 3. 2015 Donruss #32 RC, $6
The Rated Rookies in Donruss are only found a handful per box and Pederson is the most-expensive RC in that crop. Perhaps it's because of the strong action photo found on this one … or maybe it's the 20 homers. There are 31 other Pederson cards in the product, including many autographs, but this is the lone RC. Donruss packs a lot of value into its inexpensive box and it's definitely overlooked.
—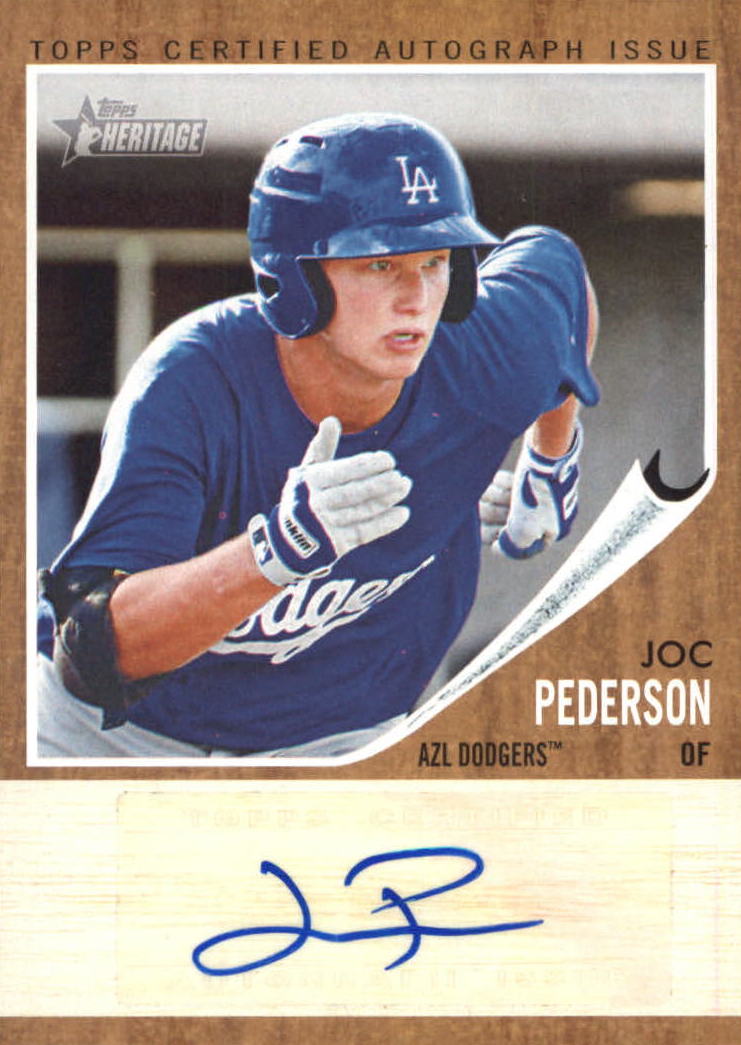 4. 2011 Topps Heritage Minors Real One Autographs #JP, $60
Sure, his autograph isn't great here, but this is his first certified autograph from Topps and his first to show him in a Dodgers uniform — albeit the Arizona League Dodgers. Oddly, he doesn't have a basic card in the product — the first minor league application of the Heritage style — and that's a shame because it's a set loaded with big-name players. For standard cards from this year, you'll have to check out 2011 Topps Pro Debut.
—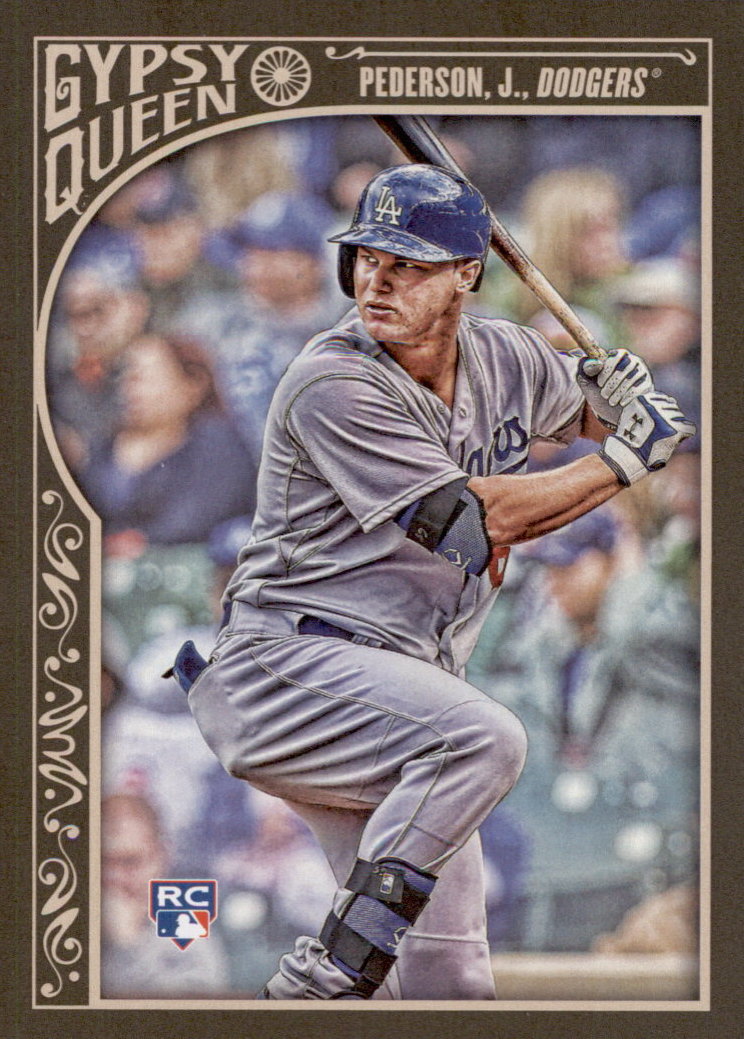 5. 2015 Topps Gypsy Queen #3 RC, $4
This Rookie Card is a clean and crisp release with a photo that says "slugger" while also offering a challenge. The challenge is when it comes to the grading game. The brown borders on this set's cards lead to nicks showing quite easily. There are plenty of Pederson cards in BGS slabs but I bet there won't be plenty of BGS 10s for this one. Its price makes it a card worth submitting — just for the challenge.
Chris Olds is the editor of Beckett Baseball and Beckett Sports Card Monthly magazines. Have a comment, question or idea? Send an email to him at colds@beckett.com. Follow him on Twitter by clicking here.