Top 5: Triple H cards that will make you cry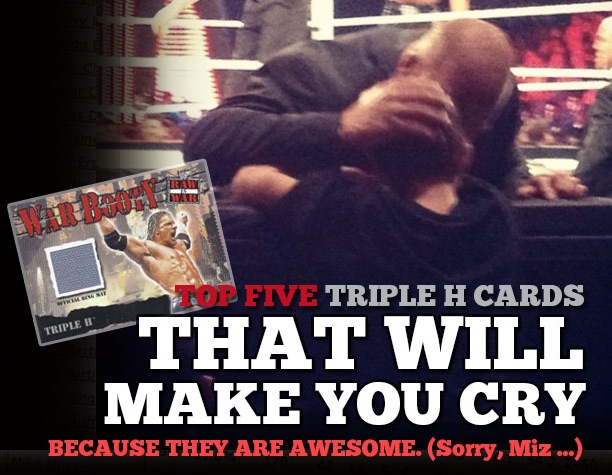 —
Update: Check out a Good Morning America segment that aired on Jan. 23 at the end of the story.
—
By Chris Olds | Beckett Sports Card Monthly Editor | Commentary
Professional wrestling's ultimate bad guy these days is Triple H, aka Paul Levesque, who is the real-life son-in-law of WWE Chairman Vince McMahon. Together with his wife, Stephanie McMahon, they have been running roughshod over the WWE of late as "The Authority" — firing some wrestlers, stacking the deck against others and generally just making people miserable while also riling up fans.
You know, that's what the bad guys do.
With WWE's flagship show Raw broadcasting from here in Dallas on Monday night, the main event was one that fell right in line with recent story lines — the WWE's ultimate good guy, John Cena, against three other wrestlers at the same time with Triple H and Stephanie McMahon watching the action in cushy leather chairs at ringside.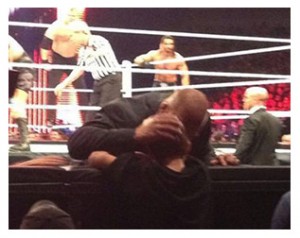 Only, there was one thing that happened during the match Monday night that was not planned — Triple H broke character after he made a kid cry.
Maybe it was all caused by an evil stare back at the little guy who worked his way up a few rows to a seat beside a few Dallas Cowboys players to cheer on Cena. Maybe something was said. Maybe the beatdown that Cena was taking was just too much.
Once the kid was crying, though, the 6-foot-4, 255-pound 13-time champ, did the unthinkable as a bad guy — he got up out of his chair, leaned down to talk to the kid and rubbed his head, ruffling his hair. Stephanie McMahon did the same thing, too. How do I know? I was there — sitting a few rows back watching it all along with his dad, who was in the row in front of me. After the show went off the air, they were invited backstage.
My photos of the event have gone viral online in the last day or two, but before you shed a single tear about "the moment" that has inspired some extra attention on the WWE's biggest bad guy, check out this selection of cardboard — five Triple H cards that will make you cry.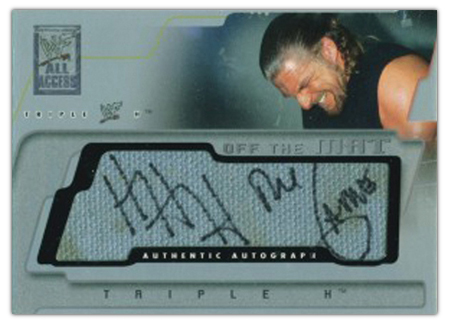 2002 Fleer WWF All Access Off The Mat Autographs #7, $300 … if you can find one.
Triple H has signed only 10 different certified autograph cards through the years, and this one was the first. He had a redemption card for an autograph in a 2001 Fleer set, but those cards were never signed and copies of this one were sent out instead. His autograph is signed on a piece of match-used ring mat for a little bit of extra oomph. This set has an impressive lineup and a release that might not be equaled since. Time to Cry: Shed a tear if you can add one of these to your collection.
—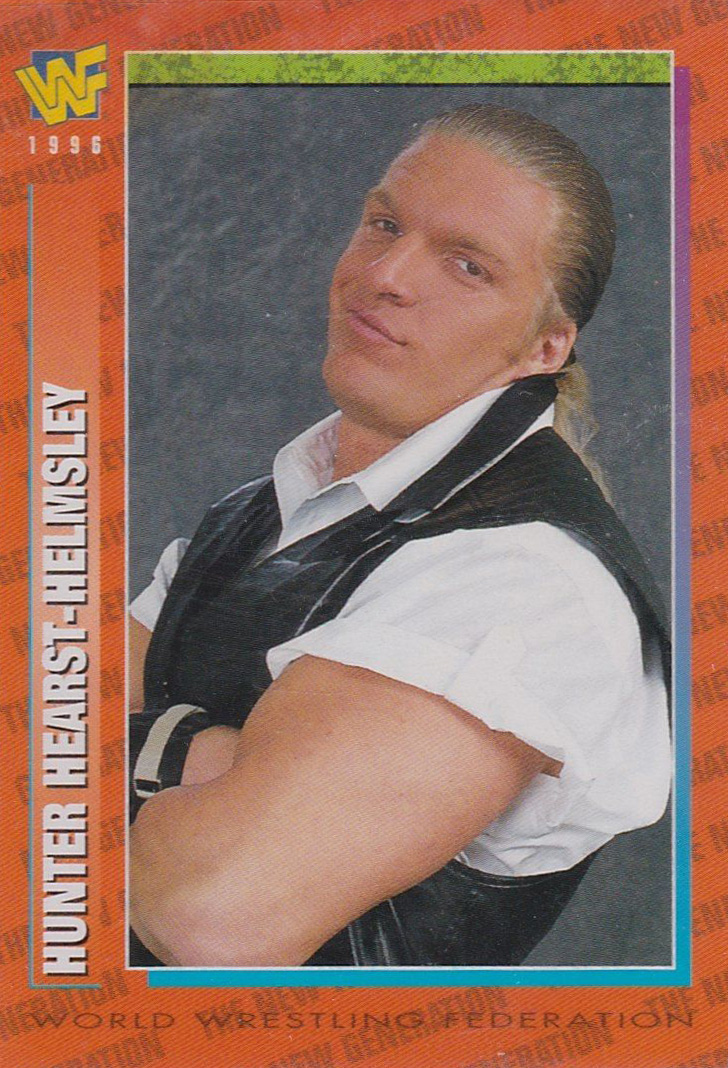 1996 WWE Magazine #19, $N/A
If you're wanting the earliest WWE-approved cards of Triple H, you'll have to look for back issues of the now-defunct WWE Magazine where nine-card perforated sheets showcased many of the organization's stars in a time where there wasn't too much available in trading-card form. This isn't his first card from the magazine — you'll need to find the September 1995 issue for that — but this is one that perhaps shows more of his character at the time. Time to Cry: When you see the photo. (Those years might make him cry, too.)
—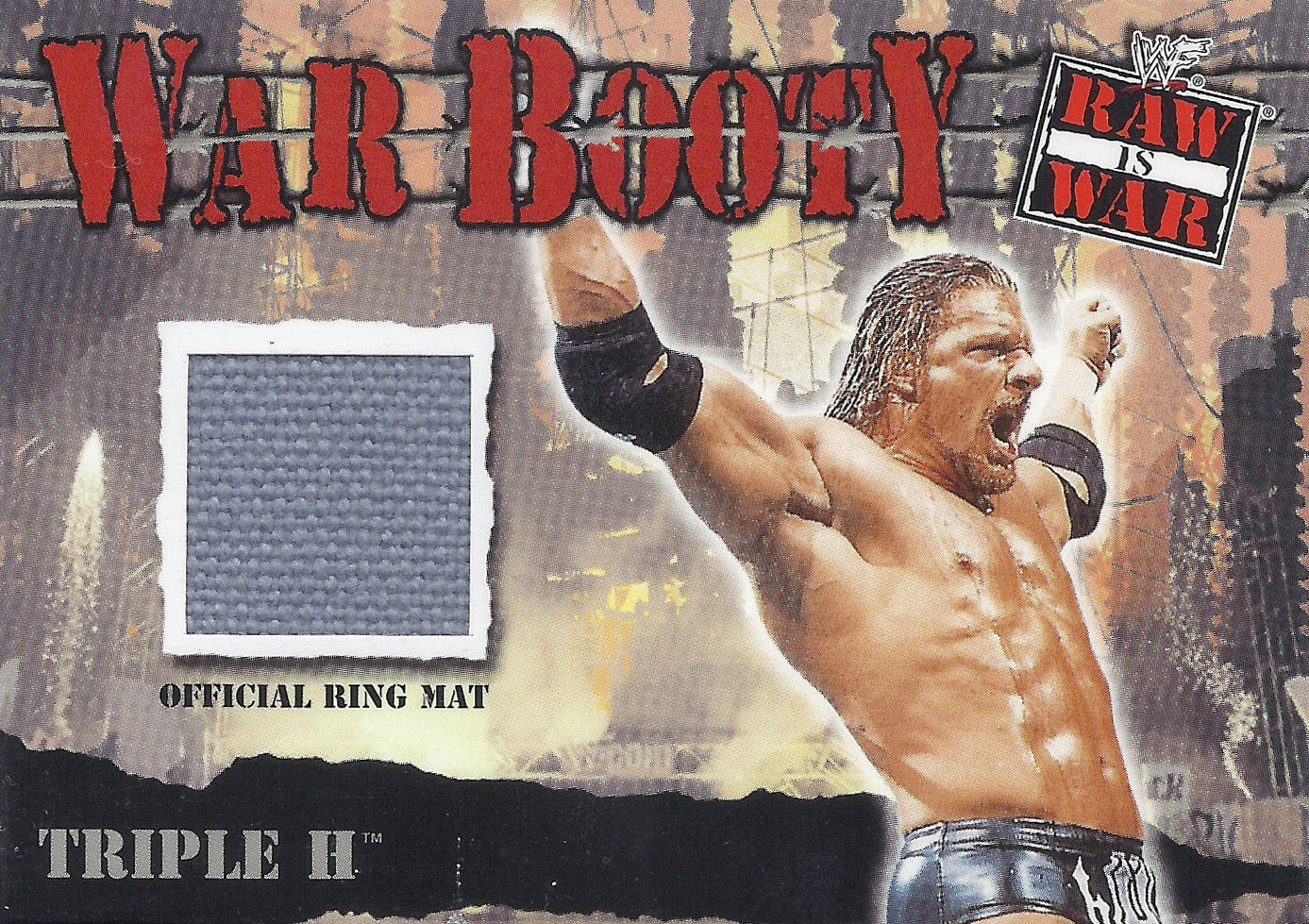 2001 Fleer Raw is War Booty #WB7, $25
Fleer arrived on the wrestling card scene in 2001 with a few sets that included memorabilia cards. This War Booty card isn't all that rare — or expensive — but it showcases Triple H in one of his trademark pre-match poses. (One memorabilia card we still want to see? Match-used water bottle. Make it happen, Topps.) Time to Cry: If you open a pack and find the version of this card that doesn't have a swatch and instead promises you an autograph, shed a few tears. Fleer went out of business years ago.
—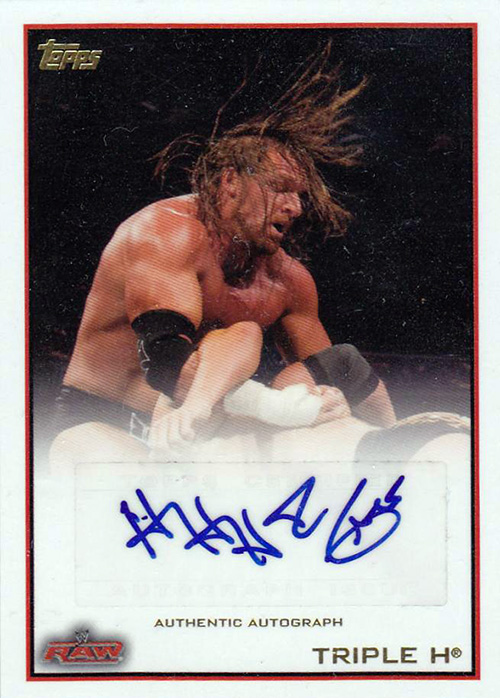 2012 Topps WWE Superstar Autographs #7,  $N/A
Why will this card make you cry? The odds of finding one were approximately one in every 143,000 packs. Consider that wrestling card print runs can't be anywhere near as large as, say, baseball and one could conservatively say that maybe a dozen of these cards exist. Time to Cry: When you actually pull one from a pack.
—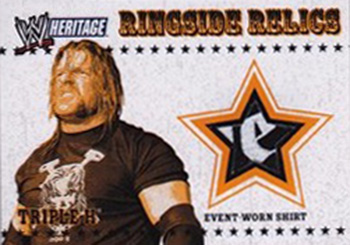 2005 Topps Heritage WWE Ringside Relics #8, $25
Topps released the first WWE card sets back in 1985 but was out of the action for wrestling only a few years later. In 2005, though, it got back into the ring — where it has been a heavyweight ever since — with the first Topps Heritage line. While the autographs were a big draw there, every once in a while you will find a Relic with some unique markings. This Triple H shirt card has the "e" from "Triple" visible and the words where that came from are seen at the bottom of the logo on his shirt on the photo. Time to Cry: Now because you can't have it. I know this one is real — and not an altered card swatch — because I pulled it from a pack myself.
—
Chris Olds is the editor of Beckett Baseball and Beckett Sports Card Monthly magazines. Have a comment, question or idea? Send an email to him at colds@beckett.com. Follow him on Twitter by clicking here.
Watch a Good Morning America clip of the entire Triple H story here.
—

World News Videos | ABC World News
—
Even more interesting? The dad is Chad Deering, and he's a retired professional soccer player. He appears on a pair of Upper Deck MLS cards in the Beckett database.