Top 5: Notable Leonard Nimoy cards
When you click on links to various merchants on this site, like eBay, and make a purchase, this can result in this site earning a commission.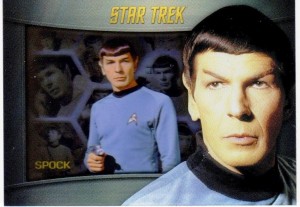 By Matt Bible | Beckett Non-Sports and Gaming Analyst | Commentary
"Live long and prosper."
These words will forever resonate with Trekkers, Trekkies and anyone who is even remotely familiar with the world of science fiction. It is Beckett's sad duty to report that the world has lost a television icon. Leonard Nimoy, most notable for his role as Mr. Spock on Star Trek, has passed away at the age of 83 due to an extended illness.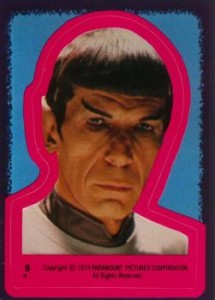 As a method actor, Nimoy's deadpan delivery made him the perfect choice to be cast as Mr. Spock. He breathed life into Captain Kirk's logic-minded, pointy-eared Vulcan first officer, making him a household name. Having starred in eight films and two television series of Star Trek, one could argue that he was an even bigger icon of the franchise than William Shatner.
While he has many various roles to his credit, Nimoy will almost always be recognized for his work in science fiction. He had a bit part in the 1954 sci-fi classic, Them!, and also starred in the 1978 remake of Invasion of the Body Snatchers. Nimoy also had roles in both The Twilight Zone and The Outer Limits. That is quite an accomplishment considering the two were rival TV series at the time. Many may also recognize him for his voice over work in Transformers films, both animated (1986 Transformers: The Movie) and live-action (2011 Dark of the Moon). More recently, he had a recurring role on the hit sci-fi TV series, Fringe.
Without a doubt, Nimoy had a long successful career and gained a faithful following in the science fiction community. He also has a strong hobby presence, having been featured in many trading card sets over the past 35 years. With that being said, here are five of his most notable trading cards, in no particular order: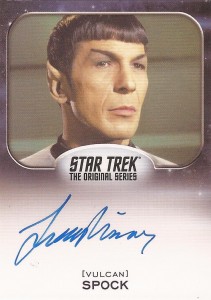 2014 Star Trek Aliens Autographs EL, $200
This is Nimoy's most recent (and seemingly his last) officially licensed signature card from a Star Trek product. Rittenhouse released Aliens this past autumn depicting all the unique alien lifeforms which have appeared on Star Trek over the years. The Nimoy signature card pictures him in a still from the classic Trek TV series. It is among the most sought after signature cards from Aliens and will appear at No. 5 on the non-sports hot list of the upcoming Beckett Sports Card Monthly. For collectors, it is a very appealing and affordable choice.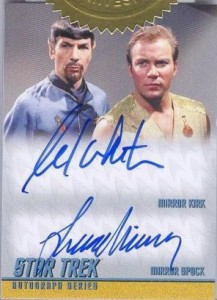 2014 Star Trek Portfolio Prints Incentives Mirror Mirror Dual Autograph #DA32 w/Shatner, $500
While this isn't the only Nimoy/Shatner dual signature card on the market, it may be the most significant. Why? Well, it depicts the two actors in one of the most memorable Trek episodes of all-time — Mirror, Mirror. The basic plot follows Captain Kirk and company as a transporter mishap sends them to a parallel dimension where Spock is sporting a Van Dyke beard and is excruciatingly evil. The price on this one is a bit hefty, but it would make a fine addition to any autograph-based collection.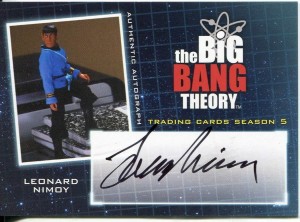 2013 The Big Bang Theory Season Five Autographs #A8, $500
For years, Dr. Sheldon Cooper has dropped the name Leonard Nimoy countless times on the hit TV sitcom, The Big Bang Theory. From a signed napkin given to Sheldon as a Christmas gift to adorning Sheldon's wall in the form of a restraining order, Nimoy was almost an unofficial member of the cast. In the season five episode, The Transporter Malfunction, Nimoy finally made his debut. As the voice of a Mr. Spock action figure, he convinces Sheldon that it is "not logical" to resist playing with a vintage mint-in-package Star Trek toy. Upon opening it, the toy breaks and hilarity ensues. This particular card is one that some Nimoy fans may not know about, thus making it quite the gem.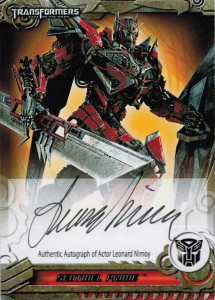 2013 Transformers Optimum Collection SDCC Promo Autographs #LNCCTA Sentinel Prime/45, $400
Nimoy proved that his career was more than meets the eye as he voiced one of the villains in the third live-action Transformers film, Dark of the Moon. There are two versions of this card. The first was included in the regular Optimum autograph set, which was serial numbered to 90. However the above card was only available at the 2012 San Diego Comic Con as an exclusive and is just limited to 45 serial numbered copies.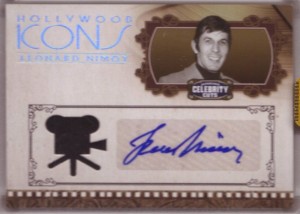 2008 Celebrity Cuts Hollywood Icons Signature Material/5, $n/a
One of the best cards was saved for last because it symbolizes what Leonard Nimoy has become in the Hollywood community — an icon. This is one of the few signature relic cards that feature the actor. While he's not adorned in his infamous Spock attire, there is a classic, semi-Vaudevillian design to the card (a nod to old Hollywood). Perfectly centered within the card is a vivid blue signature and a wardrobe swatch shaped like a vintage film camera. Good luck finding these as there are only five in existence.
On a personal note, Leonard Nimoy was a fixture in my household, as well. I remember watching Trek re-runs with my brother and going to see all the films with my friends. I collected cards and even had a Spock action figure or two. It was Nimoy's portrayal of Spock and watching Trek episodes that became early inspiration for me as a writer. I can remember having Star Wars and Star Trek battles in the sandbox with the neighbor kids. For Wars, everyone always wanted to be Vader or Han. But, with Trek, the choice was always Spock. Anything else, would have been illogical.
Bonus Pick: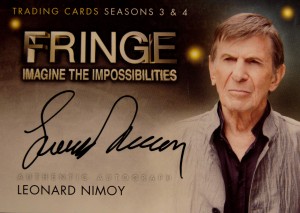 2013 Fringe Seasons Three and Four Autographs #A9, $250
Matt Bible is the non-sports and gaming analyst for Beckett Media. Have a comment, question or idea? Send an email to him at mbible@beckett.com.