Top 5: Jose Abreu Rookie Cards to own
When you click on links to various merchants on this site, like eBay, and make a purchase, this can result in this site earning a commission.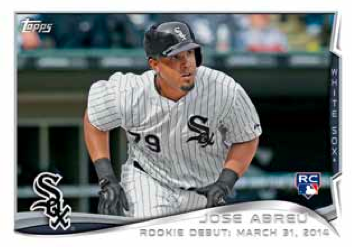 By Chris Olds | Beckett Baseball Editor | Commentary
It's just a matter of time — a few hours — before Chicago White Sox slugger Jose Abreu is named the American League Rookie of the Year by the Baseball Writers' Association of America.
The formal presentation begins at 6 p.m. Eastern on the MLB Network, but we won't waste any time … he's a lock to win.
The Rookie of the Year award is, arguably, the one that matters most to collectors today — moreso than the MVP or Cy Young votes because Rookie Cards (and prospect cards) are much more sought-after in today's always-evolving cardboard landscape. After a rookie season that included 36 homers and 107 RBI along with a .317 average, Abreu is a lock for the award — no offense to the other finalists, Dellin Betances and Matt Shoemaker — they just can't compete.
Want one statistical reason he's a lock? His homer total was topped only by Nelson Cruz, Chris Carter and Giancarlo Stanton this season. That's it among all major-leaguers.
With all that said, here are my picks for the top five Abreu Rookie Cards — of the 20 that he has so far — to track down. See them all … after the jump.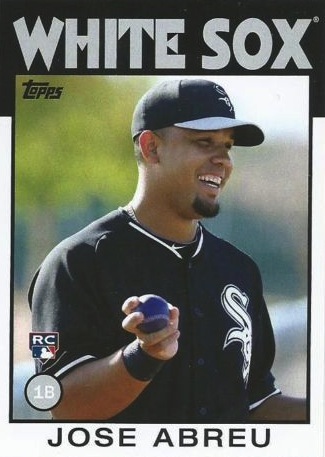 1. 2014 Topps Archives #217 SP, $20
A short-printed card from a relatively short-printed product, this nod to the 1986 Topps design can be found in the brand that included one of the year's biggest surprises (besides Abreu), the Major League autographs. Why is this one tops? It's simple, relatively affordable, and it's a throwback to those years of collecting that many of us remember fondly. (Oh, and has anybody figured out the baseball yet?) If you want more of a challenge, albeit not an RC, there's an autograph to be found in this product that also has the 1986 design.
—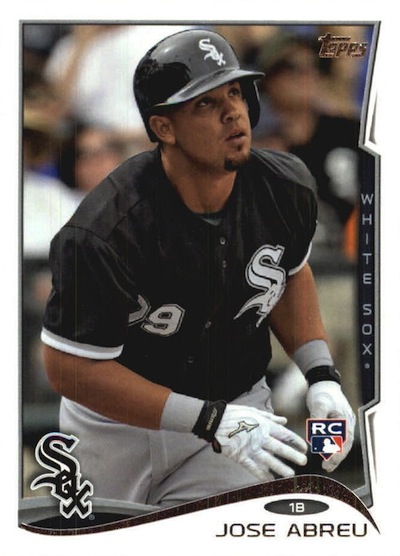 2. 2014 Topps Mini #496, $15
The standard Topps Rookie Card has become a go-to in recent years, so that would be a no-brainer for this list — but we'll go a related route instead. Let's go with the Abreu RC found in the rarer Topps Mini packs. It's the same card but smaller — and three times more valuable.
—
3. 2014 Immaculate Collection #130 AU /99, $150
If you wanted to know which Abreu RC is the priciest, it's this one. Why? It's the only autographed card to fall under the RC standards so far this year.  It comes from the pricey Immaculate Collection brand from Panini America. It's got plenty of other competition in the brand with patches and autos from the rookie, but this is his only RC there.
—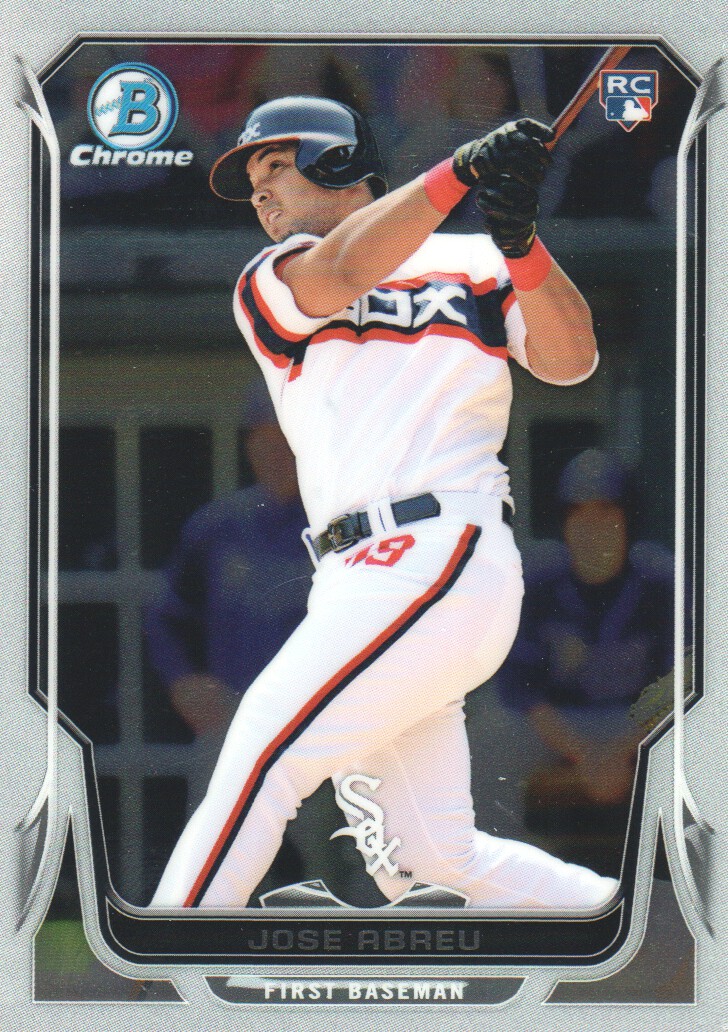 4. 2014 Bowman Chrome #5A, $6
We all know how well-regarded Chrome is with collectors. Why is this one not higher on my list? It's surpassed by all of its autographed and Refractor parallels in the product and it has its own Bowman Chrome competition with his prospect card that arrived at the beginning of the year in Bowman. (That one, not an RC, might be the most-iconic Abreu card of the year.)
—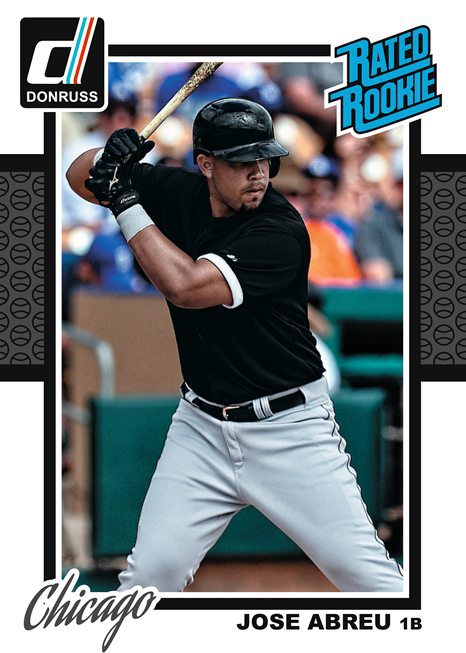 5. 2014 Donruss #202, $20
In past years, this type of card might not have been classified as an RC since it was only available via wrapper redemption. It went to any collector who sent in a hobby box's worth of wrappers to Panini America. It also doesn't hurt that the return of Donruss was one of the more-popular basic brands of the year — even the most-hardended, anti-no-logo collectors couldn't help but notice some of the fun this brand was packing.
Update: Abreu won in a landslide. Meanwhile, New York Mets pitcher Jacob deGrom took home NL honors.
Chris Olds is the editor of Beckett Baseball and Beckett Sports Card Monthly magazines. Have a comment, question or idea? Send an email to him at colds@beckett.com. Follow him on Twitter by clicking here.