Top 5: Jacob deGrom's key baseball cards
 –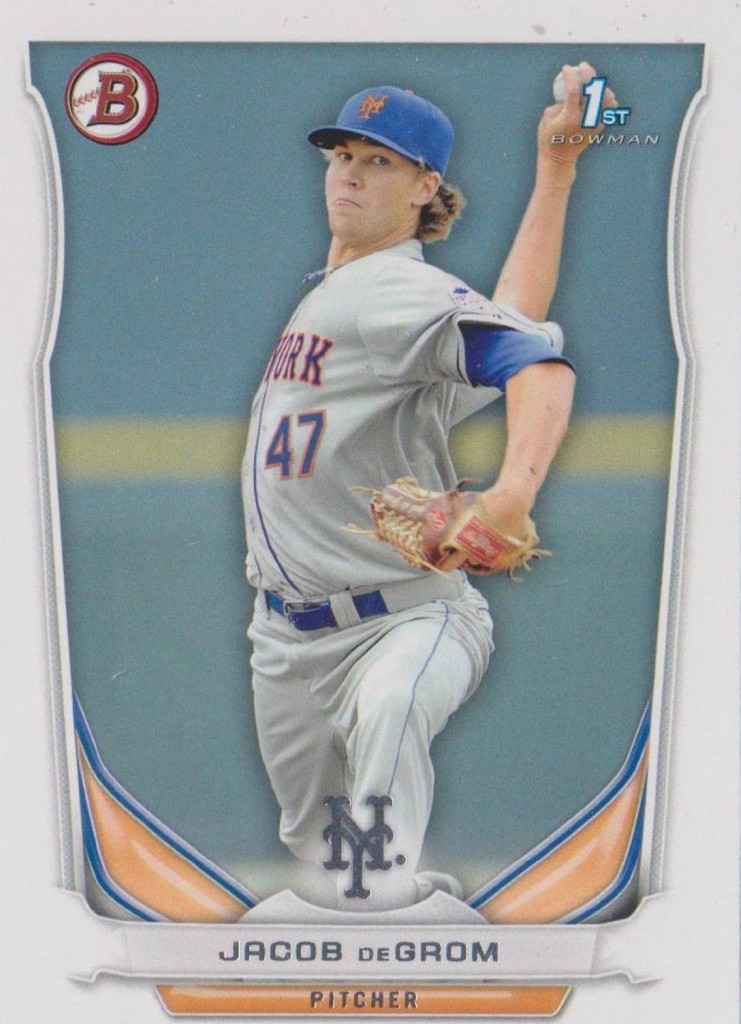 By Brian Fleischer | Beckett Baseball Senior Market Analyst
New York Mets pitcher Jacob deGrom walked away with the National League Rookie of the Year award yesterday, garnering 26 of the 30 first place votes. The right-went 9-6 with a 2.69 ERA and 144 strikeouts in little more than 140 innings of work.
With only 122 cards in the Beckett.com Online Price Guide, deGrom collectors do not have many options when it comes to collecting his cardboard, though he's sure to have plenty to choose from in the late-season 2014 products and the forthcoming 2015 products.
Below, you'll find some of deGrom's best cards to add your collection.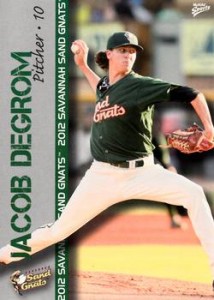 2012 Savannah Sand Gnats Multi-Ad

deGrom's first appearance on cardboard is in this set. We don't price the single card due to lack of secondary market sales information, but complete team sets can be found for around $25 on the secondary market.
—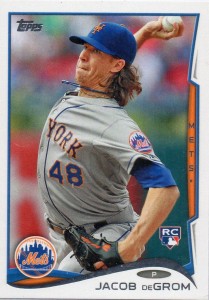 2014 Topps Update #US50A RC ($3)
deGrom's lone "true" Rookie Cards — at least as of this writing — appear in the 2014 Topps Update product. The card is plentiful on the secondary market and affordable at just $3.
—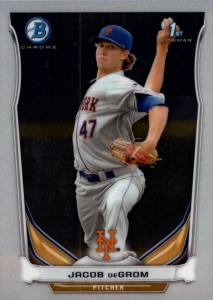 2014 Bowman Chrome Prospects #BCP73 ($4)

deGrom's first cards pictured as a Met appeared in 2014 Bowman. If there's a card that you'd like to your collection in quantity, this is the one to add, as the secondary market is flooded with count lots of the Bowman Prospects and Bowman Chrome Prospects cards.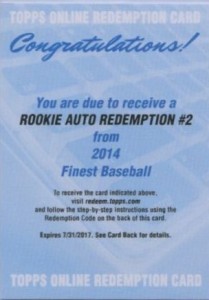 2014 Finest Rookie Autographs Mystery Exchange #2 ($400)
Before Topps revealed the "Mystery" of who would appear on "Rookie Auto Redemption No. 2", this card was priced at a respectable $150, as collectors speculated on which top rookie the company would chose. Once it was revealed that the player would be deGrom, and collectors realized he had yet to have a certified autograph, the card more than doubled on the secondary market. Despite deGrom now having several live certified autographs on the market, this redemption card has remained a strong seller, selling well within the Price Guide range of $250-$400.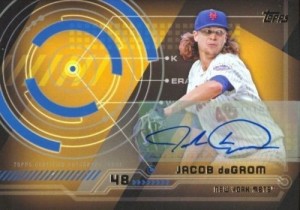 2014 Topps Trajectory Autographs #TAJDE UPD ($120)

deGrom's first live certified autograph was released in 2014 Topps Update. Not easy pulls, the Trajectory Autographs were inserted one in every 575 packs, which might help to explain the $120 value. One of the hottest cards in the Topps Update product, this card skyrocketed to number two on the Hot List in the upcoming issue of Beckett Baseball.