Top 5: Early Pablo Sandoval cards to chase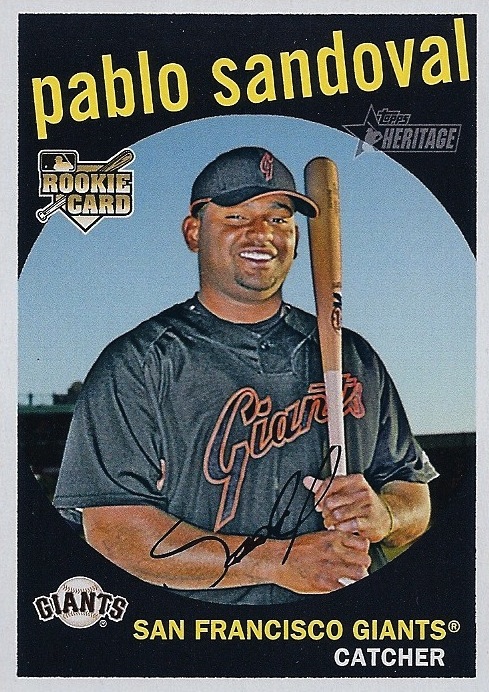 By Chris Olds | Beckett Baseball Editor | Commentary
The Boston Red Sox are pursuing free agent slugger Pablo Sandoval. 
Now take a second to imagine a lineup — and the damage that could be done on the basepaths — with Panda and Big Papi David Ortiz both rumbling toward a catcher. That's enough to make Buster Posey wince.
Sandoval's cardboard presence is a unique one — here are five early cards to consider grabbing before he signs somewhere.
1. 2008 Topps Heritage #656, $12 (above)
Sandoval's only Rookie Card is this one from the popular Heritage line. It's rare these days for players to only have a single RC and this is one that's not as mass-produced as others from recent years. Considering it's his only one, this is an undervalued card in my mind.
—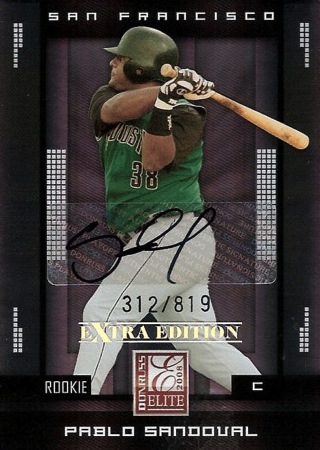 2. 2008 Donruss Elite Extra Edition #152 AU /819, $40
Sandoval has 32 cards from 2008, but his only autographs that year come in Elite Extra Edition. This is the standard version but there are five other versions if you want something more challenging.
—
3. 2005 Salem-Keizer Volcanoes Grandstand #8, $N/A
Want Sandoval's very first baseball card? It's this one — and it's not too easy of a find. (We couldn't even find an image!) Also in the team set that year is Sergio Romo.
—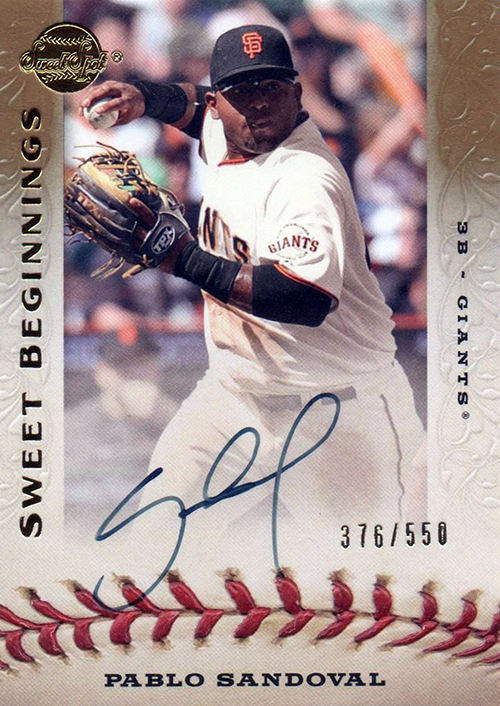 4.  2009 Sweet Spot Rookie Signatures Silver #123 AU /550, $25
Sandoval has 13 certified autos from 2009 and the most-plentiful and more-appealing of the cards is this well-crafted Sweet Spot card from Upper Deck. (Too bad we can't say that about Sandoval's simple autograph.)
—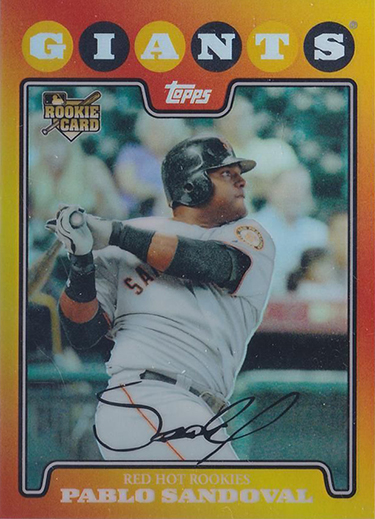 5. 2008 Topps Red Hot Rookie Redemption #14, $12
Among Sandoval's 38 non-Rookie Cards in 2008 is this card, which was issued as part of a redemption program. (Despite the logo, not an RC.) It's a bit tougher to find than a standard card but not too valuable. It's non-traditional release format makes it one I'd target sooner than later.
Chris Olds is the editor of Beckett Baseball and Beckett Sports Card Monthly magazines. Have a comment, question or idea? Send an email to him at colds@beckett.com. Follow him on Twitter @chrisolds2009.