Top 5 Charles Barkley Moments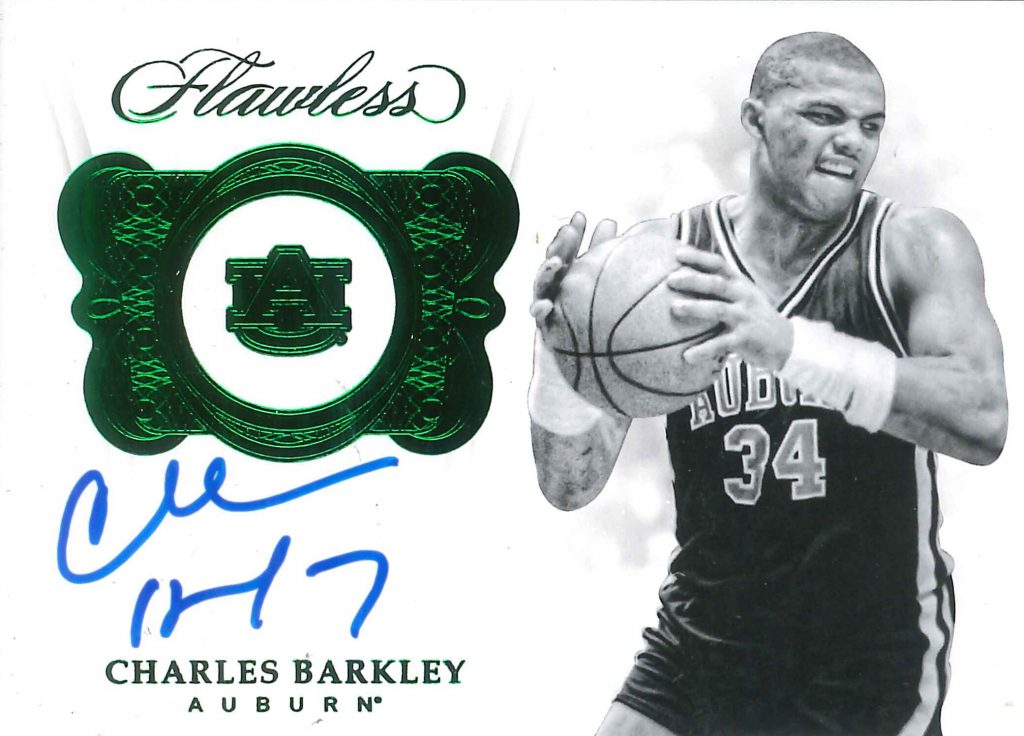 With Panini's huge signing of Charles Barkley to an exclusive autograph and memorabilia contract, we thought it would be best to take a look at some of "Sir Chuck's" most famous moments.
It's hard to say whether Charles Barkley is known more for his playing or his media career. He's had so many great moments since he entered the league in 1984. If anything, he doesn't get the kudos he deserves because he didn't win a championship. Karl Malone, Allen Iverson and Elgin Baylor all suffered that fate and are also unnecessarily under-appreciated.
Small ball has taken over the league in recent years and with Barkley playing at the power forward despite barely cracking 6′ 4″, the man was ahead of his time. His stature didn't prevent him from being one of the greatest rebounders in NBA history. The Chuckster averaged more than 10 rebounds for 15 consecutive seasons. The only time he didn't crack that mark was in his rookie year where he still pulled down more than 8 rebounds a contest (8.5).
Sir Charles was also an incredibly efficient scorer. From 1986-91 he averaged over 25 points on over 56% from the field.
"I Am Not a Role Model"
It's a debate old as sport itself: are athletes role models? In 1993 Nike created an advertising campaign centered on the premise with Barkley as the face.
A quarter-century later the question remains as relevant as ever. The choice to use Barkley at the forefront of the marketing was a masterstroke as there's no player who embraced that 'F-U' mentality more than Sir Charles.
At the time (and still now), opinion was split on the two sides. People supported the notion that those who play sports shouldn't be revered and that role-models come from those closer to home like friends, family and caregivers.   
Conversely, others saw Chuck and Nike's comments as a cop-out. Basketball players hold a state of prestige and are well-paid for what they do, therefore by virtue of those two things, they're automatically role models.
The question remains unanswered but thanks to Barkley a relevant and topical conversation was brought to the public's attention.
Chuck Goes To Sleep
The Inside the NBA team on TNT is a national treasure. Their camaraderie and chemistry is a thing to behold and has created one of the best on-air sports crews going around.
There have been many moments with the Chuckster. Roasting Shaq for his movie Kazaam was just one of many that springs to mind.
His love for San Antonio Spurs legend, Manu Ginobili, was so over-the-top it was hilarious.
The crowning moment though came in 2014 where he decided to take a little snooze on-air.
To be fair it wasn't the most riveting basketball and not all teams provide the most entertaining spectacle. Watch out for the next televised Kings matchup to see if Sir Charles can keep his eyes open.  
Houston Rockets Tenure
Charles Barkley has a known hate for super teams. Funnily enough though, he was a part of one himself when he decided to join Hakeem Olajuwon and Clyde Drexler in Houston.
The trio never reached the ultimate summit, falling to Karl Malone and the Utah Jazz in 1997. Other than that the Rockets failed in the first round, and in his final of four seasons in Houston, the team didn't even make the postseason. Like a lot of failed super teams, they peaked early and weren't able to experience any sustained success.
Outside of Wilt Chamberlain and Bill Russell, Chuck was one of only eight players to snag 33 rebounds or more in one game, which happened in first game as a Houston Rocket.
The Dream Team
Further emphazising Barkley's greatness is his representation of U.S.A. at the 1992 and 1996 Olympics. Both teams were a compilation of some of the NBA's best talent ever.
Don't sleep on the fact that Chuck led the 1992 squad in scoring (18 points per game) with an astounding field goal percentage of 71%. That may be one of his greatest feats, to lead a team in scoring which had Michael Jordan and Larry Bird on it.
It only got better in 1996 where he put up 12.4 points per game, on a 81.6% percentage field goal shooting. That historic percentage is an Olympic record for U.S.A. men's basketball. With what he produced in the regular season from 1986-1991, we shouldn't be surprised.
Hall of Fame Induction
There's no doubt that Charles Barkley is one of the greatest players to step foot on the court. That's only reinforced by his induction into the Naismith Basketball Memorial Hall of Fame in 2006. He was an MVP in 1993 and appeared in 11 All-Star games with countless other accolades to his name.
Sir Charles may not have a championship ring and is still hounded to this day by his counterparts (see Shaq) but don't let that diminish his greatness as one of basketball's finest players to pull on a jersey.
All stats provided by Basketball Reference.