Top 5: Cards of WWE Diva Paige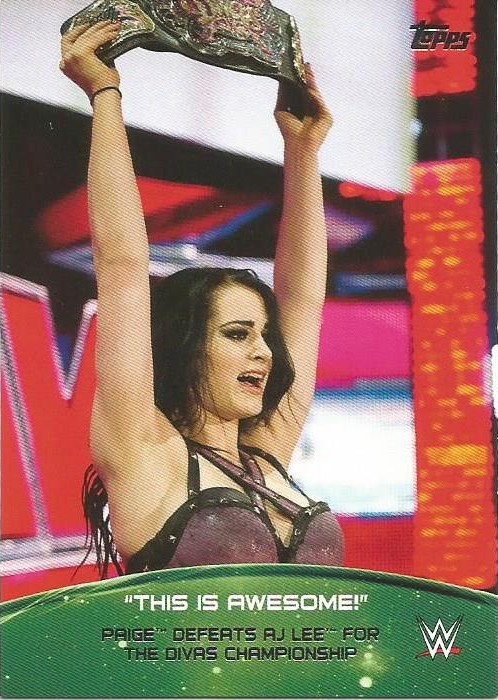 By Matt Bible | Beckett Non-Sports and Gaming Analyst | Commentary
When it comes to this year's wrestling cards, this is her house.
The night after WrestleMania 30 last year, Paige made her WWE debut by winning the Divas Championship from AJ Lee on Raw. Ever since, she has ridden a wave of massive popularity among wrestling fans.
Now, a star of Total Divas and a two-time champion, her popularity is soaring with collectors of cardboard. The release of 2015 Topps WWE has opened the floodgates for Paige collectors, as it includes her "Rookie Card" and many firsts, including autographs, Relics and kiss cards. In a very strong product with many superstars from the past and present, such as John Cena, Hulk Hogan and Ric Flair, Paige is the hottest seller among all of them. While she doesn't have many cards yet, here is a list of her all-time top five … after the jump.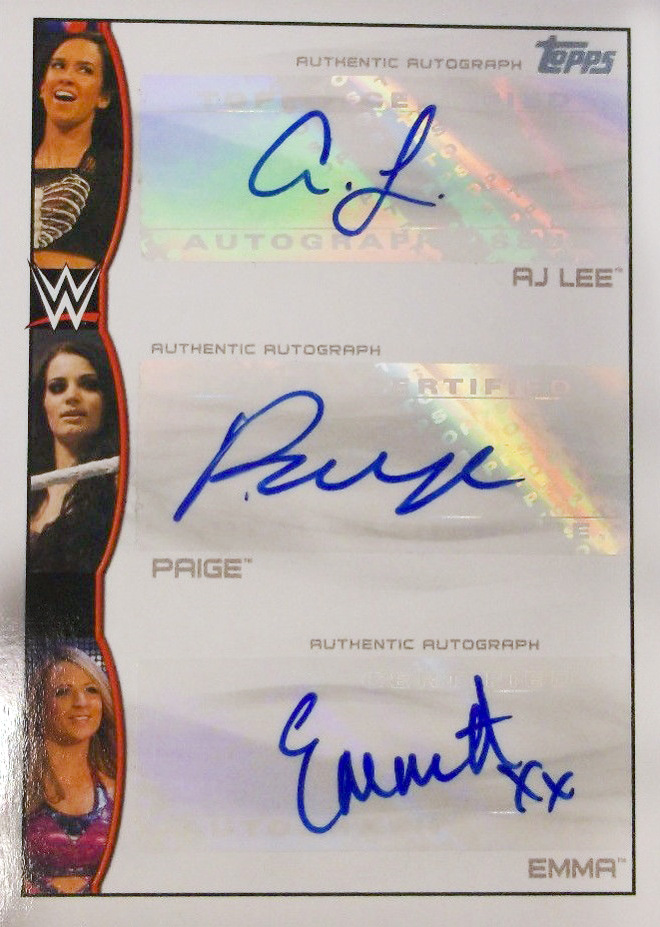 2015 Topps WWE Triple Autographs #1 AJ Lee/Paige/Emma, $n/a
Lee returned to TV last night just in time to save Paige from a Bella Twins beatdown. Since AJ and Paige are once again frenemies, it should boost the desire for this triple-threat signature. With two of the hottest Divas in the industry on one card, it's easy to see why people are willing to shell out hundreds of dollars for it. Paige also has another triple signature card with Emma and Eden. Both cards are serial numbered to five.
—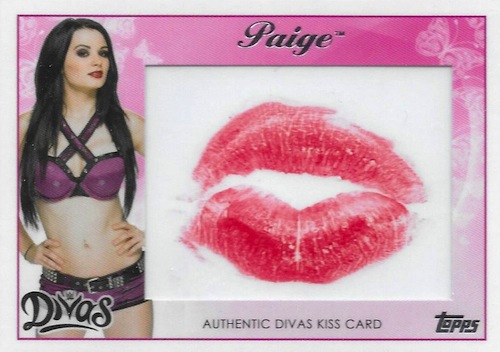 2015 Topps WWE Diva Kiss #7, $200
While the Paige Turner is the kiss of death for her opponents, this kiss brings a little more joy to those who collect her. The Diva Kiss concept dates back 14 years and the decision to include Paige this year was a no-brainer. But, if you want this card, you better pucker up and kiss a couple Benjamins goodbye. It is currently her hottest seller on the secondary market. There is also an autographed version limited to just 15.
—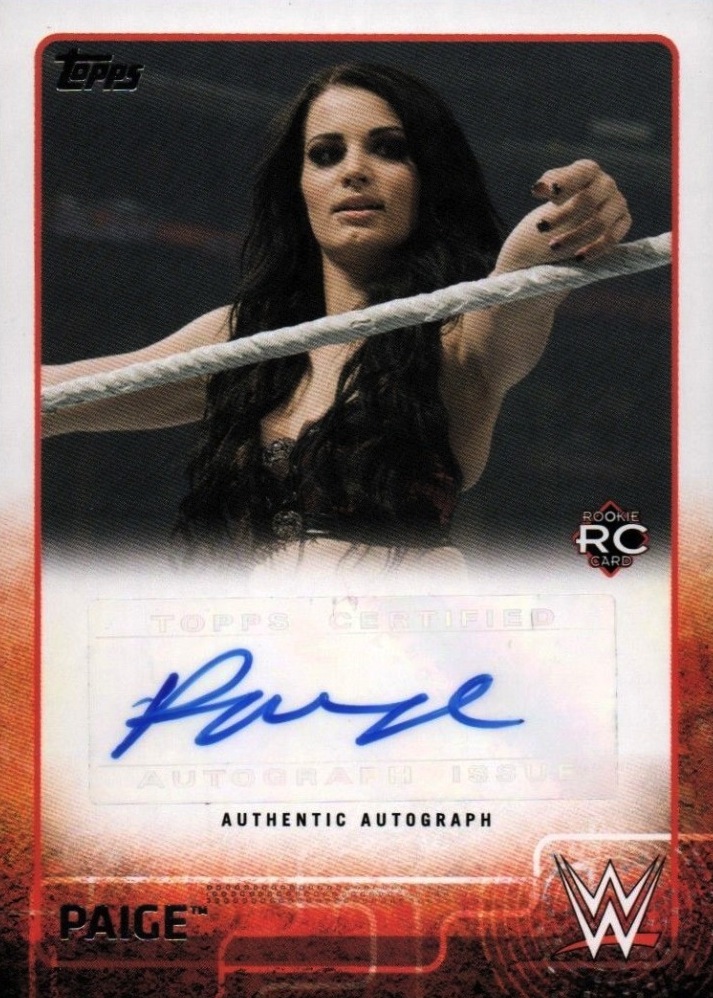 2015 Topps WWE Autographs #6, $120
There's no surprise as to why this is on the list. It's Paige's first autographed card. While there are parallels that are more scarce, this one is the best bet for the majority of fans who really want to own her auto. This sig is one of the most valuable in the 2015 set, rivaled only by the signature of Hulk Hogan ($120). How's that for a statement, brother?
—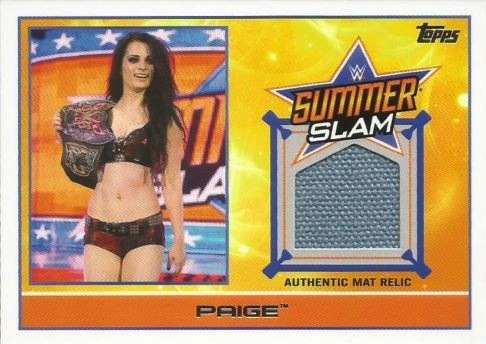 2015 Topps WWE Summerslam Mat Relics, $40
While Paige does have a standard Relic containing a piece of her in-ring gear, this one has more appeal because it represents an historic in-ring performance. It was on this very mat that she won her second Divas title by once again defeating Lee.
—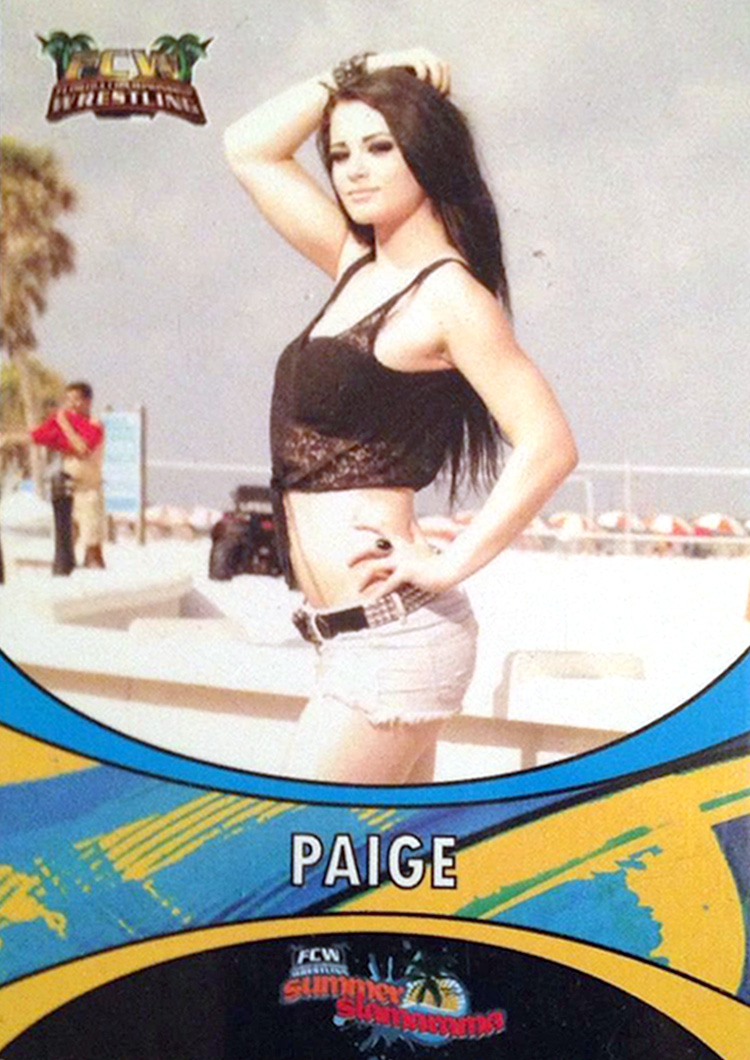 2012 FCW Summer Slamarama #8, $n/a
This is Paige's first official release of any kind. It chronicles her early days in the wrestling business and is her most sought after card that isn't an autograph or relic. Recent market activity has seen this card sell for $100-plus.
Matt Bible is the non-sports and gaming analyst for Beckett Media. Have a comment, question or idea? Send an email to him at mbible@beckett.com.