Top 5: Brock Lesnar trading cards to chase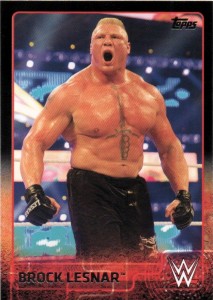 By Matt Bible | Beckett Non-Sports and Gaming Analyst | Commentary
Ladies and gentlemen, my name is Matt Bible. And, I'm the one … bringing some news on the one … in 21-1.
WWE champion Brock Lesnar is not going anywhere. Tuesday night, Lesnar told ESPN that he has signed a contract extension with the WWE, effectively ending his MMA career. So, get ready to see more of The Beast Incarnate and his human microphone, Paul Heyman. Well, at least more of Heyman and an occasional Lesnar sighting. The contract is for a part-time schedule similar to the one Lesnar has enjoyed the past three years. More than likely that means sporadic appearances on RAW and every third PPV.
What does this mean for Wrestlemania and Roman Reigns? Who knows? Initially, the rumors were that Lesnar would drop the belt to either Reigns or Seth Rollins (Money-in-the-Bank cash in) and sign a contract with UFC. Now that Lesnar has dropped the ball, the main event at Wrestlemania has regained a bit of mystery. However, something that isn't mysterious is that Lesnar has some seriously unique cardboard out there on the secondary market. Here are five of his best: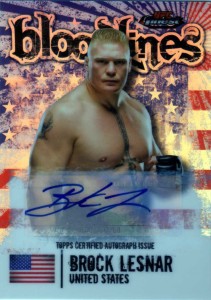 2012 Finest UFC Bloodlines Autographs #BLBL, $80
One of the most affordable Lesnar autographs out there. It depicts a very menacing-looking Lesnar holding up his left fist as though he's ready to knock someone out. With the American flag as the backdrop and an extreme font marking the text Bloodlines, the design matches Lesnar's intense attitude. The signature is stickered in the center of the card and signed in very bold blue ink. This would be ideal for collectors of Lesnar, UFC, or even USA memorabilia and cards.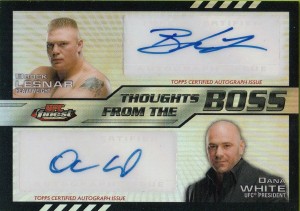 2012 Finest UFC Thoughts from the Boss Autograph #TFDBLW, $100
Imagine a dual autograph card of Michael Jordan and David Stern, because that's pretty much what you have here. With this set, Topps created an opportunity for Dana White, the president of UFC, to give his thoughts on his fighters. In regard to Lesnar, he had this to say: "Brock Lesnar only had seven fights in the UFC, but I don't think anyone ever had the impact he had in such a short time. He was the baddest man on the planet for a long time, and though his bouts with diverticulitis shortened his career, his legacy is set."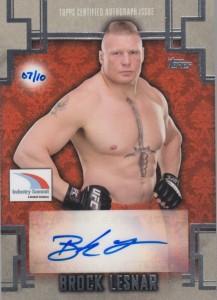 2015 Topps Industry Summit Autographs #LVBL, $n/a
This could very well be the last autographed card depicting Lesnar as a UFC fighter. Extremely short printed at just 10 copies, this gem was available at this year's Topps/Magazine Exchange bowling party during the Industry Summit. It's a good possibility that Topps created this card in anticipation of Lesnar announcing a return to UFC. However, as we now know, that won't happen. But, there is at least one more limited-edition autograph that UFC enthusiasts and hardcore Lesnar collectors can seek out.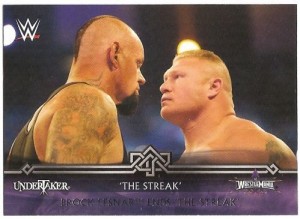 2014 Topps WWE Road to Wrestlemania The Streak #22 Brock Lesnar, $5
As many professional wrestling fans know, Lesnar was the man who brought The Undertaker's Wrestlemania winning streak to a screeching halt. A controversial decision for many? Yes. But make no mistake about it, the victory over the Deadman at 'Mania put Lesnar over in a huge way. It cemented his place as no. 1 contender to the WWE title, which Lesnar would take from John Cena at Summerslam later that year. This card depicts the pure intensity of one of the most shocking moments in sports entertainment history and the moment in which Lesnar became the "one in 21-1".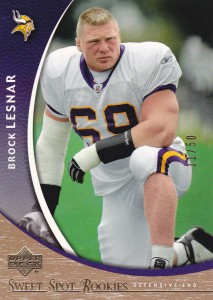 2004 Sweet Spot RC #203, $25
Sometimes it's easy to forget that in between his initial WWE run and his MMA debut, Lesnar also gave the NFL a try. In the summer of 2004, Lesnar joined the Minnesota Vikings during the pre-season after a strong showing in the NFL combine. While he brought much intensity to training camp, he was cut just before the season started. Still, Lesnar's NFL excursion did produce a few rookies that have maintained surprising value in the hobby. Besides the Sweet Spot RC, he also has the following: Leaf Rookies and Stars #155 ($20), Leaf Rookies and Stars Longevity #155 ($25), and Playoff Honors #173 ($30).
Matt Bible is the non-sports and gaming analyst for Beckett Media. Have a comment, question or idea? Send an email to him at mbible@beckett.com.