Top 21 Cryptozoic Autograph Signers from Their First 10 Years
It's hard to believe, but it has already been a decade since Cryptozoic released their first set of trading cards. CBLDF Liberty arrived in July, 2011 and the rest is history. It didn't take long for the company to land some major licenses, mixing hobby favorites with some new upstarts.
One of the things that has made Cryptozoic's sets notable are the autograph lineups. The company has taken deep dives into casts, landed notable guest stars and featured ink from before an actor joined Hollywood's A-list.
Here are 21 of the biggest Cryptozoic autographs from the card maker's first decade. While value is a factor, it's not the only one. Some are important for helping launch big franchises that have made a major impact on the hobby.
Top 21 Cryptozoic Autograph Card Signers
21. Leonard Nimoy – 2013 Big Bang Theory Season 5
Leonard Nimoy has a lot of different autograph cards but none quite like the one found in Big Bang Theory Season 5. Nimoy and Spock go together like peanut butter and jelly or trouble and Tribbles. Here, though, Nimoy is represented by the Mego doll version of his most famous role.
Buy on: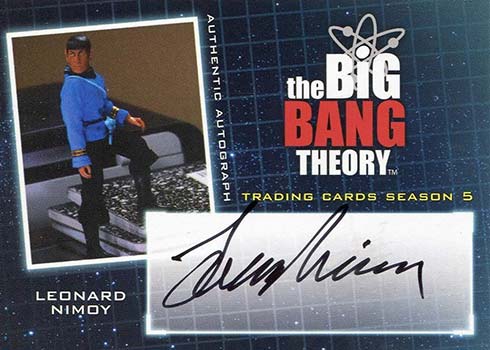 20. Ezra Miller – 2019 CZX Super Heroes and Super-Villains
Ezra Miller isn't the most famous member of the big screen Justice League but one could argue that the actor is just getting started. With a solo Flash film on the horizon, look for his star power to continue to rise. Miller has three different autographs in the deep 2019 CZX Super Heroes and Super-Villains set but just 110 copies combined.
Buy on: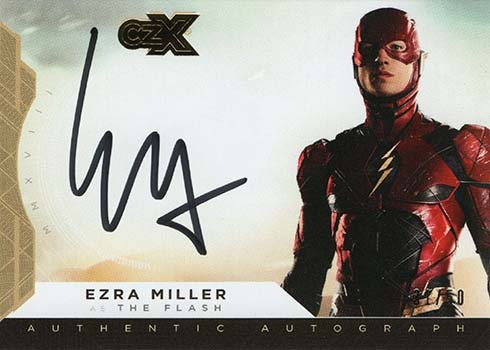 19. Charlie Hunnam – 2014 Sons of Anarchy Seasons 1-3
Charlie Hunnam has four different Cryptozoic autograph cards, three of which are for his most famous role as Jax Teller in Sons of Anarchy (the last is for the scarce Pacific Rim mini set). As the central character for a much loved show, Hunnam is an obvious key in all three SOA sets. That said, like many of their products, the checklist runs deep with both key actors and notable guest stars.
Buy on: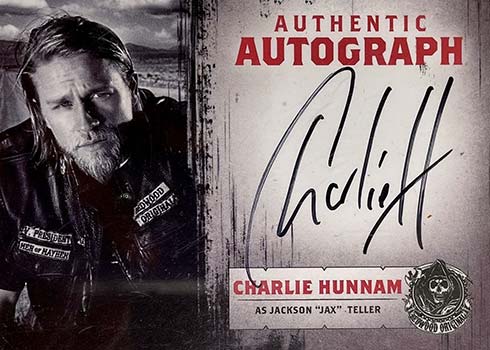 18. Andrew Lincoln – 2012 The Walking Dead Season 2
Andrew Lincoln was one of the few leads not to have an autograph in Cryptozoic's landmark 2011 The Walking Dead set. However, he was there for Season 2 (and more in the following years).
Buy on: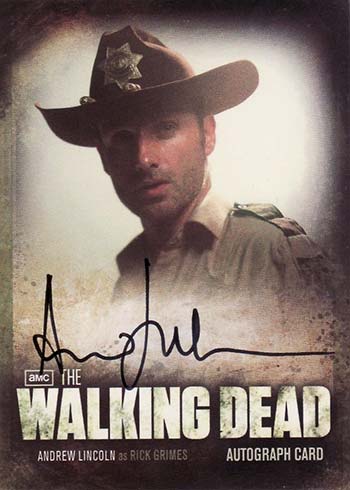 17. Melissa Benoist – 2018 Supergirl Season 1
Cryptozoic went deep into the Arrow-verse, not only with the number of sets it produced but with its signers. This includes Melissa Benoist, the lead in Supergirl. She has three different cards in the set, one as Supergirl (the most coveted), one as Kara Danvers and a final one as Red Kryptonite Supergirl.
Buy on: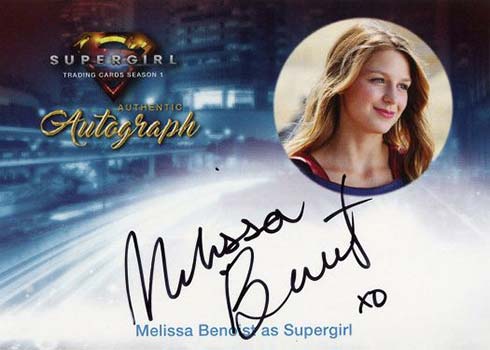 16. Tatiana Maslany – 2016 Orphan Black Season 1
Tatiana Maslany did a masterful job juggling several characters in Orphan Black. While some may not be fond of variations and multiple cards for signers in the same set, it was only natural here. And that's exactly what Cryptozoic did. The actress, who has the lead in the She-Hulk TV show, has 28 different autograph cards across three Orphan Black sets. The first season's release has ten. This gives collectors a chance to casually land one or two without too much difficulty. But some were reserved for incentives, making them incredibly difficult.
Buy on: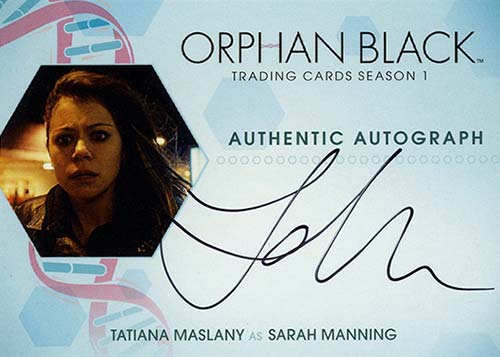 15. Grant Gustin – 2017 The Flash Season 2
After being noticeably absent from the first set for The Flash, Cryptozoic was able to get series lead Grant Gustin to sign for the second. That said, the actor has 12 total autographs in the product. They're also spread across three different cards, each numbered to 4. There's definitely significant value in each but they're so scarce that it's hard for them to make a bigger overall impact.
Buy on: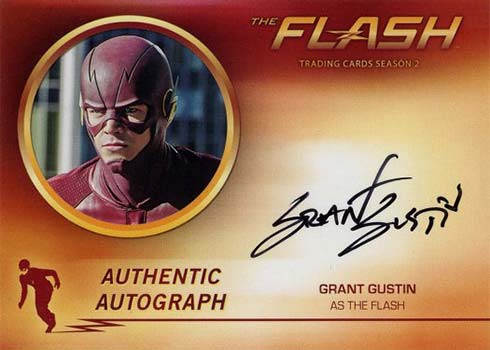 14. Hailee Steinfeld – 2014 Ender's Game
You're going to be hearing a lot about Hailee Steinfeld over the next several years. She's already starred in multiple blockbusters and she's about to enter the Marvel Cinematic Universe playing Kate Bishop in the Hawkeye TV series. Also a pop singer, Steinfeld's music has climbed those charts as well.
Buy on: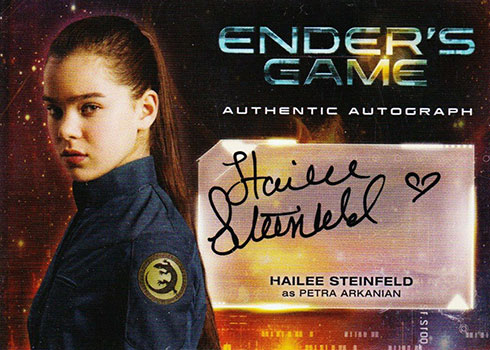 13. Dan Aykroyd – 2016 Ghostbusters
Being one of the lead Ghostbusters makes this card an instant-classic. More than that, though, Aykroyd is one of the great funnymen of his generation with iconic roles spanning Saturday Night Live, The Blues Brothers, The Great Outdoors and more. He's also the headliner on a deep Ghostbusters autograph list from Cryptozoic.
Buy on: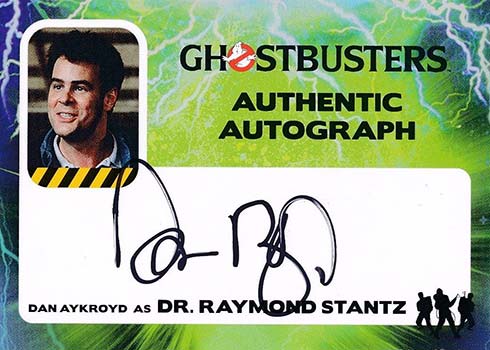 12. Ben Affleck – 2019 CZX Super Heroes and Super-Villains
He's been the punchline for many jokes over the years, but that's what happens when you're one of Hollywood's most famous actors. Affleck has three autographs in this set, however each has just ten copies, which makes them scarce and pricey. Affleck's signature has appeared in a couple of other products over the years including 2003 Topps Daredevil and recent Leaf Metal Pop Century releases.
Buy on: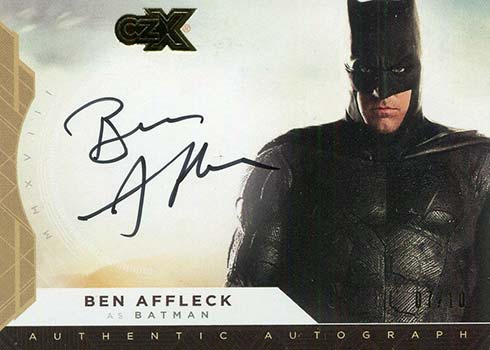 11. Harrison Ford – 2014 Ender's Game
As far as legendary Hollywood names go, Harrison Ford really should be higher. But we're not talking Harrison Ford as Han Solo, Harrison Ford as Indiana Jones or Harrison Ford as Jack Ryan. Harrison Ford as Colonel Graff doesn't have nearly the same pop culture cache. That said, an Ender's Game Harrison Ford autograph is better than none.
Buy on: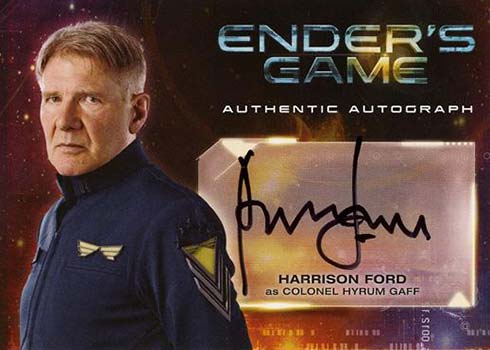 10. Justin Roiland – 2018 Rick and Morty Season 1
It wasn't long ago that people were freaking out at McDonald's over special Chicken McNugget sauce brought back from the dead by Rick and Morty. The show, which is still popular, was a legitimate phenomenon around the time that Cryptozoic brought it to trading cards for the first time. Roiland, the show's creator, has four autographs in 2018 Rick and Morty Season 1 including separate signatures for both titular characters that are numbered to 50.
Buy on: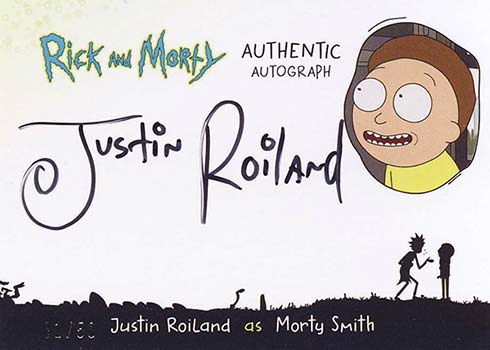 9. Henry Cavill – 2019 CZX Super Heroes and Super-Villains
It doesn't matter who the actor is or the era. Once you put on the 'S' and the cape and become a big screen Superman, it's something special. Henry Cavill helped usher in the DC Extended Universe in 2013's Man of Steel and has continued the role for two more films — so far. It also led to a central spot on Cryptozoic's checklist for the franchise-spanning 2019 CZX Super Heroes and Super-Villains. Cavill has four single-signed cards in the product — three as Superman and one as Clark Kent — but all are extremely rare with just 120 total copies between all of them. There's also a Superman/Wonder Woman dual autographs that's numbered to 5.
Buy on: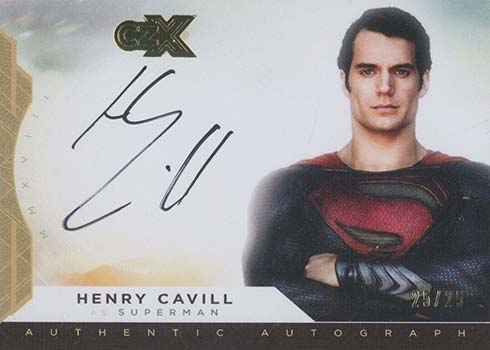 8. Jim Parsons – 2012 The Big Bang Theory Seasons 1 and 2
The Big Bang Theory is one of the most popular sitcoms of all-time. It's also the geekiest. And while it's an ensemble cast, the show revolves around Parsons' character — Sheldon Cooper. Winner of both an Emmy and a Golden Globe in 2011 for the role, a year later he made his autograph card debut. Parsons ended up signing for three different Big Bang Theory sets but the first remains the most popular and valuable.
Buy on: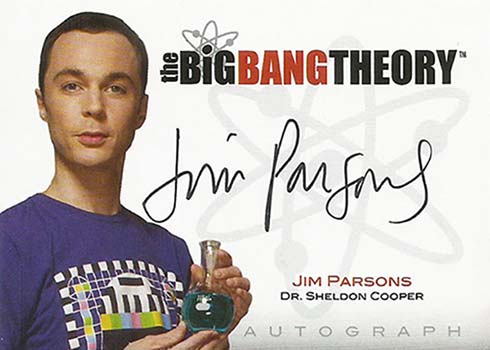 7. Norman Reedus – 2011 The Walking Dead
The first season set wasn't Cryptozoic's first foray into non-sport cards but it was, arguably, the one where the masses took notice. Launching as the show was starting to hit its stride, the checklist included autographs from much of the show's main cast including fan-favorite Norman Reedus. He's signed a lot of cards over the years, but the first two found here are particularly notable. 2011 Cryptozoic The Walking Dead has gone on to be one of the biggest sets of the new millennium, bringing in a lot of new collectors to the hobby. And Reedus has been a key part of that.
Buy on: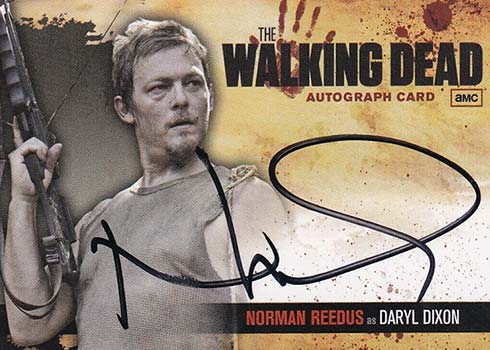 6. Meghan Markle – 2012 Fringe Seasons 1 and 2
Sometimes autographs come out of the gate strong. Other times it takes a royal wedding to give it iconic status. Such is the case with Meghan Markle's signature in 2012 Fringe Seasons 1 and 2. When the set came out, it might be generous to say that this was on the second tier of signers. The actress was also in Suits, but was hardly a big name. But when she married Prince Harry in 2018, this card had soared. Not only had her notoriety been raised tremendously, but autographs are not typically done by royals save for official documents. Official title for her and her husband may have changed but the fame has not. And it's doubtful that Markle will sign for another set again. 
Buy on: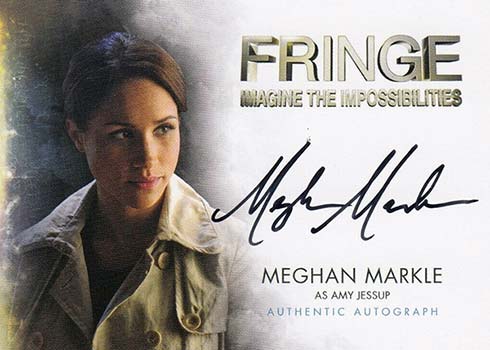 5. Sam Heughan – 2016 Outlander Season 1
4. Caitriona Balfe – 2019 Outlander Season 3
Claire and Jamie are one of TV's great love stories of the past decade. So it only seems appropriate to pair up Caitriona Balfe and Sam Heughan together here. Similar to The Walking Dead, Outlander is a show that appealed to a lot of people who weren't necessarily trading card collectors. But once they started, they brought with them a lot of passion. Heughan was a signer from the beginning, headlining the 2016 Outlander Season 1 autographs. Collectors had to wait a little longer for Balfe but she finally joined for the Season 3 set and again in the premium CZX Outlander release.
Buy on: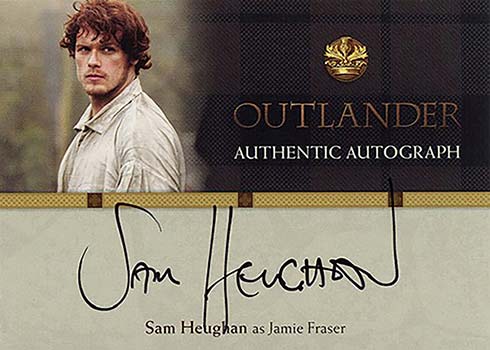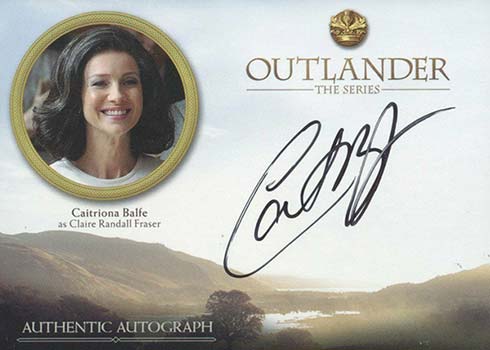 3. Stephen Amell – 2017 Arrow Season 4
Cryptozoic has done extensive work with the various shows that make up TV's Arrowverse. In particular, the Arrow line was going well for three sets despite lead star Stephen Amell's reluctance to sign. Finally he did for Season 4. He has two cards in the set — one as Green Arrow and another as Oliver Queen. While both fetch significant prices, it's the masked Amell that is worth slightly more. 
Buy on: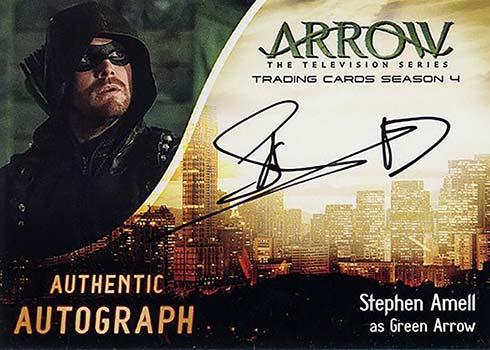 2. Kaley Cuoco – 2012 The Big Bang Theory Seasons 1 and 2
The first Big Bang Theory set really is a non-sport classic. The autographs alone cover virtually all of the main cast — something that's extremely important given its ensemble focus. Still, even in a crowd, some actors stand out more than others. Such is the case with Kaley Cuoco who played Penny. From a card perspective, she's been up there with Parsons from the beginning. And with autographs in only two of Cryptozoic's BBT sets, it makes an already tough signature that much tougher.
Buy on: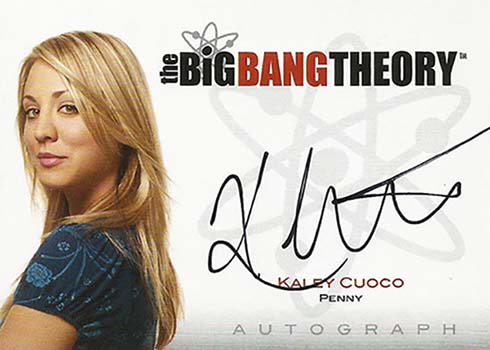 1. Gal Gadot – 2019 CZX Super Heroes and Super-Villains
It's not very often that a trading card company can convince the main face of a blockbuster franchise to sign trading cards, especially when it's after their global superstardom has been established. Yet, Cryptozoic was able to do that with Gal Gadot, Wonder Woman in the DC Extended Universe. She has three single-signed cards in the set including one that's got a somewhat reasonable print run of 99 copies (the other two have 25 each). Still, these fetch thousands on the rare occasions that they surface. There's also a dual-signed card with Gadot and Cavill that has just five copies.
Buy on: