Top 20 Topps Chrome Basketball Rookie Cards
Topps Chrome wasn't the first chromium basketball card line (Finest beat it by three years). It hasn't been released in more than a decade. Even still, the combination of shiny cards and connection to the company's main line has meant continued popularity still today, especially when it comes to Topps Chrome Basketball Rookie Cards. In fact, with the overall growth in all things chrome, an argument could be made that it's bigger than ever.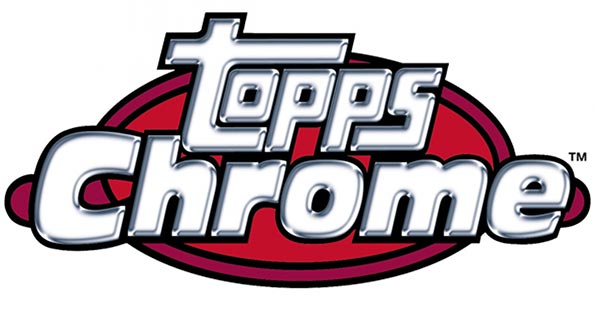 With that in mind, here's a look at 20 of the top Topps Chrome Basketball Rookie Cards.
20 Most Valuable Topps Chrome Basketball Rookie Cards
Rankings are based on values in the Beckett price guide.
20. 1998-99 Topps Chrome Vince Carter RC #199
Vince Carter has one of the greatest action shots to ever appear on a Topps Chrome Basketball Rookie Card. But that was Vince Carter. His influence on growing the game in Canada is still being felt. However, his ability to evolve over the course 22 seasons might be his lasting on-court legacy.
Buy on: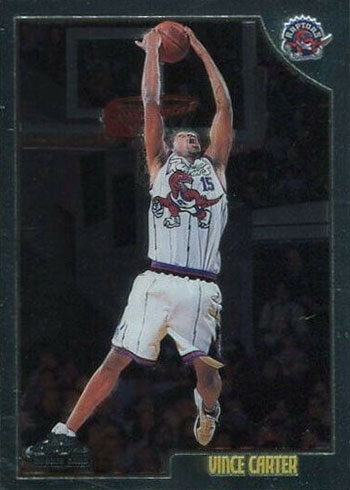 19. 2008-09 Topps Chrome Derrick Rose RC #181
Derrick Rose has seen a lot of peaks and valleys in his career. After being named the 2011 NBA MVP, the injuries piled up for the guard. In the years since, he has turned into a journeyman of sorts, bouncing from team to team but endearing fans in the process. A second stint with the Knicks has brought a resurgence to his cards with his 2008-09 Topps Chrome RC being near the top of the list.
Buy on: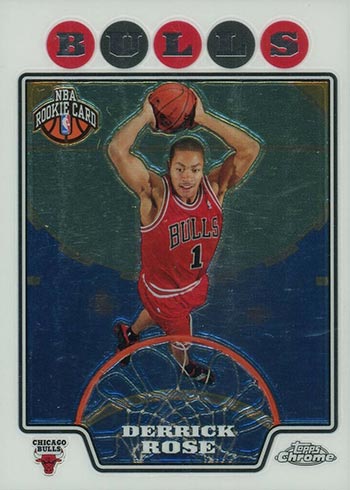 18. 1996-97 Topps Chrome Ray Allen RC #217
Ray Allen was a quiet superstar. Consistently great, he was a ten-time All-Star. Even after sharing the big screen with Denzel Washington in 1998's He Got Game, Allen wasn't on the same level as some of his 1996 draft class peers like Kobe Bryant, Allen Iverson and Steve Nash. He does have a passionate collecting base. It isn't quite as far reaching. All that said, being a Hall of Famer in the inaugural 1996-97 Topps Chrome set carries significant clout.
Buy on: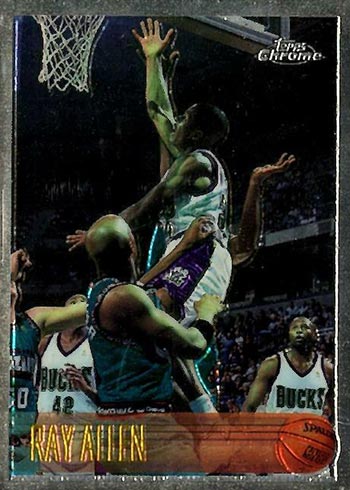 17. 2002-03 Topps Chrome Yao Ming RC #146
The first overall pick in the 2002 draft, Ming towered over most of the league standing 7′ 6″. Although injuries ultimately derailed the second half of his career, Ming's impact can be seen in growing the international reach of the NBA.
Besides a handful of traditional Refractor parallels, Ming's Rookie Card also has a variation with the text written in Chinese. He's one of ten players in the set to have variations done in the language of their home country.
Buy on: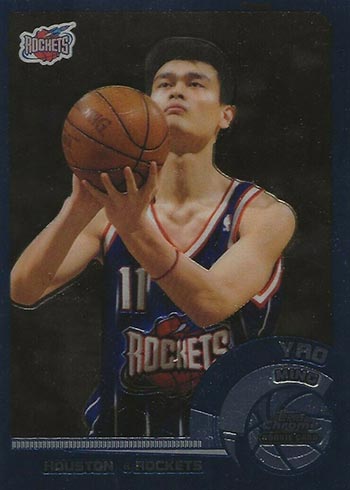 16. 1998-99 Topps Chrome Dirk Nowitzki RC #154
It's safe to assume that the Milwaukee Bucks regret trading Dirk Nowitzki in a draft night trade with Dallas for Robert Traylor. Nowitzki proceeded to spend his entire NBA career with the Mavericks, winning MVP honors in 2007 and leading the team to a title in 2011. He remains one the franchise's most beloved players. Not surprisingly, this ranks as one of his top RCs. Only his 1998-99 SP Authentic, which is serial numbered to 3,500 copies, carries more value.
Buy on: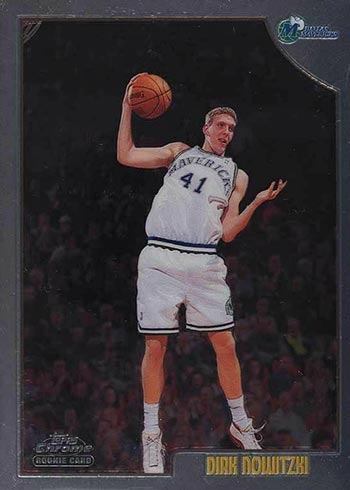 15. 2003-04 Topps Chrome Carmelo Anthony RC #113
When it comes to scoring, Carmelo Anthony is one of the best in NBA history. Yet, overall, his cards don't get the attention you'd expect from such a legacy. There are likely several factors involved including the lack of an NBA title. One could also point to the fact that he came into the league at the same time as LeBron James, which, fair or not, leads to comparisons. Anthony's accolades are great, but they're simply not at the same level as James.
Buy on: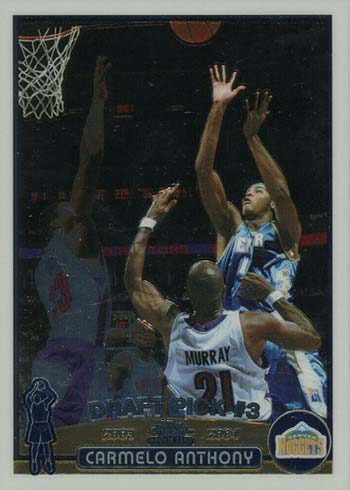 14. 2009-10 Topps Chrome Jrue Holiday RC #110 /999
On a list that's mostly Hall of Famers and future Hall of Famers, it might seem strange to find Jrue Holiday. He's someone who has put together a strong career. In some measures, some may even say great. But Canton seems like a long shot. But being one of several standouts on the 2009-10 Topps Chrome Basketball checklist brings some clout when you're looking strictly at values. It's one example of a product pushing values higher than you might expect. The fact that he was a standout for the Bucks on their run to the 2021 NBA Championship also helps.
Buy on: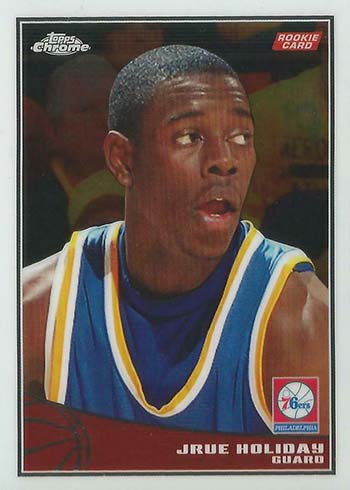 13. 2009-10 Topps Chrome DeMar DeRozan RC #100 /999
Exhibit B for the power of 2009-10 Topps Chrome. Pretty much everything about Holiday applies with DeMar DeRozan minus the title.
Buy on: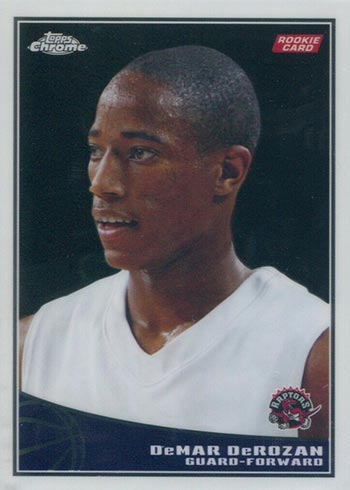 12. 1996-97 Topps Chrome Steve Nash RC #182
It took a few years for Steve Nash to be considered among the top players from one of the greatest (if not greatest) drafts of all-time. But back-to-back MVP awards will do that. A legend at point guard, Nash is the second of four 1996-97 Topps Chrome Basketball Rookie Cards to crack this list.
Buy on: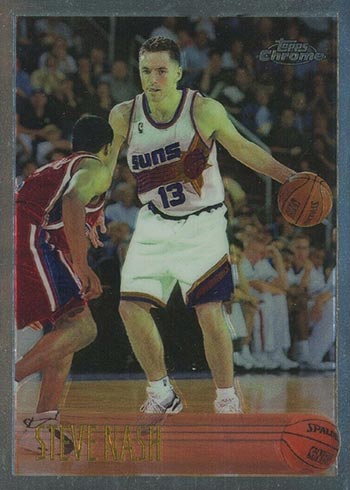 11. 1997-98 Topps Chrome Tim Duncan RC #115
Tim Duncan is one of the most decorated players to ever play basketball. Five NBA Championships, three Finals MVP awards, a pair of NBA MVP honors and 15 All-Star selections are just the start of his accolades. Duncan's style of basketball might not have been the most exciting but it won games — a lot of them. In recent years, collectors have come to respect the Spurs great more but not to the same level as many of his peers. Released at the cusp of autographs and short prints becoming the norm for RCs, this is Duncan's most valuable Rookie Card.
Buy on: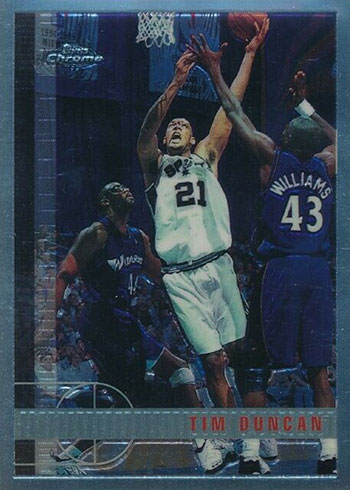 10. 2009-10 Topps Chrome Blake Griffin RC #96 /999
No, Blake Griffin is not a better basketball player than Tim Duncan, Steve Nash or pretty much everybody on this list behind him. It's not that he's a bad player, he's just not a generational talent like some others with less valuable RCs. This particular card benefits from the set that it's a part of and its small (on the Topps Chrome scale) print run of 999 copies.
Buy on: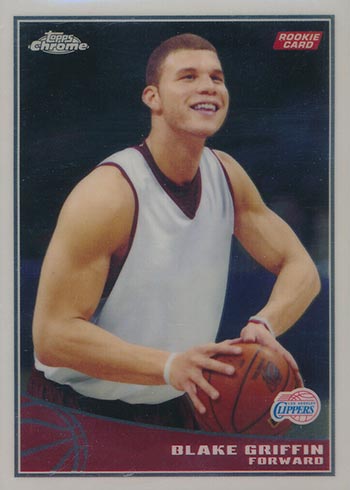 9. 2005-06 Topps Chrome Chris Paul RC #168
The fourth overall pick by the New Orleans Hornets in the 2005 draft, Chris Paul can be one of the most exciting players in the game. The point guard has proven to be among the game's best at both ends of the court. That said, there have been some down years, too, hindered primarily by injuries. In recent years, CP3 has moved around to a couple of teams, reestablishing himself in Phoenix as they made it all the way to the NBA Finals in 2021. That, combined with the surge in all things Topps Chrome Basketball, has elevated values on his popular Rookie Card to its current level.
Buy on: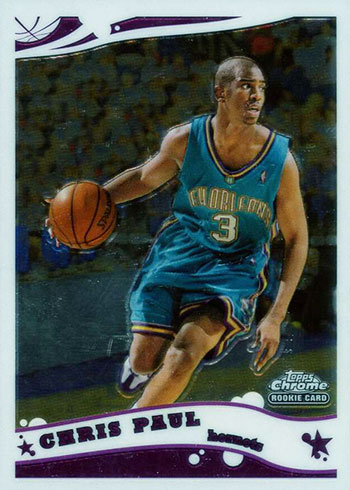 8. 2003-04 Topps Chrome Dwyane Wade RC #115
Dwayne Wade spent a lot of his career playing alongside other greats like LeBron James and Shaquille O'Neal. Despite this, it never felt like he was playing in their shadows. Wade was the mainstay in Miami for more than a decade. In the process, three NBA Championships made their way to South Beach during his time with the Heat.
His Topps Chrome Rookie Card is found in the 2003-04 set, one of the strongest in the line's history.
Buy on: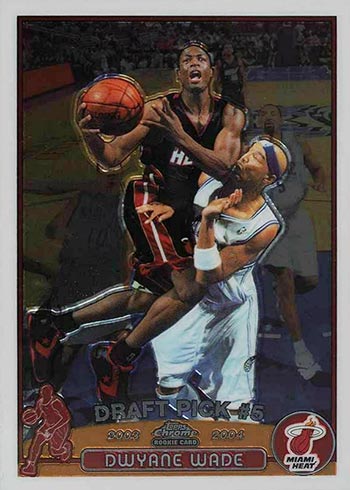 7. 2008-09 Topps Chrome Russell Westbrook RC #184
Russell Westbrook has been a points-generating machine where he's played. Although he's been dominant in that regard, it's possible that he still might be overlooked in some basketball card circles. A big part of that likely stems from the one thing he hasn't done — won an NBA Championship. That said, each triple-double-filled season has brought him closer to the hobby elite, pushing his 2008-09 Topps Chrome Rookie Card in the process.
At this point, Topps was really starting to grow the number of parallels. This card also has Refractor, Orange Refractor (/488), X-fractor (/288), Gold Refractor (/50), Red Refractor (/5) and Superfractor (1/1) versions. There are also four different Printing Plates, each a one-of-one.
Buy on:
6. 1996-97 Topps Chrome Allen Iverson RC #171
As great as Allen Iverson was on the court — and he was great — it could be argued that his influence was just as big off of it. Iverson embodied an attitude and influence that touched on many other areas and culture. In his prime, he was one of the game's biggest stars. Things didn't go as well in the end but fans and collectors have come around again, recognizing his accomplishments. Iverson's top RC, which also happens to be one of most coveted Topps Chrome Basketball Rookie Cards, is another key card in the line's inaugural set.
Buy on: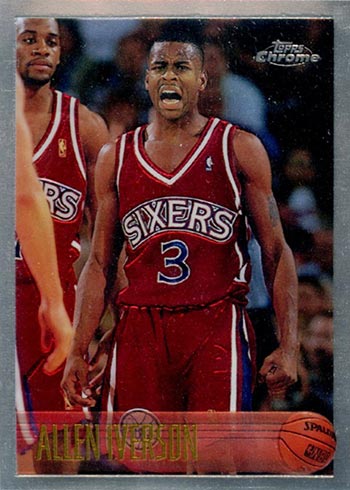 5. 2007-08 Topps Chrome Kevin Durant RC #131
Kevin Durant is one of the kings of modern basketball cards. He's not Jordan or LeBron level, but his cards have continued to build momentum as his career progresses. Great from the beginning, he quickly emerged as an elite-level superstar as the Supersonics moved to Oklahoma City. There was an MVP award in 2014 and had the Thunder on the cusp of a championship. A move to Golden State and a pair of titles followed before signing with Brooklyn where he's the leader on a dangerous Nets squad. At this point, Durant is building a case for his legacy. He's already a Hall of Famer. It's a matter of how big his career numbers get and, perhaps, if he's able to win a championship away from the Warriors.
Durant has several high-end Rookie Cards with autographs and small print runs. While his 2007-08 Topps Chrome RC might not carry the same values as some of them, it still hangs in there with many of the big ones. It's a testament to Topps Chrome's strength and lasting appeal.
Buy on: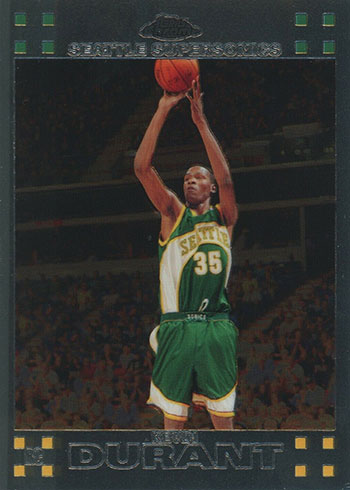 4. 2009-10 Topps Chrome James Harden RC #99 /999
Durant may have more star power and hobby clout, but the 2009-10 Topps Chrome James Harden RC is part of a more limited — and loaded — set. Considering his prolonged dominance, collectors have been somewhat slow towards Harden's cards. But that's changing as his career numbers become harder to ignore.
Buy on: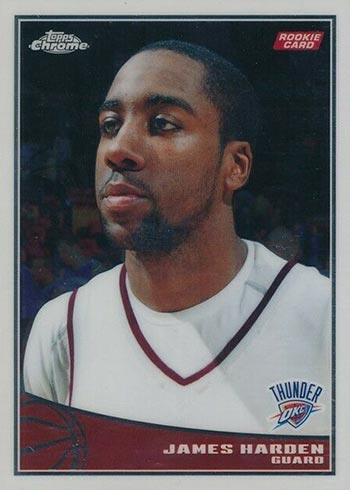 3. 2003-04 Topps Chrome LeBron James RC #111
When LeBron James came into the NBA in 2003-04, there was a lot of hype. That carried over to the hobby with card makers looking for ways to integrate the instant superstar. However, with Upper Deck holding an autograph exclusive from the beginning, it also created some challenges. Understandably, 2003-04 Topps Chrome Basketball might not have the most valuable LeBron James Rookie Card, but this one holds its own.
By this point, Topps was starting to build out the number of parallels beyond just Refractors. James also has numbered Black Refractor (/500), X-Fractor (/220), Gold Refractor (/50) versions as well as four different one-of-one Printing Plates. All of these fetch tens of thousands, significantly more for top-condition copies.
Buy on: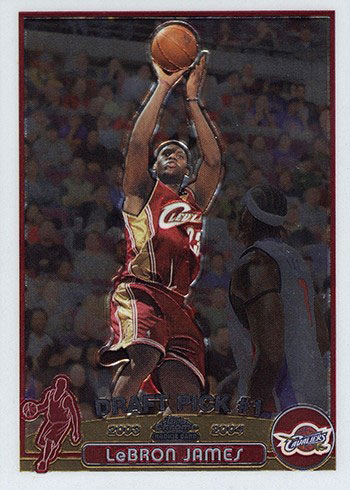 2. 1996-97 Topps Chrome Kobe Bryant RC #138
The 1996-97 Kobe Bryant is probably the most iconic Topps Chrome Basketball Rookie Card. Not only is it the Lakers legend's best RC, but it's one that help build the line's momentum. It didn't take long for Topps Chrome to catch on after collectors caught on to its initial retail-only release.
When it comes to modern insert era, the 1996-97 Topps Chrome Refractor Kobe Bryant is probably the most famous card not to include either an autograph or a piece of memorabilia. A BGS 10 Black Label copy of the card sold for almost $1.8 million at auction in March, 2021.
Buy on: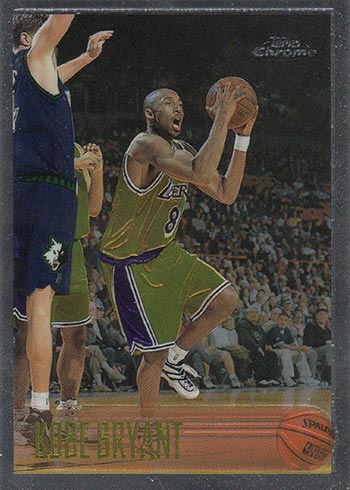 1. 2009-10 Topps Chrome Stephen Curry RC #101 /999
When it comes to its most valuable Rookie Cards, Topps Chrome lived up to the cliché of saving the best for last. Fairly generic in its appearance, the 2009-10 Topps Chrome Stephen Curry RC isn't the most attractive card in the line's history. However, it does feature one of the most transformative players to ever step on the court. The limited nature of the 2009-10 set also is a major factor in this card's rise. In addition to the base version, there's a Refractor (/500), Gold Refractor (/50), Superfractor (1/1) and four different one-of-one Printing Plates.
Buy on: