By a lot of measures, 2019 was a big year for sports cards. All of the major sports had the usual rookie standouts and phenoms that helped drive things, but they weren't the only ones. Here's a look at 20 sports cards that made an impact in their respective sports and the hobby as a whole in 2019. While value isn't the only criteria, it is one of them. Some are noteworthy for other reasons. Others shaped the way many of us collected over the 12-month period.
Top 20 Sports Cards of 2019
The following list covers sports cards released during the 2019 calendar year. It may not necessarily adhere to the year of the card. That's why you will see 2018 and 2019 football cards as well as 2018-19 and 2019-20 basketball and hockey releases.
20. 2019 Panini Victory Lane Signature Swatches Hailie Deegan #SS-HD
When it comes to racing cards right now, Hailie Deegan is queen. Her Signature Swatches card from 2019 Panini Victory Lane garnered plenty of attention and Hot List entries over the course of the year. Although Deegan had autographs and memorabilia cards in 2018, this is the first (and, so far, only) to include both.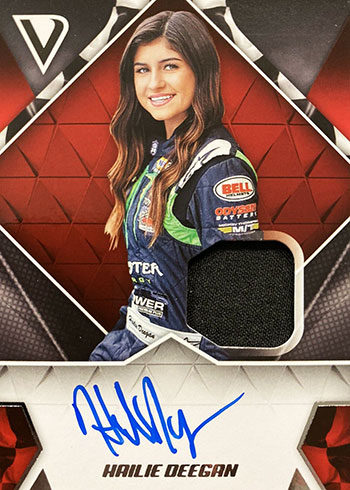 ---
19. 2019 Topps WWE Transcendent Autographs Vince McMahon #A-MM
The signature is ugly. There's no debate there. But this card's importance goes beyond penmanship. Until 2019 Topps WWE Transcendent, Vince McMahon never had a certified autograph card.
Besides spending decades on screen both as an announcer and one of professional wrestling's greatest villains, McMahon is largely responsible for shaping the last four decades of professional wrestling. As owner of WWF WWE, he took a regional model and made it international. McMahon expanded wrestling's reach through pay-per-view. He's overseen its transformation to an over-the-top streaming model. Like him (or his signature) or not, this card is a big deal.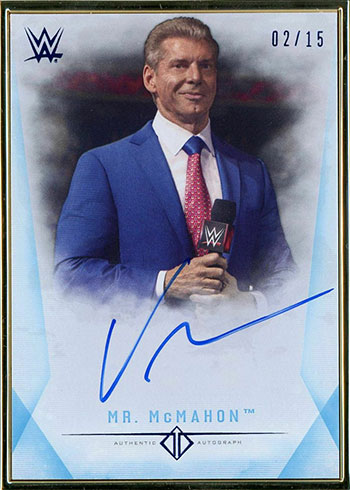 ---
18. 2019 Impeccable Kyler Murray RC Auto Helmet/Patch #102 /75
When it comes to strictly value, the biggest Kyler Murray Rookie Cards are likely to arrive in 2020 with the release of National Treasures and a couple of others. But his Impeccable RC is a nice alternative — and not just in waiting. It has the autograph-patch combination that a lot of cards have, but there's more. A second swatch incorporates a helmet piece. The design and card stock are distinct. And with just 75 copies, it's probably going to be a little more rare than National Treasures (barring Murray being a short print). There's a nice make-up here, just not quite the established track record as some other lines yet.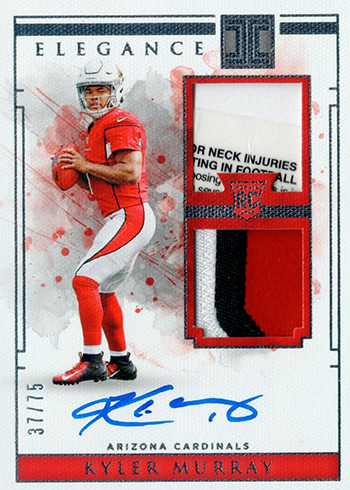 ---
17. 2019-20 Panini Prizm Ja Morant RC
With the hype surrounding Zion Williamson, it can be easy to forget that there are several other notable NBA rookies in 2019-20. In particular, Ja Morant is showing all the makings of an exciting and explosive superstar — even when he misses a dunk. The longer Williamson sits, the more visible Morant's Prizm RC will likely become.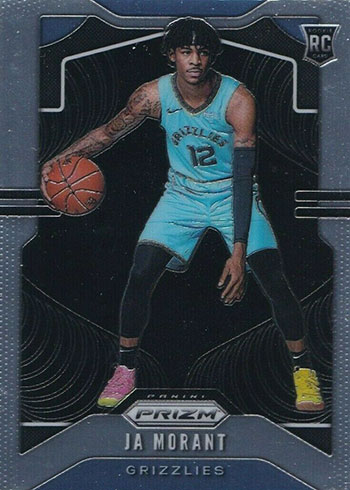 ---
16. 2019-20 Upper Deck Jack Hughes RC
Some of the biggest anticipation in the hobby every year comes in early November with the release of Upper Deck Series 1 Hockey. That's when a new batch of Young Guns Rookie Cards arrive. This year's headliner is also the top pick in the 2019 NHL Draft — Jack Hughes. In the years ahead, there could be a little sibling rivalry as Jack's brother, Quinn Hughes is also on the Series 1 Young Guns checklist.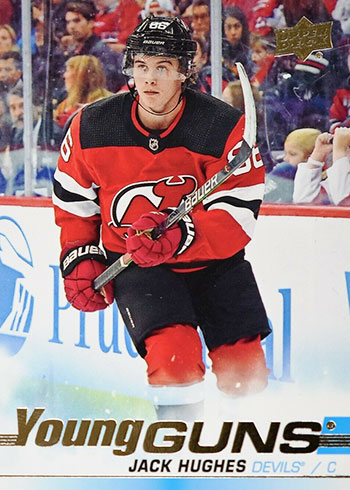 ---
15. 2019 Topps Chrome Rookie Autographs Pete Alonso #RA-PA
If there's a baseball card that sums up '2019' in a nutshell, this might be it: rookie home run record holder, shiny chrome, autograph, plenty of Refractors to go alongside it, notable franchise, tradition. With all of the distractions and disappointments with the Mets the past couple of years, Pete Alonso was a welcome remedy.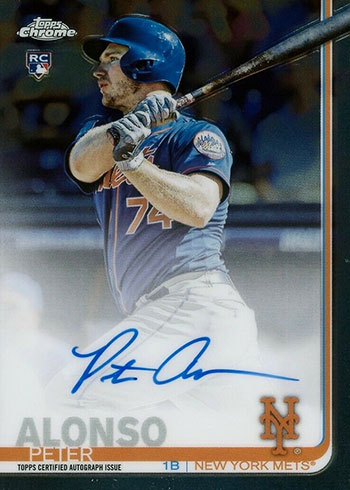 ---
14. 2018-19 Panini National Treasures Trae Young RC Auto Patch #103 /99
The 2018-19 basketball rookie class runs deeper than Doncic. Seeing as how they were essentially traded for each other, Trae Young and Luka Doncic are always going to draw comparisons. It's natural to want to debate who got the better end of the draft day deal. Right now, Young sits in the shadows if you look strictly at card prices. Even so, Young's 2018-19 Panini National Treasures RC has been hovering in the $10,000 range in recent months.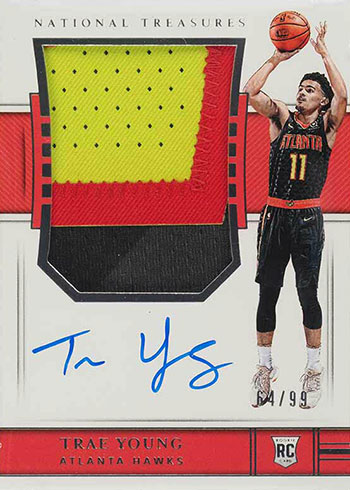 ---
13. 2019 Panini Contenders Draft Zion Williamson RC Autograph #51
There were a handful of Zion Williamson cards before 2019 Panini Contenders Draft Picks, but those were either promos or online-exclusive singles. This is the set where things got weird. Prices for boxes soared and the hunt was on as collectors went looking for Zion cards — especially those with his signature. The RPS Draft Ticket and its three variations are the most popular given they're part of the base set and have an on-card signature.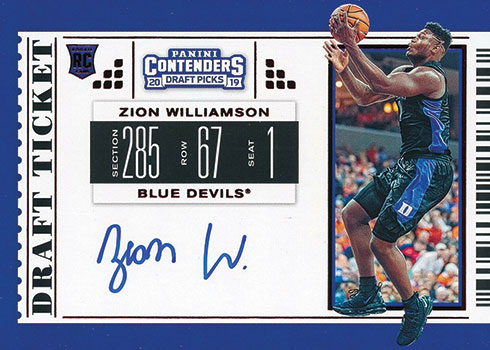 ---
12. 2018-19 Upper Deck The Cup Elias Pettersson RC Auto Patch #61 /99
The Vancouver Canucks have been on a roll with rookies the last few years. In 2018-19, Brock Boeser passed the torch to Elias Pettersson who proceeded to light up the NHL with 28 goals and 66 points in 71 games. He's kept a similar — if not better — pace in his sophomore season. Pettersson has lots of notable cards from his rookie season, but it's The Cup that has the most prestige. Numbered to 99, it's bolstered by an autograph and patch.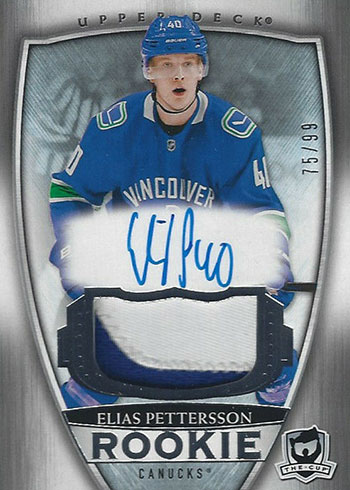 ---
11. 2019 Topps Series 2 Vladimir Guerrero Jr.
Vladimir Guerrero Jr. made a not-so-surprising surprise appearance in 2019 Topps Series 2 Baseball. The short print isn't all that tough and it has additional variations available in the season's factory sets. Even if expectations for the young third baseman have become a little more reasonable, it's still his first flagship Topps card. Given its availability, don't expect this one to reach Ronald Acuna Jr. "Bat Down" heights even if Guerrero does rebound with a big sophomore season.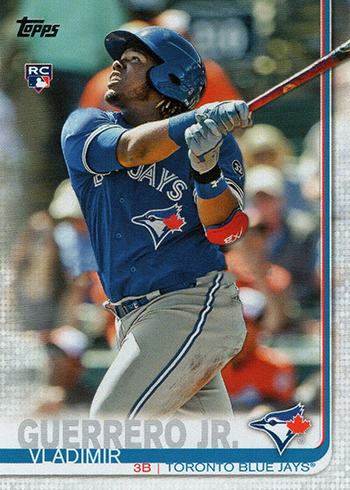 ---
10. 2019 Topps Series 2 Pete Alonso RC #475
Price is one way to look at a card's impact and popularity, but it's not the only one. Other factors can come into play and push a much more common card into favor. When it comes to baseball, flagship Topps is one such line. You can find it everywhere, usually pretty easily for weeks, months and, sometimes, years after its initial release. Still, it's where a lot of collectors gravitate when it comes to Rookie Cards. So it shouldn't be at all surprising that Pete Alonso's RC from 2019 Topps Series 2 continues to see plenty of action. For those keeping track, this is also the series with the Guerrero Jr. SP, Fernando Tatis Jr. RC, and Eloy Jimenez RC.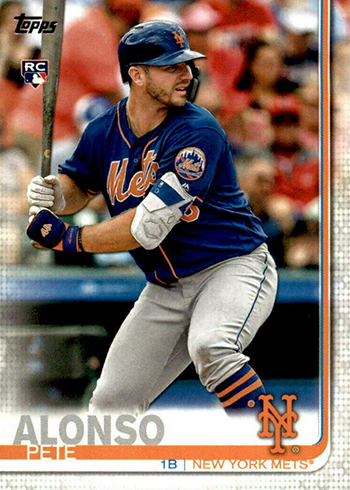 ---
9. 2018 Panini National Treasures Baker Mayfield RC Auto Patch #161 /99
If things went according to plan, this card probably would have cracked the top 5 for the year. Entering the season, it looked like the Browns were on the verge of something that wasn't just great, but fun to watch. In reality, Mayfield and the Browns were one of the biggest disappointments in sports this year. That said, Mayfield's most coveted Rookie Card still enjoyed a lot of attention this year and is still a significant card — even if there is now a cloud of uncertainty surrounding it.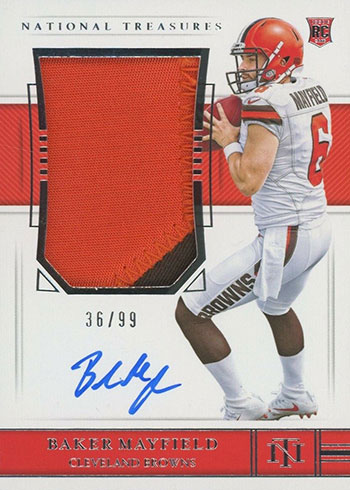 ---
8. 2018-19 Panini Flawless Luka Doncic RC #81 /20
Good luck finding Luka Doncic's rarest Rookie Card. Limited to just 20 copies, it doesn't have an autograph. Patch pieces are nowhere to be seen either. Instead, it has a small diamond, a Flawless trademark feature from the brand's beginnings. It might not be the flashiest card, but it still draws tremendous attention on the rare instances one surfaces.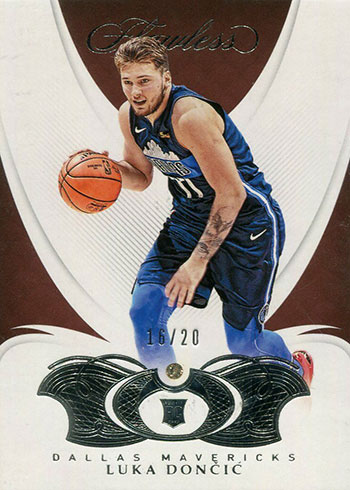 ---
7. 2018 Panini Contenders Lamar Jackson RC #112
Contenders has a long history of being a line where collectors go to find rookie autographs. It also stands out thematically, using tickets as a foundation. It may have seemed an odd choice at the time, but that was a long time ago. It's clear that it works. While the base version of this Lamar Jackson Rookie Cards doesn't have a serial number, Panini has confirmed its print run at just 90 copies. This makes it more rare than his higher-profile National Treasures RC. It also has a tough variations with Jackson holding the football in both of his hands.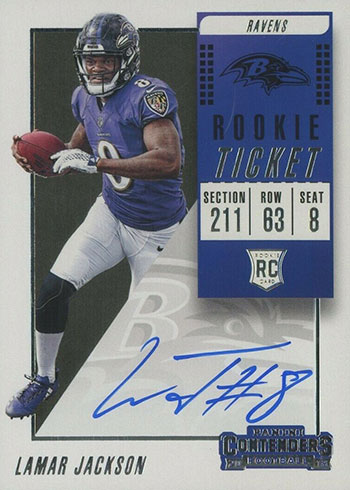 ---
6. 2019 Goodwin Champions Exquisite Signature Kicks Michael Jordan
With Panini holding the NBA exclusive and Upper Deck having an exclusive deal with Michael Jordan, we don't see much in the way of new cards from "His Airness" anymore. A collaboration with Hanes may have gotten the most attention this year as far as Michael Jordan cards go, but 2019 Upper Deck Goodwin Champions has something better. The product's Exquisite Collection Signature Kicks cards use something that's arguably just as iconic to Jordan as his Bulls jersey — Air Jordan sneakers. They're not game-worn, but the show pieces used in the cards are closely associated with him. So they look cool. And then there's the signature, which comes on-card. There are a handful of versions based on different distinct parts of the shoes. Print runs and odds haven't been announced but they are very tough.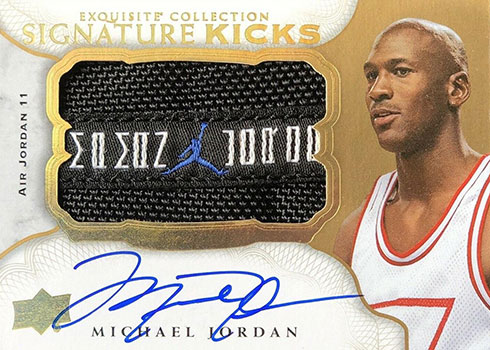 ---
5. 2019 Panini Spectra Tom Brady Tribute Autographs
The days of a regular supply of fresh Tom Brady cards is (probably) over. He has been a somewhat regular signer for Panini the past couple of years but they're usually in very small numbers at a time. 2019 Panini Spectra has Tom Brady Tribute inserts highlighting his vast Super Bowl accomplishments. Some not only include autographs, but additional inscriptions to give them that little bit extra. Not that Tom Brady autograph cards need it.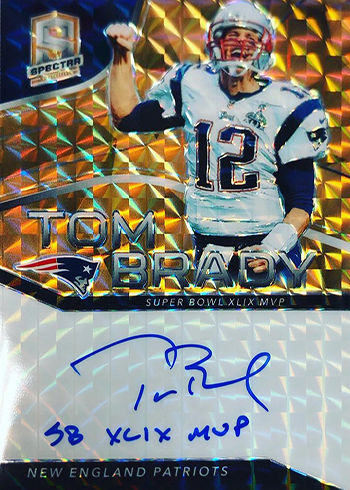 ---
4. 2019 Bowman Chrome Prospect Autographs Wander Franco #CPA-WF
Baseball is a sport where prospect lists are long. With multiple levels of minor league play and developmental leagues around the globe, there are plenty of opportunities for players to shine. And shine Wander Franco has done. He was the prospect to chase in 2019 Bowman Baseball as soon as the set hit in the spring. Things haven't let up in the months since with his base Chrome Prospect Autograph being the pricey starting point. The one-of-one Superfractor sold for at least $60,000 at a time when he was still just 18-years old and playing Single-A ball. One has to wonder that even if Franco becomes the superstar many are predicting, how much more room is there for this card to grow?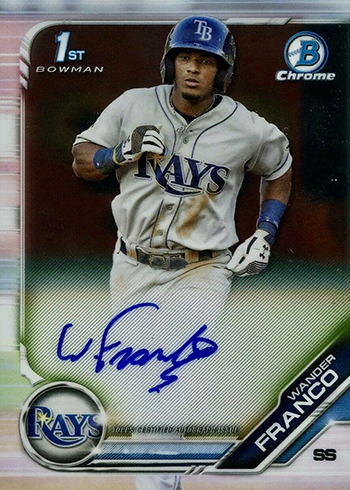 ---
3. 2018 Panini National Treasures Lamar Jackson RC Auto Patch #165 /99
Baker Mayfield may have struggled in 2019, but another 2018 Panini National Treasures Rookie Card stepped up and ran with it. All of Lamar Jackson's cards have soared, similar to Patrick Mahomes did in 2018. And none of Jackson's cards carry more clout than NT. As the year comes to a close, prices are pretty volatile, but there have been multiple sales for over $10,000 for the base version.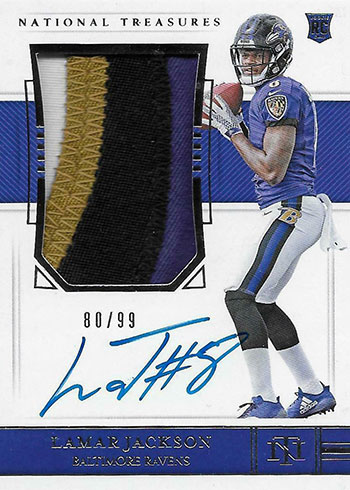 ---
2. 2018-19 Panini National Treasures Luka Doncic RC Auto Patch #127 /99
At the close of 2018, it was hard to imagine Luka Doncic cards getting any hotter. For a time, there was a bit of a cooling off period. But as soon as the 2019-20 season kicked off, Doncic went next level. In a few short months he went from a promising player to one of the NBA's best. Add in his infectious personality and it's a recipe for hobby superstardom.
His 2018-19 Panini National Treasures Rookie Card illustrates how explosive some luxury-tier cards have become. In recent months, the base version numbered to 99, has several sales over the $30,000 mark. As Luka-mania spreads, the price of his best RC continues to soar.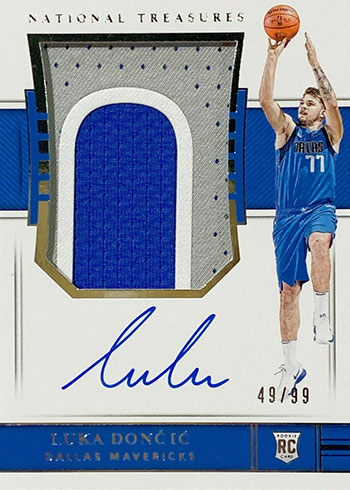 ---
1. 2019-20 Panini Prizm Silver Prizms Zion Williamson #248
Buzz surrounding Zion Williamson's first Prizm card and its shiny parallel began before he was even drafted by the New Orleans Pelicans. It's become a go-to brand that everyone can chase in some form. Silver Prizms aren't the rarest parallels. If you're active on social media, a day probably hasn't gone by where a friend (or a friend of a friend) hasn't posted their find on Twitter or Instagram. Sometimes impact cards aren't the rarest ones. They're the cards with widespread appeal and attainable availability. Luxury lines make for some impressive cards, but they're not for the masses. The Prizm chase takes on many levels. You can find it in hobby shops as well several retail configurations (if you can find it on the shelf).
Some may be get antsy for Williamson to make his pro debut, and understandably so. But no matter where prices end up in six months, a year or five years down the road, the impact of the 2019-20 Panini Prizm Zion Williamson can be seen with how much interest it generated for basketball cards and the hobby.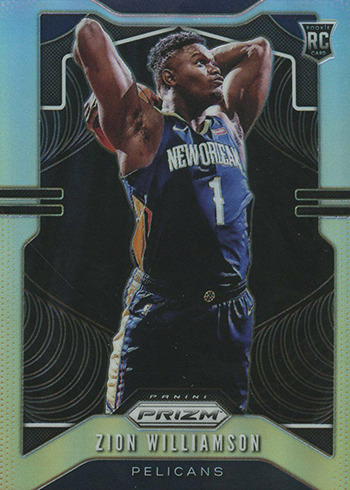 ---