Top 15 Music Superstars with Autograph Cards
Music has been the subject of dozens of sets over the years. That said, a lot of them came in a bygone era where cards were just cards. Since the modern era of inserts, autographs and memorabilia., the music card scene hasn't been the same.
But that doesn't mean that music stars aren't without autograph cards. Thanks in large part to broader pop culture products as well as some creative inclusions in other sports and non-sport sets, plenty of big names have had seen their signature added to trading cards.
Here are 15 of the biggest, excluding cut signatures. As a testament to the strength of some of these names, here are some honourable mentions who didn't make the list: Weird Al, Ice-T, various members of The Monkees, and Snoop Dogg (albeit from his Snoop Lion days).
15 Famous Musicians with Autograph Cards
15. Mick Fleetwood
Found in: 2016 Rittenhouse Star Trek: TNG Portfolio Prints Series 2
It might not be the most flattering photo of the Fleetwood Mac co-founder, but it's still a Mick Fleetwood autograph. Perhaps that's part of the reason why this card remains relatively affordable, especially when you consider his place in rock music history. To date, this is Fleetwood's only signed card.
Buy on: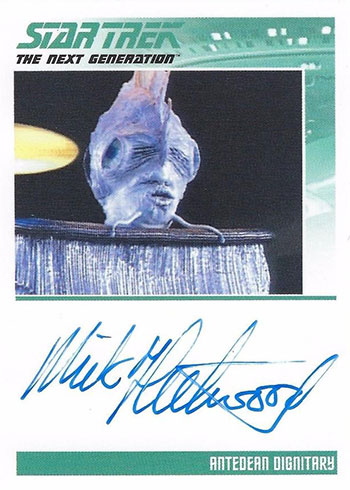 14. Alice Cooper
Found in: 2016 Leaf Pop Century
Alice Cooper was at the forefront of rock music getting more theatrical — and controversial — in the 1970s and early '80s. On the stage, he was something of a horror master only with some pipes. Cooper was an icon even before he was a guest on The Muppet Show. 2016 Leaf Pop Century is the only product his autograph has appeared in. It is becoming increasingly hard to find as copies make their way into collections.
Buy on: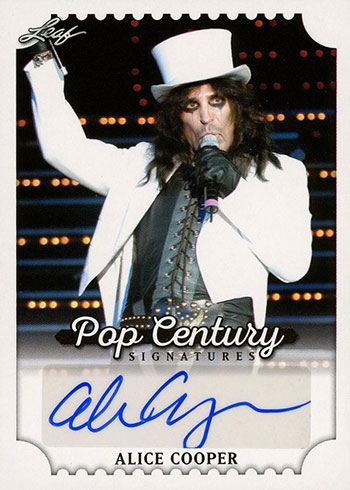 13. Hailee Steinfeld
Found in: 2014 Cryptozoic Ender's Game
At this point in her career, Hailee Steinfeld is known more for her acting that her singing, but it's safe to say she's a double-threat. Her first major role, True Grit, earned Steinfeld an Academy Award nomination when she was barely a teenager. Since then, her other roles have included Pitch Perfect 2, The Edge of Seventeen and Bumblebee. Steinfeld has also made multiple appearance on the music charts with such hits as "Starving" and "Love Myself." Her only autograph is in Cryptozoic's set for Ender's Game, a film that disappointed at the box office but resulted in a strong set from a signature standpoint. Besides Steinfeld, the checklist also includes Harrison Ford and Asa Butterfield.
Buy on: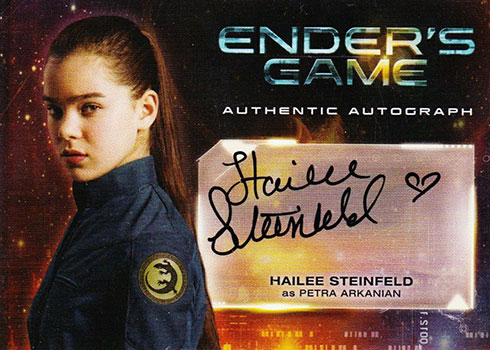 11. Post Malone
Found in: 2019 Topps Allen & Ginter Baseball
The timing couldn't have been better for Topps in getting Post Malone to bring his signature to 2019 Allen & Ginter Baseball. Often, music autographs come well after career peaks. With Malone, it came at the height of his popularity. One thing to watch for if you're shopping for one is that you're getting a copy that was actually inserted in packs. These have the "Topps Certified Autograph" notation at the bottom. Malone also has a card in the base set that looks virtually that looks to be popular for aftermarket autographs.
Buy on: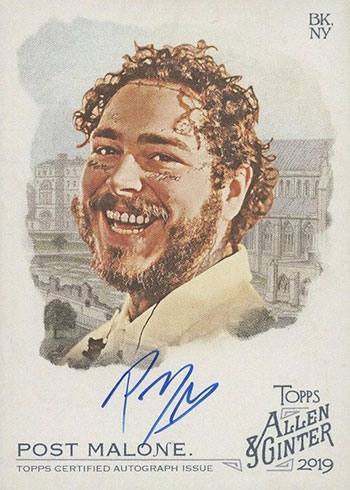 11. Carrie Underwood
Found in: 2005 Fleer American Idol Season 4
American Idol has given the hobby a few different sets over the years. And with those are dozens of forgettable autographs. But one that isn't belongs to season four winner, Carrie Underwood. She's arguably the biggest star to emerge from the show's long run.
Buy on: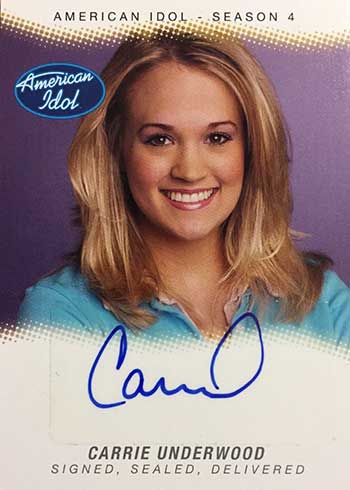 10. Ozzy Osbourne
Found in: 2002 Inkworks The Osbournes Season 1
Ozzy Osbourne might be best known for being a bat-biting, heavy metal legend. But it's his time as a groundbreaking reality star that gave us his autograph card. When The Osbournes became a hit, Inkworks brought the show to the hobby. The entire family ended up signing cards, including Ozzy. It is worth noting that all autographs were included in packs as redemptions so if you come across a box today, there's no chance of finding an actual signature.
Buy on: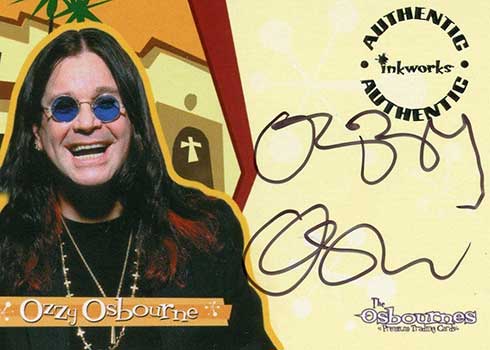 9. Justin Bieber
Found in: 2010-11 Donruss Fans of the Game Autographs, 2011 Panini Americana, 2012 Panini Justin Bieber
For many, it's easy to crack jokes about Justin Bieber. But even if you're not a fan of his music, it's hard to deny his impact and influence over the last decade. Panini signed the Canadian singer to a trading card deal that not only resulted in a couple of standalone sets, but guest appearances in some of their sports releases as well. Put them together and you've got a handful of autographs. Given the target audience of the Justin Bieber sets, it's possible these autographs have been somewhat overlooked. But as more time goes by and we look back more from a historical sense, don't be surprised if interest builds.
Buy on: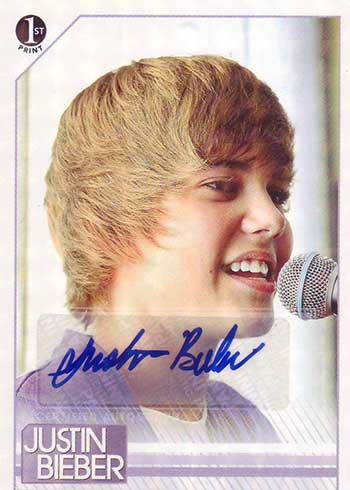 8. Marilyn Manson
Found in: 2015 Cryptozoic Sons of Anarchy Seasons 6-7
Without the make-up, the controversial singer is barely recognizable. The performance might be different from what most people known the Beautiful People rocker from, but Manson has a tremendous following. His appearance in Cryptozoic's final Sons of Anarchy might have seemed like a surprise given Manson's popularity and star power. But that also makes the card that much more desirable.
Buy on: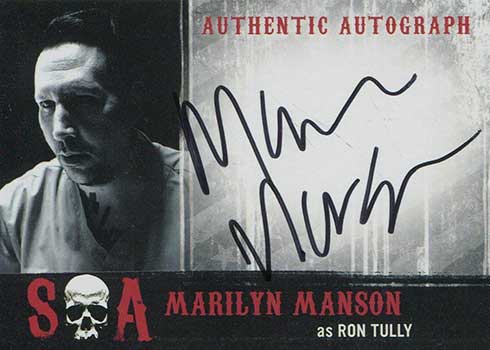 7. Gene Simmons
Found in: 2009 Press Pass KISS 360, 2010 Press Pass Legend of KISS, 2019 Dynamite KISS Ultra
Gene Simmons, the long-tongued lead singer and bassist for KISS, is one of the greatest showmen the music industry has ever seen. Whether it's the make-up, the glitzy concerts, the timeless tunes or marketing, Simmons' influence can't be understated. He has had autographs in multiple sets over the years. So too have his bandmates Paul Stanley, Ace Frehley, Peter Criss, all of whom could also find a place on this list. But when most people think KISS, Simmons and his Demon persona are likely to come to mind first.
Buy on: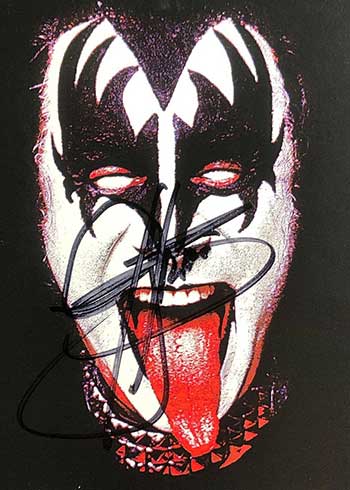 6. Christina Aguilera
Found in: 2000 Upper Deck Christina Aguilera
Upper Deck was quick to market with a set of Christina Aguilera trading cards not longer after the pop princess shot to fame. For the most part, it's a straightforward set of 45 base cards. But there is one chase card and it's a big one, an autograph from the "Genie in a Bottle" singer. Just 250 copies of the card exist. This might not seem exceptionally rare by today's standards, but it was an extremely tough pull then that doesn't surface often.
Buy on: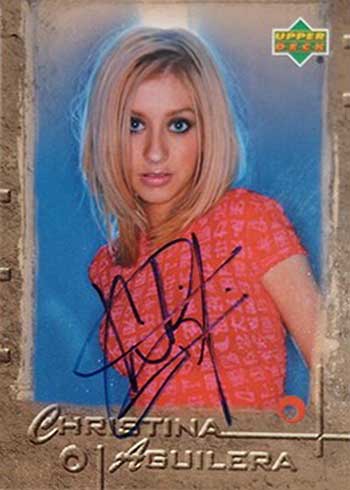 5. Jennifer Lopez
Found in: 2012 Leaf Pop Century, 2013 Leaf Pop Century, 2014 Leaf Pop Century
The first trading cards with Jennifer Lopez on them came out in 1992 with Topps' In Living Color set. She was one of the dancing Fly Girls on the show. But it wasn't until two decades later that the first J-Lo autograph cards came along. The singer/actress/dancer/American Idol judge has a variety of cards in three different Leaf Pop Century sets released between 2012 and 2014.
Buy on: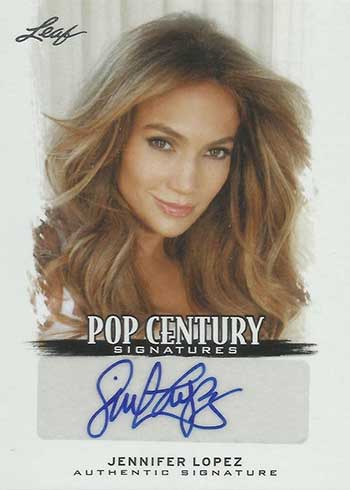 4. Axl Rose
Found in: 2013 Topps Allen and Ginter Baseball, 2013 Topps Archives Baseball
If you've read about his reputation over the years, you might be surprised to learn that Guns N' Roses frontman, Axl Rose has autograph cards. He actually appeared in a pair of 2013 Topps baseball sets, Allen and Ginter and Archives. Both arrived in packs as redemptions and took some time to get done. But they eventually did and both immediately became highly sought after. Now that the supply has largely dried up, they're even harder to come by.
Buy on: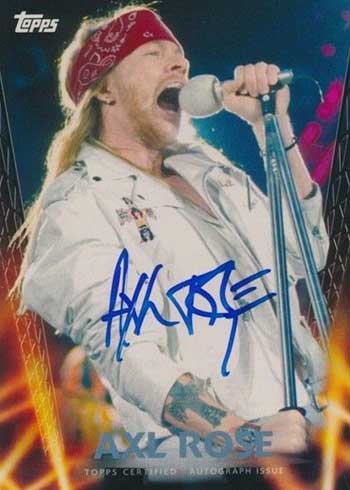 3. Britney Spears
Found in: 2011 Leaf Pop Century, 2012 Leaf Pop Century
Britney Spears career has been marked by highs, lows and headshaves. Despite all this, few rival her impact on pop music. It has now been more than two decades since she broke through into the music mainstream with "Oops, I Did It Again," one of the biggest hits of a generation.
Spears has autograph cards in both 2011 and 2012 Leaf Pop Century. And within those sets are several different themes plus additional parallels. But no matter the card or version, none of them come cheap.
Buy on: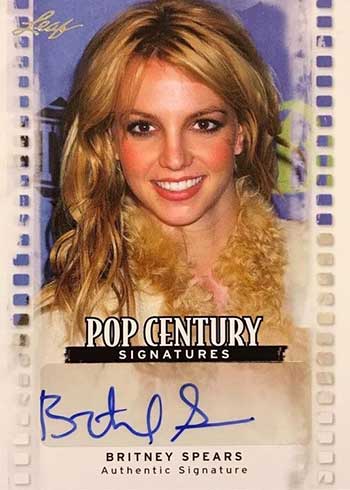 2. Jay-Z
Found in: Baseball – 2005 Topps Pristine; Basketball – 2005-06 Finest, 2005-06 Topps, 2005-06 Topps Big Game, 2005-06 Topps Chrome, 2005-06 Topps First Row, 2005-06 Topps Luxury Box, 2005-06 Topps Pristine, 2005-06 Topps Total, 2006-07 Bowman, 2006-07 Topps
Singer, producer, entrepreneur — Jay-Z is one of the most influential hip hop stars ever. In 2005, Topps signed a deal with him to appear in a variety of their products. It was primarily basketball, although a couple of baseball cards also exist. The deal put Jay-Z throughout the year's sets including base cards, memorabilia cards with swatches of jeans and, of course, autographs. With his autograph in several sets, individual cards might not be the easiest to find in a lot of instances but if you're simply looking for a Jay-Z autograph you shouldn't have to look too far.
Buy on: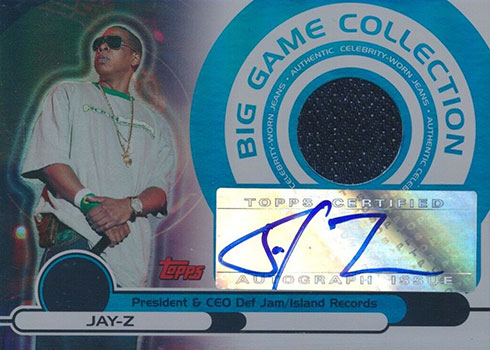 1. David Bowie
Found in: 2015 Unstoppable Cards The Man Who Fell to Earth
There are legends and then there are icons. David Bowie is up there with the biggest of them all. His music and style have influenced multiple generations. This is true not just in music but in other forms of art and entertainment as well. This includes some memorable performances on the big screen. Unstoppable Cards captured one of them in their 2015 release for The Man Who Fell to Earth. The set has not one but two different David Bowie autographs, both of which have just 50 copies each.
Buy on: