15 of the Best and Coolest Larry Walker Baseball Cards Worth Tracking Down
Larry Walker cards parallel his popularity in the game — respected but overall overlooked.
It starts with his Rookie Cards. Found in several 1990 sets, they are a product of an era where rarity wasn't a thing. If you want a Larry Walker RC, they're readily available and they're cheap. It's a similar story as a lot of his peers like Jim Thome, Frank Thomas, Chipper Jones and almost every superstar who were rookies in the late '80s and early 1990s.
But even when you get into the more valuable Larry Walker cards, they don't carry the same demand or prices of a superstar. A star? Sure. But not top-tier status or even a level below that.
Walker was one of the best players of the 1990s both at the plate and in the field. The 1997 National League MVP, he retired with a .313 batting average, 72.7 WAR, seven Gold Gloves and three Silver Slugger awards.
Part of his lack of hobby stardom can be explained by where he played. Walker started out in Montreal before heading to Colorado in 1995. Both franchises had their fans, but neither are big markets. Fair of not, playing in the thin air of Colorado has long been an argument made against not just Walker, but almost anyone who has spent time with the Rockies. The outfielder did finish his career in St. Louis, but by the time he got there, his best years were behind him.
Larry Walker's career coincided with the hobby's transition from the early '90s into the technology-driven close of the decade. This period saw lots of innovation in the design and construction of cards. This means Walker has cards in several sets no regarded as hobby classics or turning points.
Top 15 Larry Walker Cards
The following list highlights some of the most significant and interesting Larry Walker baseball cards. It's not intended to be a definitive list of his most valuable cards, although several of those are included. A comprehensive Larry Walker checklist is available in the Beckett price guide.
1985 Utica Blue Sox TCMA Larry Walker #16
When it comes to Larry Walker cards, it all starts here. His first minor league card comes five years before his MLB Rookie Cards. It's part of the relatively tough TCMA Utica Blue Sox team set, a short-season A-level league.
Buy on: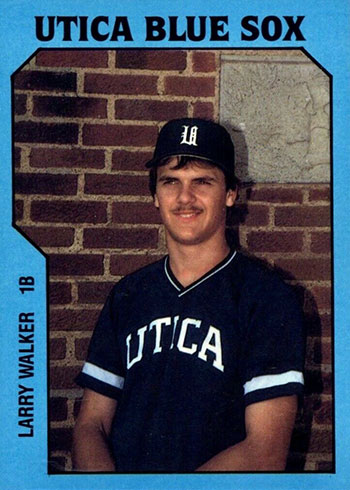 ---
1986 Burlington Expos ProCards Larry Walker
Another minor league card, this is the first to feature Walker with the "Expos" name he's synonymous to many for. Of course, it's not the Montreal Expos, but that jersey and logo combination would become a very familiar sight over the next few years.
Buy on: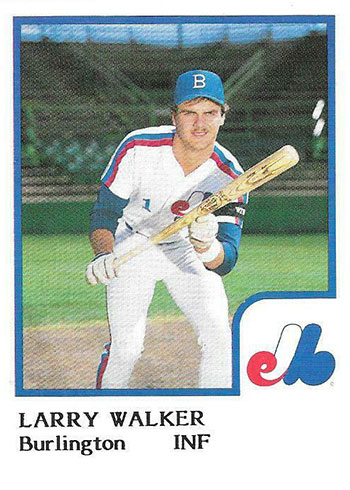 ---
1990 Fleer Canadian Larry Walker #363
If you have any cards from the early '90s, there's a good chance you have a 1990 Fleer Larry Walker Rookie Card. Or 33 of them. But do you have the Canadian version? This slight variation, which was available in packs sold in Canada, is pretty much the same as its much more common counterpart. The difference is minimal, though, with the small print on the back saying "FLEER LTD./LTEE PTD. IN CANADA."
While not mind-blowing or extremely scarce, it's a bit of a novelty with a Canadian connection from an era where rarity is hard to find.
Buy on: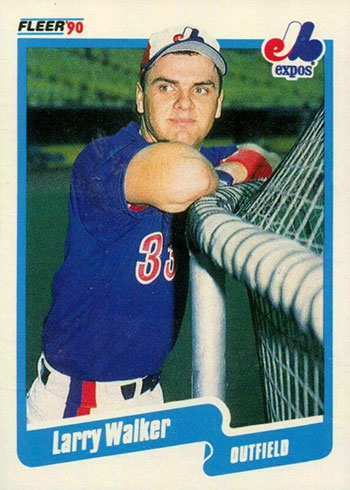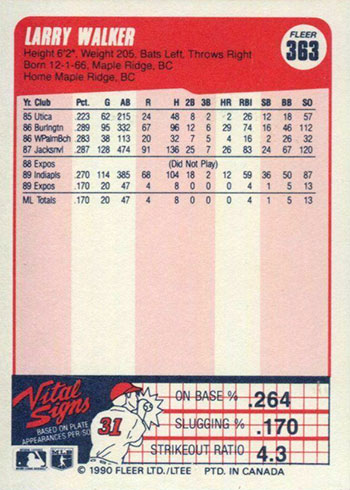 ---
1990 Leaf Larry Walker RC #325
When it comes to Larry Walker Rookie Cards, many regard the 1990 Leaf as king. And for good reason. It was an extremely popular release then and remains a landmark set today. Even if it is a little more rare than a lot of other 1990 issues, it's certainly not rare.
Buy on: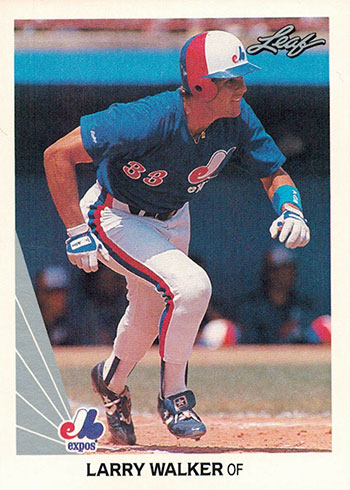 ---
1990 O-Pee-Chee Larry Walker RC #757
Being a Canadian who started his career on the Montreal Expos, the 1990 O-Pee-Chee Larry Walker is his most on-brand Rookie Card. More than that, it has emerged as one of his most valuable as it's not an overly easy card to find.
It's not simple to spot at first glance either. In 1990, O-Pee-Chee adopted not just the Topps design, which was normal, but the name as well. So the front on both cards is the same. However, flip the O-Pee-Chee RC over and you'll be greeted by bilingual text and an O-Pee-Chee trademark.
Buy on: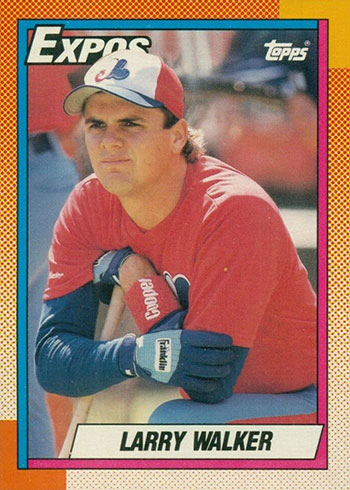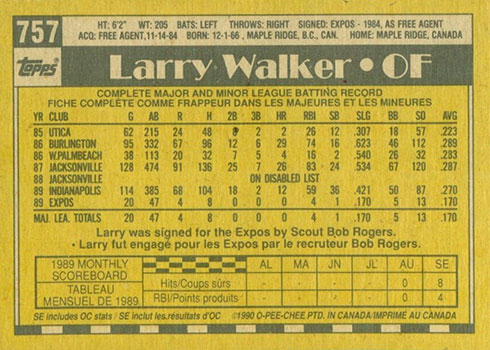 ---
1990 Topps Tiffany Larry Walker #757
Looking to upgrade those dozen or so 1990 Topps Larry Walker Rookie Cards you have? The Topps Tiffany version provides a higher-end look and feel and a much lower print run. Sold exclusively in special factory sets, the card is glossy to the touch on the front. Printed on bright stock, the backs are also noticeably more crisp. You can also check the fine print to confirm if it's a Tiffany or not. The set has a print run of approximately 15,000 copies, an extremely small number for the era.
The 1990 Bowman Larry Walker Rookie Card has a similar Tiffany version.
Buy on: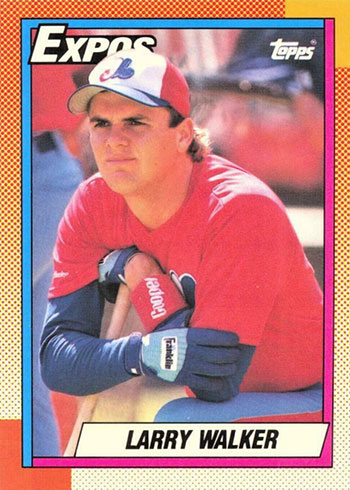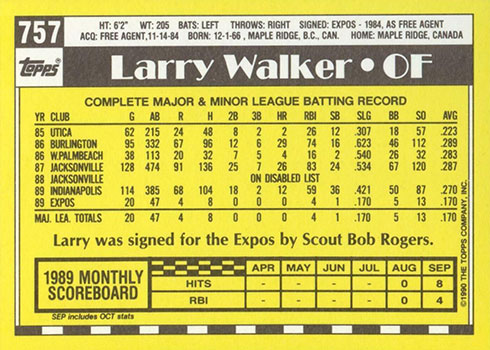 ---
1993 Finest Refractors Larry Walker #97
When it comes to inserts and parallels, 1993 Finest Refractors are some of the most important. Arriving as the hobby was starting to transition out of the over-production era of the late '80s and early '90s, these introduced the collecting masses to a style of card that has since become an industry cornerstone.
Walker is part of the Baseball's All-Stars subset that, arguably, has a more dynamic and memorable design than the main set.
Besides being important historically, 1993 Finest Refractors are tough to find. Although not official, it's believed that fewer than 250 of each exist, a tiny number at the time. It's also common for these to be off-center. Surface scratches are another thing to watch for.
Buy on: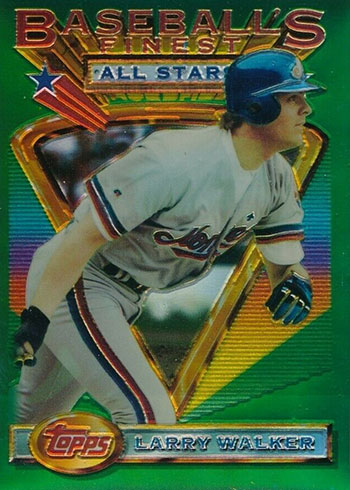 ---
1994 Score Dream Team Larry Walker #9
Dream Team is one of the classic subset and insert themes from Score's reign in the hobby. For the 1994 Score Dream Team set, players were pictured in throwback uniforms. A 1936 Brooklyn Dodgers jersey and cap may seem like a strange choice for a member of the Expos, but the back makes the connection of how the Montreal Royals were a part of the Dodgers system.
Today, this attractive insert may not carry big value but it's not easy to find. 1994 Score Dream Team cards are among the toughest in the product, landing 1:72 hobby packs.
Buy on: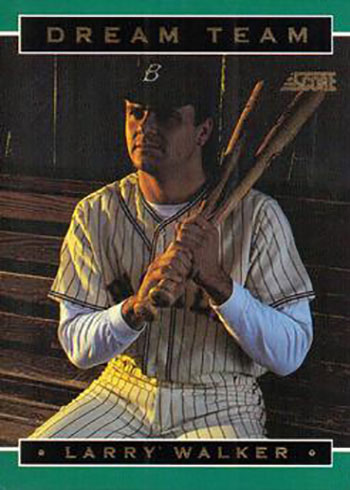 ---
1995 Stadium Club Larry Walker #148
You'll find plenty of Larry Walker cards worth more than this one, but none tell his story quite like this one. In a single shot, it captures what Walker wanted to be at one point in his youth — a goalie in hockey — with what he ended up doing — excelling in baseball. Not only does it tell a story, but the angle, perspective and lighting all look fantastic as well.
Buy on: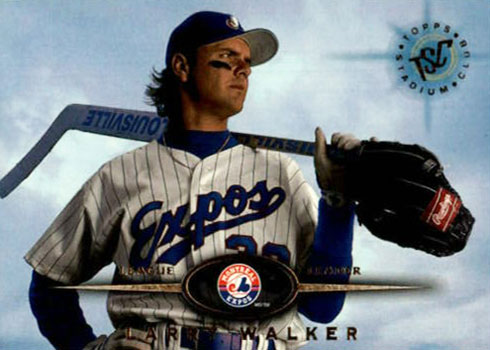 ---
1996 Select Certified Mirror Gold Larry Walker #85
The mid '90s saw a progression of products with smaller and smaller print runs as a cornerstone. Just five years before this card came out, grown men were using metal detectors to search cases of 1991 Donruss Baseball for Elite Series inserts numbered to 10,000. 1996 Select Certified Mirror Gold took things to another extreme. The scarce parallels aren't numbered but they have a print run of just 30 copies. At the time, this was one of the most premium products on the market as well. Over the years, Mirror Gold cards from this set have taken off no matter who is pictured on the front.
Buy on: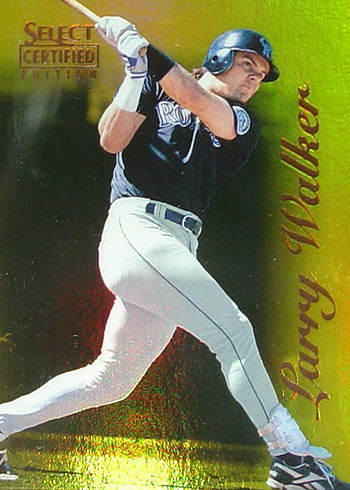 ---
1997 Donruss Signature Autographs Larry Walker #105 /900
Larry Walker doesn't have a lot of autograph cards, particularly when it comes to MLB-licensed sets. 1997 Donruss Signature is not only one of the easiest to find, but it's the first. The base version is numbered to 900. Oddly, the Millennium parallel is more common with 1,000 copies. There's also a Century version that's numbered to 100.
Buy on: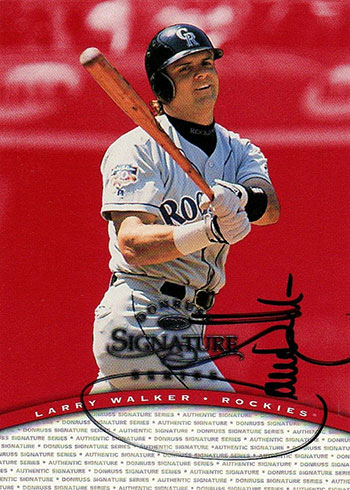 ---
1997 Finest Embossed Refractors Larry Walker #335
1997 Finest Baseball takes a tiered approach to its checklist with a Bronze, Silver and Gold set-up. This Gold-level Larry Walker has the tiers carry over to the Refractors. Not only does it have the reflective background but the embossing gives it a texture. As with all Gold Embossed Refractors, there's also the die-cut borders. Although this parallel isn't numbered, it's extremely tough with Gold Embossed Refractors combining to land 1:1,152 packs.
Buy on: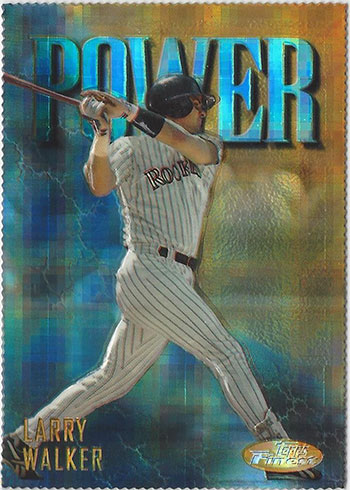 ---
1998 Donruss Crusade Purple Larry Walker #67 /100
1998 Donruss Crusade is one of the best looking insert sets of all-time. It's bright, has a distinct design and has plenty of pop without going over the top. The Purple version has just 100 copies, which is less than Green (/250) but more than Red (/25). Pictured as a member of the Rockies, the purple is the perfect compliment to the team's colors.
Buy on: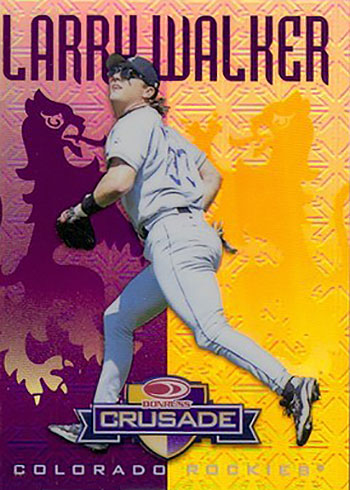 ---
1998 Metal Universe Precious Metal Gems Larry Walker #61 /50
Precious Metal Gems don't have the same history in baseball as they do in basketball. But the 1998 Metal Universe Baseball parallels are still notable for their low print run of 50 copies each. More than that, they offer a bold background pattern (similar to that seen in modern Panini Scope parallels) to an already bold set. These rarely show up on the market today.
Buy on: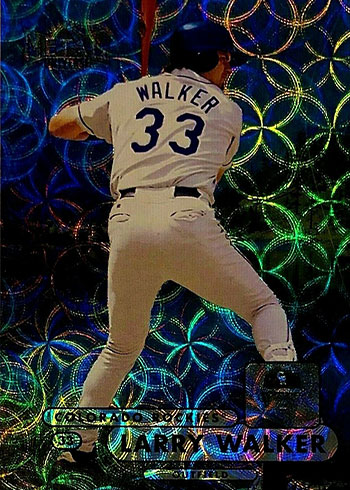 ---
1998 Stadium Club Co-Signers Larry Walker/Tony Gwynn #CS13 A
For autograph collectors, this might be the ultimate Larry Walker autograph card. It pairs two of the best and most respected hitters of the '90s, penmanship excellence on both fronts, a memorable design and extreme rarity. Part of the 'A' group of signers, these are the toughest of the three tiers, landing at a rate of 1:4,372 hobby packs.
Walker has a couple of other 1998 Stadium Club Co-Signers pairings including one with Rockies teammate, Andres Galarraga, also a Montreal Expos legend.
Buy on: