Top 15 Big Bang Theory Autographs
Our whole universe was in a non-sport state…
CBS has made it official. The Big Bang Theory will air its last episode in May. In the dozen years that it has been on the air, it has cemented itself into television history.
After 279 episodes, TBBT will go down as one of the most popular sitcoms of all-time, launching Jim Parsons, Kaley Cuoco, and Johnny Galecki into stardom. There's something to be said for making the Barenaked Ladies relevant again. In more recent years, it has also spawned a spinoff about Sheldon's early years as a child prodigy in East Texas.
As with many successful TV shows, the trading card industry was paying attention. Cryptozoic acquired the license to TBBT several years ago. Since then they have produced a handful of trading card products chronicling the first seven seasons of the show.
In doing so, they were also able to snag a titanic list of autographs, including all five of the main original cast members and a delightful plethora of supporting players over the years.
Here is a list of the Top 15 (not including autographed costume cards). Several factors were considered including sales, price range, and popularity and the significance of the character to the show.
Top 15 Big Bang Theory Autograph Cards
1. Kaley Cuoco – 2012 The Big Bang Theory Seasons 1 and 2 Autographs #A3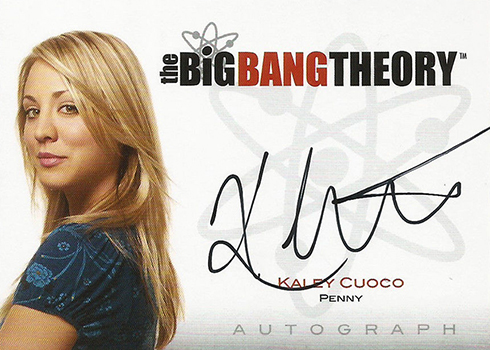 2. Jim Parsons – 2012 The Big Bang Theory Seasons 1 and 2 Autographs #A2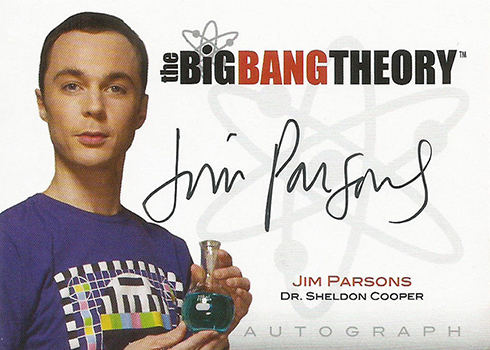 3. Johnny Galecki – 2012 The Big Bang Theory Seasons 1 and 2 Autographs #A1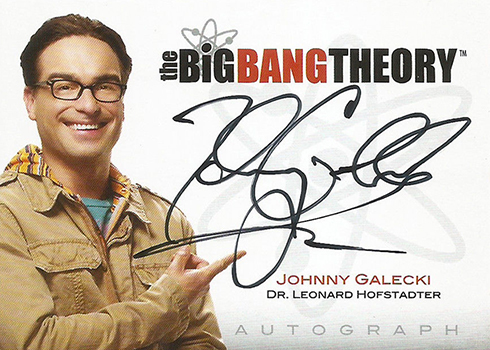 4. Simon Helberg – 2012 The Big Bang Theory Seasons 1 and 2 Autographs #A4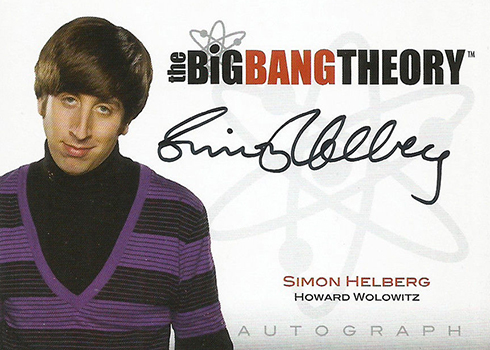 5. Kunal Nayyar – 2012 The Big Bang Theory Seasons 1 and 2 Autographs #A5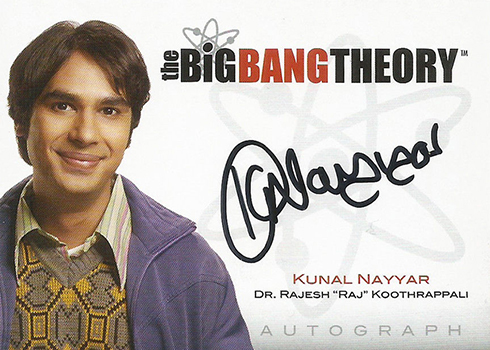 6. Melissa Rauch – 2013 The Big Bang Theory Season 5 Autographs #A7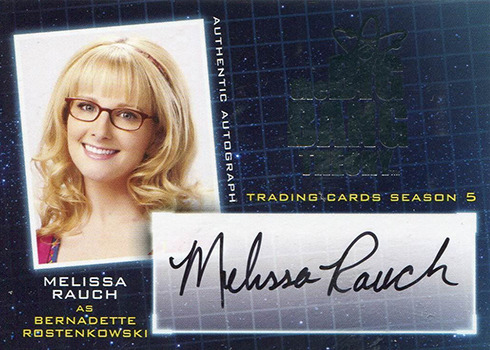 7. Mayim Bialik – 2013 The Big Bang Theory Season 5 Autographs #A6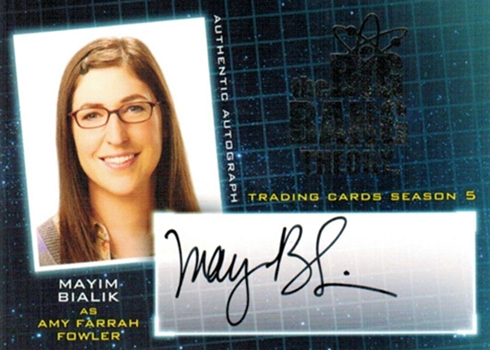 8. Wil Wheaton – 2012 The Big Bang Theory Seasons 3 and 4 Autographs #A17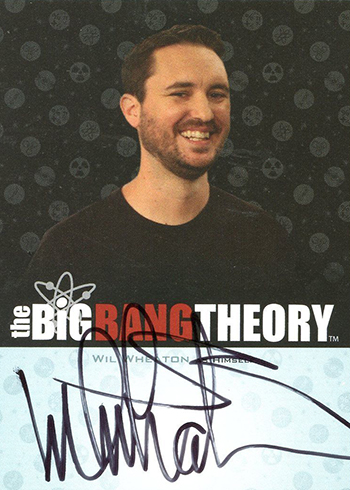 9. Bob Newhart – 2016 The Big Bang Theory Seasons 6 and 7 Autographs #BN2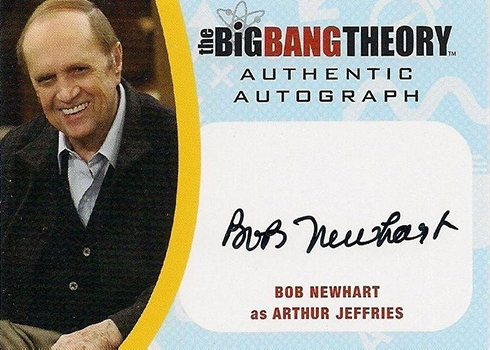 10. Laurie Metcalf – 2012 The Big Bang Theory Seasons 3 and 4 Autographs #A12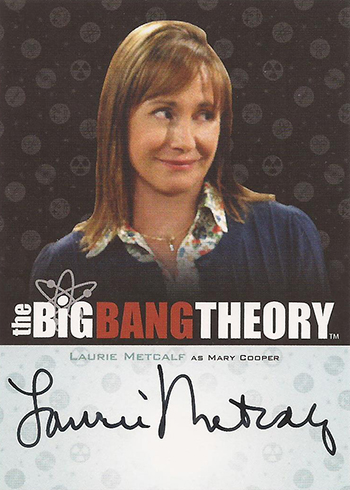 11. Leonard Nimoy – 2013 The Big Bang Theory Season 5 Autographs #A8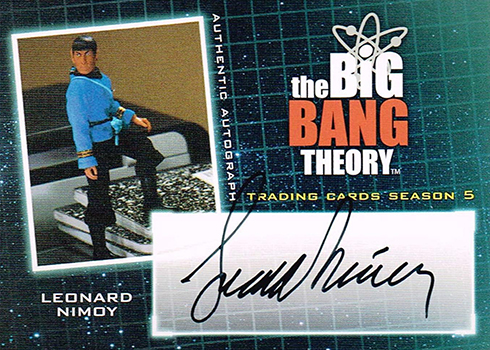 12. Christine Baranski – 2012 The Big Bang Theory Seasons 3 and 4 Autographs #A11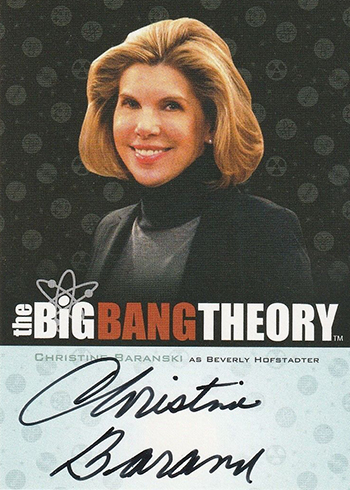 13. Carol Ann Susi – 2012 The Big Bang Theory Seasons 3 and 4 Autographs #A15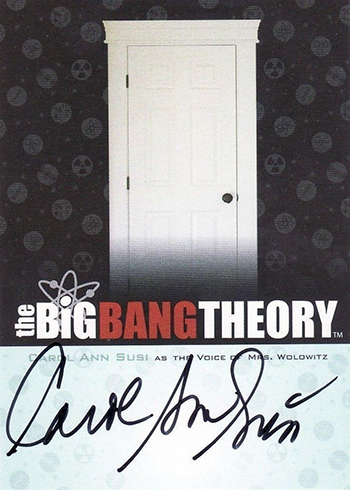 14. Kate Micucci – 2016 The Big Bang Theory Seasons 6 and 7 Autographs #KM1, #KM2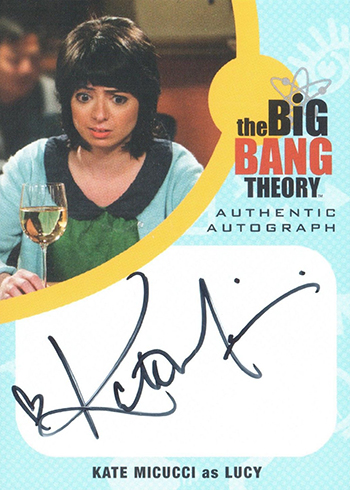 15. Kevin Sussman – 2012 The Big Bang Theory Seasons 1 and 2 Autographs #A6