Top 12 American Horror Story Autographs – Beckett Pricing Insider
Since 2011, American Horror Story has cemented itself in pop culture and television lore. From murder houses and asylums to covens and cults, it's one of the more shocking shows on television.
On September 12, American Horror Story returns for its eighth season, Apocalypse. This season features a crossover narrative sandwiched between Season 1 (Murder House) and Season 3 (Coven).
When it comes to trading cards, the options are somewhat limited. While there are cards, Breygent only produced them for the first two seasons of AHS. However, there are some really good choices out there for many of the key actors appearing in the show.
Here's a sample of the best found on trading cards.
Top 12 American Horror Story Autograph Card Signers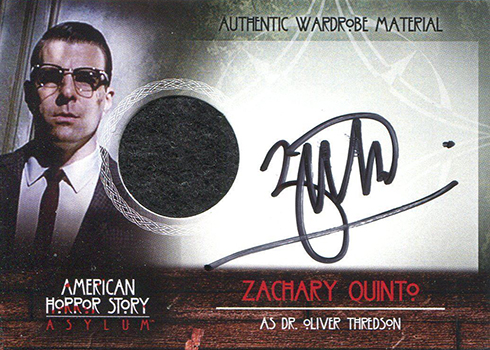 Seen in: Seasons 1, 2
Autograph Cards:
2013 AHS Previews Autographs /50
2014 AHS Autographs (2 different) /100
2014 AHS SDCC Mystery Packs Autographs /100
2016 AHS Asylum Autographed Wardrobe Materials (65 copies)
2016 AHS Asylum Autographs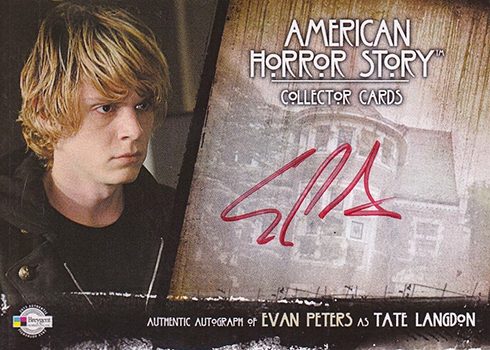 Seen in: all seasons
Autograph Cards:
2013 AHS Previews Autograph Costumes
2013 AHS Autographs
2014 AHS Autographs (2 different) /100
2014 AHS Dual Autographs with Taissa Farmiga
2014 AHS SDCC Mystery Packs Autographs /100
2014 AHS SDCC Mystery Packs Dual Autographs with Connie Britton /7
2014 AHS SDCC Mystery Packs Dual Autographs with Taissa Farmiga /10
2015 AHS Philly Non-Sport Show Mystery Packs Autographs 1/1
2015 AHS Philly Non-Sport Show Mystery Dual Autographs with Denis O'Hare 1/1
2016 AHS Asylum Autographed Wardrobe Materials (5 copies)
2016 AHS Asylum Autographs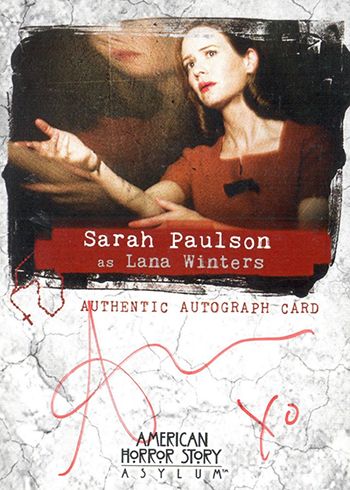 Seen in: All Seasons
Autograph Cards:
2014 AHS Autographs (2 different)
2014 AHS Dual Autographs with Connie Britton (2 different)
2014 AHS SDCC Mystery Packs Dual Autographs with Taissa Farmiga /10
2014 AHS SDCC Mystery Packs Woodgrain Autographs
2015 AHS Philly Non-Sport Show Mystery Packs Autographs /4
2015 AHS Philly Non-Sport Show Mystery Packs Dual Autographs with Connie Britton /20
2016 AHS Asylum Autographed Wardrobe Materials (65 copies)
2016 AHS Asylum Autographs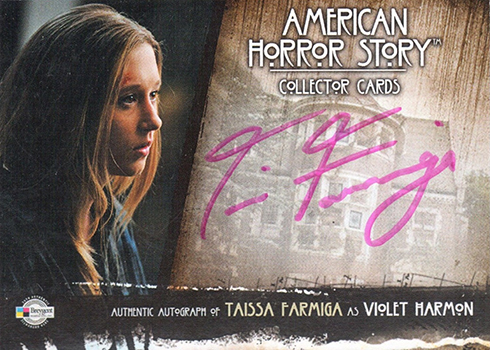 Seen in: Seasons 1, 3, 6, 8
Autograph Cards:
2014 AHS Autographs
2014 AHS Dual Autographs with Connie Britton
2014 AHS Dual Autographs with Evan Peters
2014 AHS SDCC Mystery Packs Dual Autographs with Evan Peters /10
2014 AHS SDCC Mystery Packs Dual Autographs with Sarah Paulson /10
2014 AHS SDCC Mystery Packs Dual Autographs with Dylan McDermott /10
2014 AHS SDCC Mystery Packs Woodgrain Autographs
2015 AHS Philly Non-Sport Show Mystery Packs Autographs /7
2015 AHS Philly Non-Sport Show Mystery Packs Dual Autographs with Connie Britton /8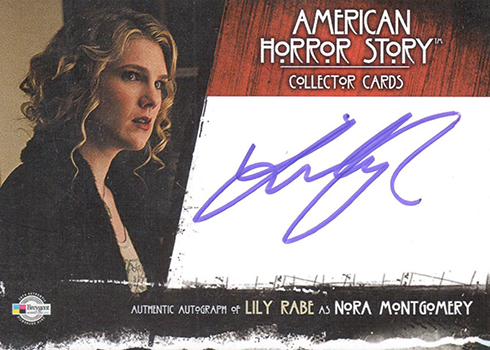 Seen in: Seasons 1, 2, 3, 4, 5, 6, 8
Autograph Cards:
2014 AHS Autographs
2014 AHS Dual Autographs with Matt Ross
2014 AHS SDCC Mystery Packs Dual Autographs with Connie Britton /10
2014 AHS SDCC Mystery Packs Dual Woodgrain Autographs
2015 AHS Philly Non-Sport Show Mystery Packs Autographs /60
2015 AHS Philly Non-Sport Show Mystery Packs Dual Autographs with Connie Britton /50
2016 AHS Asylum Autographed Wardrobe Materials (65 copies)
2016 AHS Asylum Autographs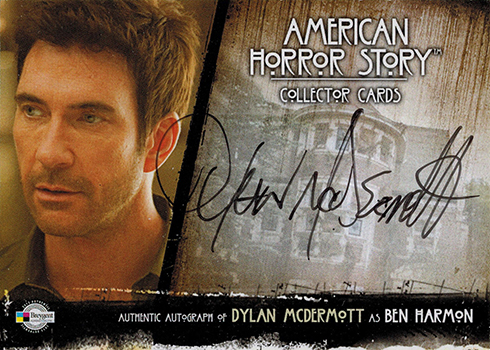 Seen in: Seasons 1, 2, 8
Autograph Cards:
2013 AHS Previews Autograph Costume /100
2013 AHS Previews Autographs (2 different) /100
2014 AHS Autographs (2 different ) /100
2014 AHS Dual Autographs with Connie Britton
2014 AHS Dual Autographs with Denis O'Hare
2014 AHS SDCC Mystery Packs Autographs /100
2014 AHS SDCC Mystery Packs Dual Autographs with Alexandra Breckenridge /10
2014 AHS SDCC Mystery Packs Dual Autographs with Connie Britton (3 different) /10
2014 AHS SDCC Mystery Packs Dual Autographs with Riley Schmidt /10
2014 AHS SDCC Mystery Packs Dual Autographs with Taissa Farmiga /10
2015 AHS Philly Non-Sport Show Mystery Packs Autographs 1/1
2015 AHS Philly Non-Sport Show Mystery Packs Dual Autographs with Alexandra Breckenridge /30
2015 AHS Philly Non-Sport Show Mystery Packs Dual Autographs with Connie Britton /6
2016 AHS Asylum Autographed Wardrobe Materials (65 copies)
2016 AHS Asylum Autographs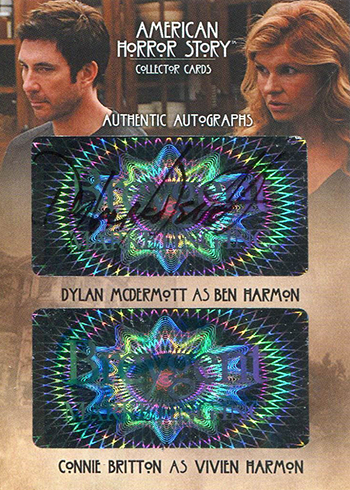 Seen in: Seasons 1 & 8
Autograph Cards:
2014 AHS Autographs
2014 AHS Dual Autographs with Denis O'Hare
2014 AHS Dual Autographs with Dylan McDermott
2014 AHS Dual Autographs with Sarah Paulson (2 different)
2014 AHS Dual Autographs with Taissa Farmiga
2014 AHS SDCC Mystery Packs Dual Autographs with Dylan McDermott (3 different) /10
2014 AHS SDCC Mystery Packs Dual Autographs with Evan Peters /7
2014 AHS SDCC Mystery Packs Dual Autographs with Lily Rabe /10
2014 AHS SDCC Mystery Packs Dual Autographs with Matt Ross /10
2014 AHS SDCC Mystery Packs Dual Autographs with Riley Schmidt /10
2014 AHS SDCC Mystery Packs Woodgrain Autographs
2015 AHS Philly Non-Sport Show Mystery Packs Autographs /2
2015 AHS Philly Non-Sport Show Mystery Packs Dual Autographs with Dylan McDermott /6
2015 AHS Philly Non-Sport Show Mystery Packs Dual Autographs with Lily Rabe /50
2015 AHS Philly Non-Sport Show Mystery Packs Dual Autographs with Matt Ross /18
2015 AHS Philly Non-Sport Show Mystery Packs Dual Autographs with Riley Schmidt /30
2015 AHS Philly Non-Sport Show Mystery Packs Dual Autographs with Sarah Paulson /20
2015 AHS Philly Non-Sport Show Mystery Packs Dual Autographs with Taissa Farmiga /8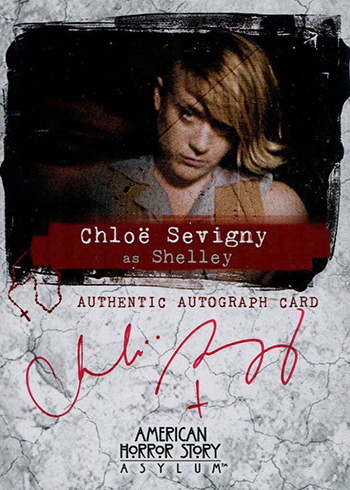 Seen in: Seasons 2, 6
Autograph Cards:
2016 AHS Asylum Autographed Wardrobe Materials (65 copies)
2016 AHS Asylum Autographs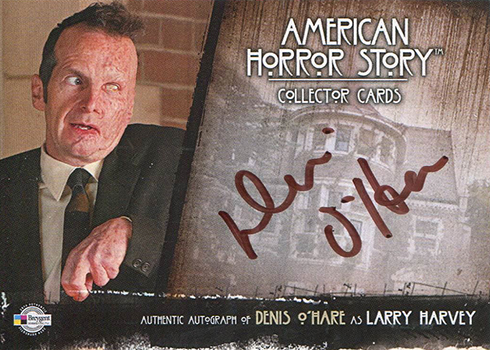 Seen in: Seasons 1, 3, 4, 5, 6
Autograph Cards:
2014 AHS Autographs (2 different)
2014 AHS Dual Autographs with Connie Britton
2014 AHS Dual Autographs with Dylan McDermott
2014 AHS SDCC Mystery Packs Dual Autographs with Frances Conroy /10
2014 AHS SDCC Mystery Packs Woodgrain Autographs
2015 AHS Philly Non-Sport Show Mystery Packs Autographs 1/1
2015 AHS Philly Non-Sport Show Mystery Packs Dual Autographs with Evan Peters 1/1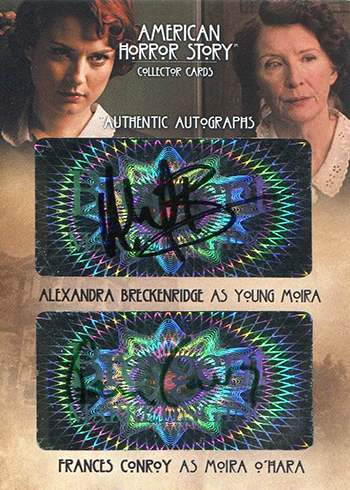 Seen in: Seasons 1, 3
Autograph Cards:
2014 AHS Autographs (2 different)
2014 AHS Dual Autographs with Frances Conroy
2014 AHS SDCC Mystery Packs Dual Autographs with Dylan McDermott /10
2014 AHS SDCC Mystery Packs Woodgrain Autographs
2015 AHS Philly Non-Sport Show Mystery Packs Autographs /4
2015 AHS Philly Non-Sport Show Mystery Packs Dual Autographs with Dylan McDermott /30
2015 AHS Philly Non-Sport Show Mystery Packs Dual Autographs with Frances Conroy /30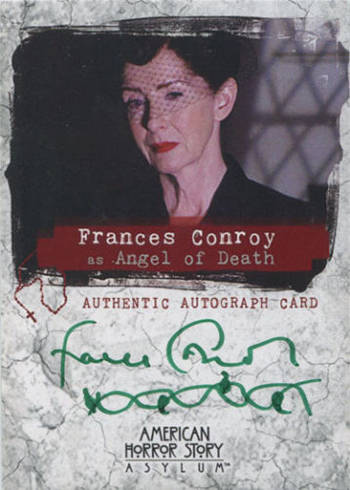 Seen in: Seasons 1, 2, 3, 4, 6, 7, 8
Autograph Cards:
2014 AHS Autographs
2014 AHS Dual Autographs with Alexandra Breckenridge
2014 AHS SDCC Mystery Packs Dual Autographs with Denis O'Hare /10
2014 AHS SDCC Mystery Packs Woodgrain Autographs
2015 AHS Philly Non-Sport Show Mystery Packs Autographs 1/1
2015 AHS Philly Non-Sport Show Mystery Packs Dual Autographs with Alexandra Breckenridge /30
2016 AHS Asylum Autographs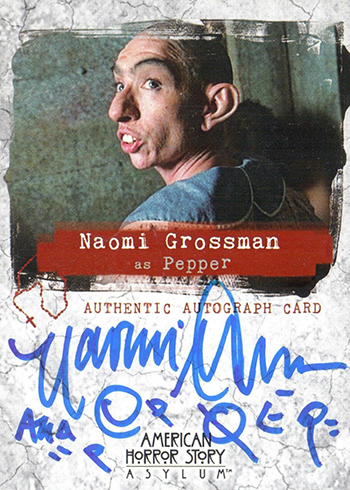 Seen in: Seasons 2, 4
Autograph Cards:
2016 American Horror Story Asylum Autographs