Top 10 Topps Allen & Ginter Non-Baseball Autographs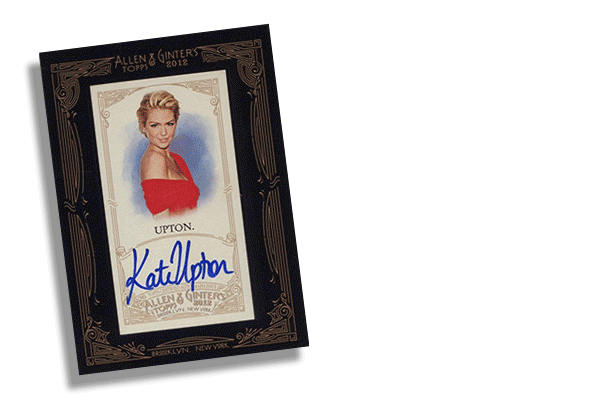 By Ryan Cracknell | Hobby Editor
Topps Allen & Ginter autographs aren't just about baseball. In the years since its revival, non-baseball has played a big role in the brand's eclectic and often quirky nature. It has also made for a natural fit for some impressive (and valuable) signatures over the years.
So what are the most valuable Topps Allen & Ginter non-baseball autographs? Let's count them down.
Related: 2017 Topps Allen & Ginter Baseball Details and Checklist
10 Most Valuable Topps Allen & Ginter Non-Baseball Autographs
Rankings are based on data from the Beckett Baseball Card Database and Price Guide. The list covers regular autograph cards in 2006 Allen & Ginter through the 2016 set. Parallels are not taken into consideration. It should be noted that Michael Phelps had several autographs in the 2009 set. Each is limited to 8 copies, though, and are too rare for the price guide as there's not enough pricing data on them. That said, given their rarity and Phelps' status, they are all quite valuable.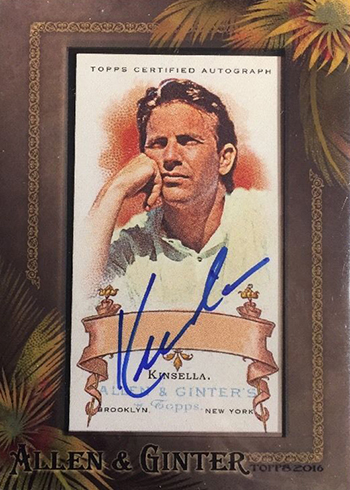 10. 2016 Topps Allen & Ginter Autographs Kevin Costner #AGARKI
If there was a special wing in the Hall of Fame for baseball movies, Kevin Costner would likely be one of the first inductees. His 2016 Allen & Ginter autograph actually has him listed as Ray Kinsella from Field of Dreams. Topps had other Bull Durham-themed autographs from Costner and others in 2016 Topps Archives.
---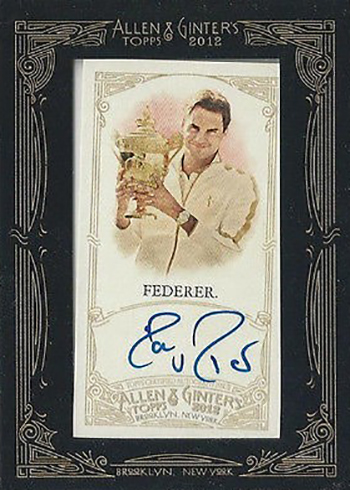 9. 2012 Topps Allen & Ginter Autographs Roger Federer #RFD
One could make an argument that Roger Federer is the greatest tennis player of all-time. His 19 Grand Slam titles are the most ever by a men's player. While tennis cards don't typically have the biggest following, Federer is one of the few that transcend the sport. Combine it with the popular brand and you've got one of the best Allen & Ginter autographs ever produced.
---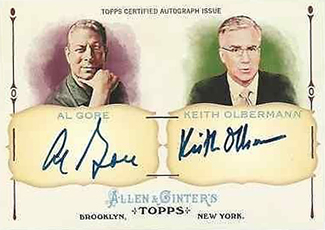 8. 2011 Topps Allen & Ginter Autographs Al Gore/Keith Olbermann #GO
Topps hasn't done a lot of dual autographs with Allen & Ginter. Obviously, this is an exception. On the one side you have a vice president who came within a few thousand votes of winning the White House in 2001. On the other is one of the most famous news broadcasters of his generation, who also happens to be one of the hobby's most high-profile collectors. At the time, Olbermann was part of Gore's Current TV, but that relationship didn't last long.
---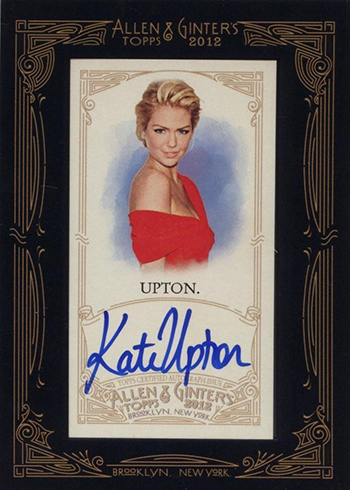 7. 2012 Topps Allen & Ginter Autographs Kate Upton #KUP
When the 2012 Allen & Ginter Kate Upton autograph came out, she was fresh off her first Sports Illustrated Swimsuit Issue cover. Since then, she's appeared on two more and skyrocketed to be one of the biggest names in modelling. Engaged to Justin Verlander, one could argue there's a direct baseball connection to the card as well.
---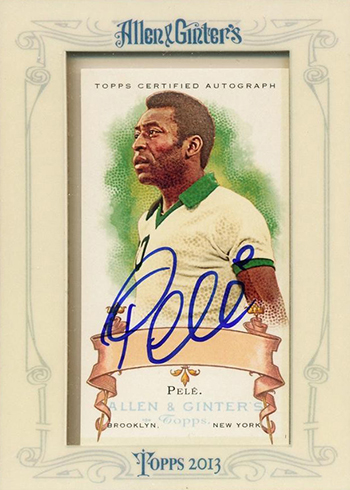 6. 2013 Topps Allen & Ginter Autographs Pelé #ARO
Pelé is, perhaps, the most iconic soccer player of all-time. He has no shortage of autograph cards on the market. But that doesn't matter much given his stature in sports. And of all the Pelé autographs out there, few are more valuable than this one.
---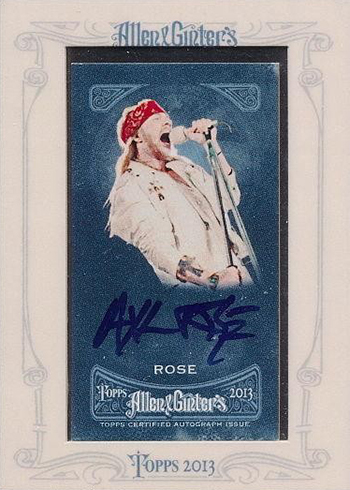 5. 2013 Topps Allen & Ginter Autographs Axl Rose #ARO
The 2013 Allen & Ginter Axl Rose autograph was included in packs as a redemption. The ensuing wait was a lengthy one, but the Guns N' Roses frontman came through in the end. Like Rose, the card is somewhat unique compared to most other Allen & Ginter autographs in that it's printed with a dark background versus the traditional white.
---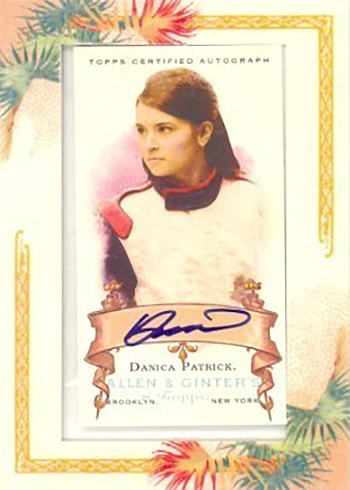 4. 2006 Topps Allen & Ginter Autographs Danica Patrick #DP
When 2006 Allen & Ginter came out, the Danica Patrick autograph was one of the most coveted cards in the product. It's her first autograph card, predating all of her signatures found in standalone racing products. Limited to 100 copies, it's also extremely tough to find today.
---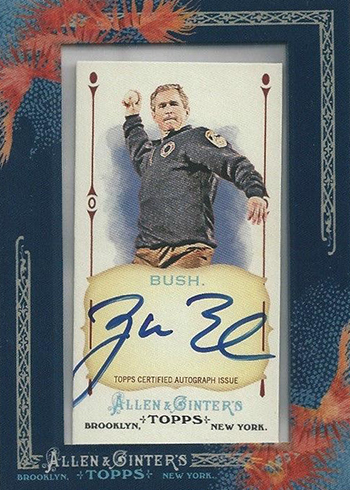 3. 2011 Topps Allen & Ginter Autographs George W. Bush #WB
The 2011 Topps Allen & Ginter George W. Bush autograph has a special crossover appeal that goes beyond just trading card collectors. Presidential autograph collecting is a niche unto itself. Bush's autograph might not rank as the rarest of most valuable White House resident out there, but few are going to shy away from the president's signature.
---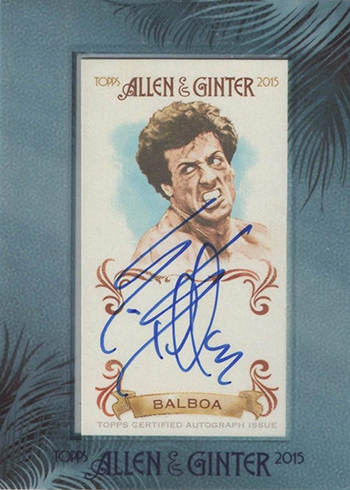 2. 2015 Topps Allen & Ginter Autographs Sylvester Stallone #AGARBA
Allen & Ginter is a celebration of champions, be it baseball or somewhere else. Rocky Balboa may have been a fictional boxing champ, but his story is one of the greatest ever told by Hollywood. Similar to the construction of Costner's Ray Kinsella autograph, this one is signed by actor Sylvester Stallone but pictures him in character.
---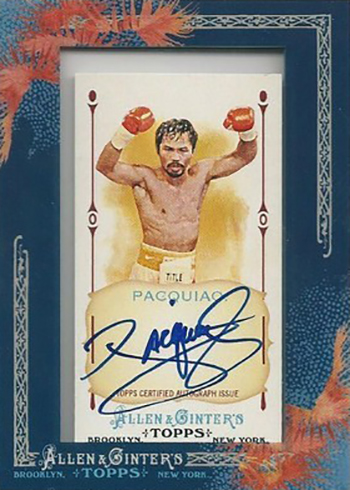 1. 2011 Topps Allen & Ginter Autographs Manny Pacquiao #MPA
When the 2011 Topps Allen & Ginter Manny Pacquiao autograph first came out, the boxer was considered one of the best in the world. His record has slipped since then, but he's still one of the most famous fighters ever. That's translated into a card that's still extremely popular today — in the rare instances that they surface for sale.
---
Comments? Questions? Contact Ryan Cracknell on Twitter @tradercracks.