A lot is going on in 2018 Topps Stadium Club Baseball. Like virtually every modern set, the checklist has its share of autographs, inserts, parallels and other chase elements. So what makes this set distinct?
It's focus on photography. That has been the Stadium Club way for more than 25 years since it debuted in 1991 (complete with a Kodak partnership).
The 2018 Topps Stadium Club base set (and the variation short prints) has no shortage of memorable shots, many of which are different from what's used in almost every other release. Sure, there are some standard batting stance and pitcher wind-up photos, but there are also some that are unlike anything done on baseball cards before.
Different angles and different perspectives equal different cards.
Starting with 300 cards, narrowing it down to a list of the ten best photos was tough. But here goes — from one perspective, at least — the best shots from the 2018 Topps Stadium Club Baseball base set.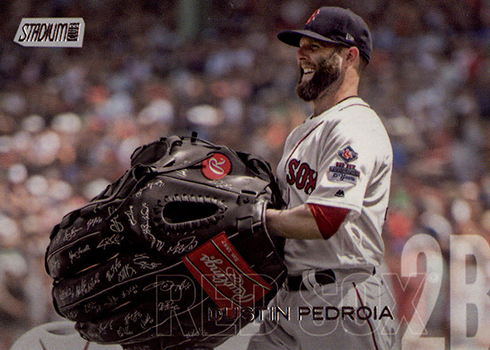 10. Dustin Pedroia #187
The 1986 Fleer Mickey Hatcher (and the lesser-known 1991 Upper Deck follow-up) taught us that giant gloves make for wonderfully goofy baseball cards. And at face value, the 2018 Topps Stadium Club Dustin Pedroia follows a similar beat.
Nothing's serious here, right?
The glove actually isn't Pedroia's. The shot comes from last August when the Red Sox were honoring longtime broadcaster, Jerry Remy, following surgery for lung cancer.
The card still might seem silly, but it also goes to show there's sometimes a lot more happening.
---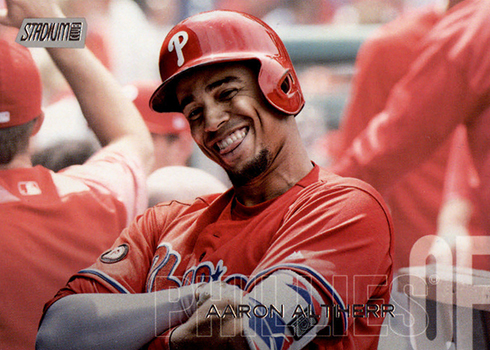 9. Aaron Altherr #60
2018 Topps Stadium Club Baseball has several shots that aren't necessarily of the action variety. Yet, they still manage to capture the personality of baseball and those who play it at the MLB level. Like this Aaron Altherr. It's confident, it's sassy and it's fun. I've never met Altherr but with this card I fell like I know him a little bit. And that's one of the many powers that baseball cards can still tap into in an increasingly digital age.
This card (and Gregory Polanco's) also bring back memories of another brand that started out with photography at its core — Studio. That one was more portraits versus Stadium Club's action. This is a card that bridges the two.
If there's a perception that "baseball is boring," then maybe the commissioner's office should look at showcasing the personalities a little more than keeping time between pitches. When you're with friends and people you know, time has a habit of fading in importance.
---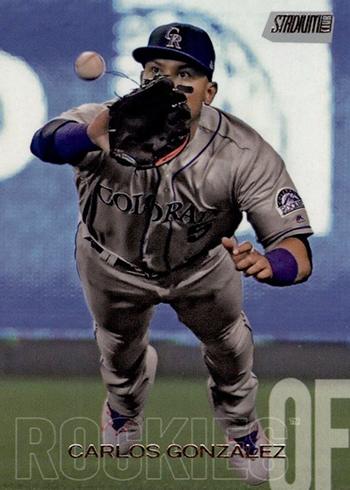 8. Carlos Gonzalez #6
Outfielders diving for the ball never get old on baseball cards. But such shots aren't all that rare anymore. That said, they're normally horizontal in nature, showing the dive in its full stretch-out glory. That's why I like this one of Carlos Gonzalez. The photo comes head-on. The stretch is there, but it's from a different perspective than we're used to.
Rather than the athleticism of the dive, the focus shifts to Gonzalez's concentration. Those eyes are zoned in.
---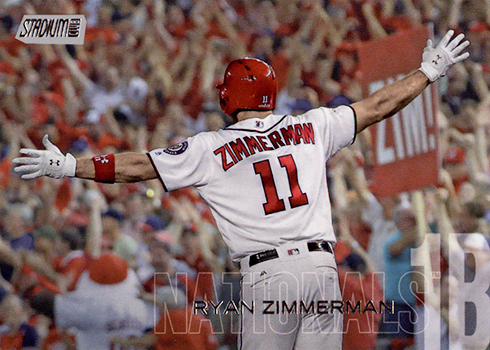 7. Ryan Zimmerman #163
Sometimes you don't need to see someone's face to gauge their emotion and excitement. Here's a time when the outstretched arms of both a baseball player and the color-coordinated fans filling the stands say it all.
And that giant "Zim!" sign, well, that's just the cherry on the moment.
---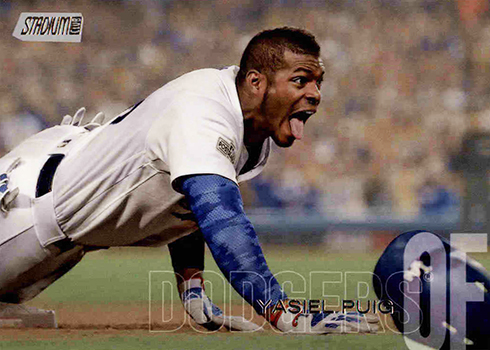 6. Yasiel Puig #95
Would it be an understatement to say that Yasiel Puig plays the game with passion and emotion? From big plays to bat tosses, he doesn't always play by the unwritten rules of the game. And it makes for great cards, like this one. There's the Dodgers star in the immediate aftermath of a triple in Game 1 of the 2017 NLDS against the Arizona Diamondbacks.
---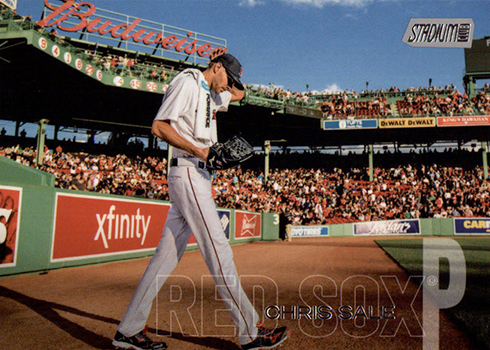 5. Chris Sale #71
For starters, that just-before-sunset natural light is gorgeous anywhere. It's even better at the ballpark. It also takes Chris Sale, a mortal giant at 6′ 6″, and makes his shadow even more gigantic.
---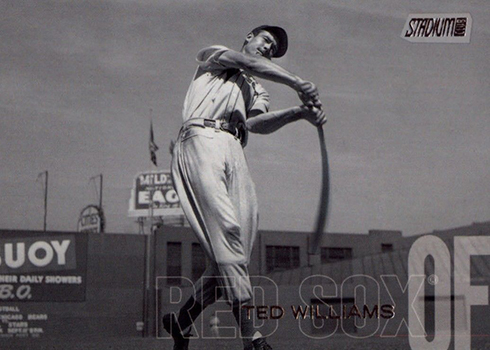 4. Ted Williams #180
Bend It Like Williams doesn't have the same ring as Bend It Like Beckham, but the physics of this shot are amazing.
On a more personal level, seeing this photo makes me appreciate my old Jose Canseco Starting Lineup figure a little more.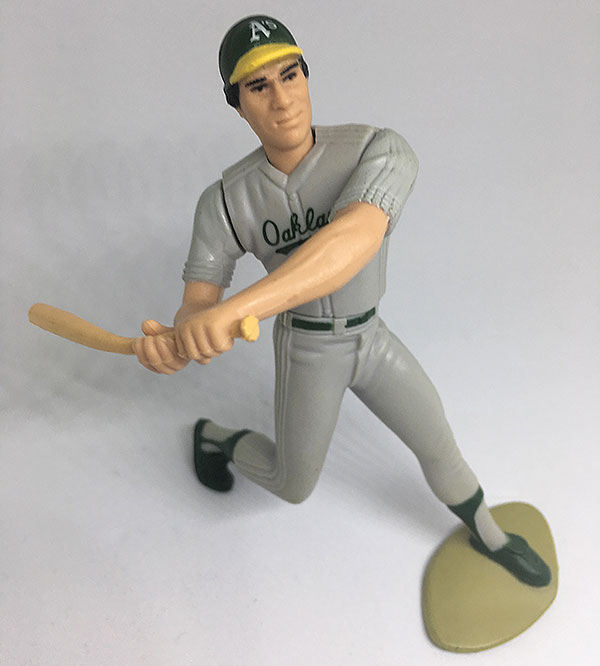 ---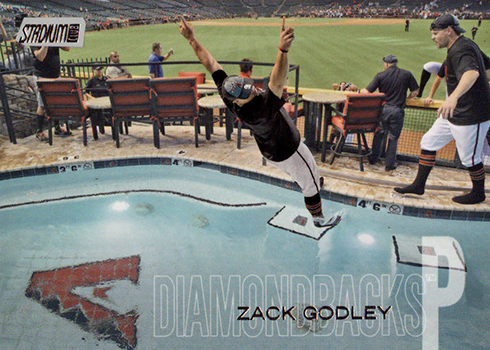 3. Zack Godley #9
The swimming pool at Chase Field has probably seen its share of parties over the years. But it was the Diamondbacks' turn after clinching a playoff spot last year. This is an instance where the photo has nothing to do with baseball and everything to do with baseball at the same time.
---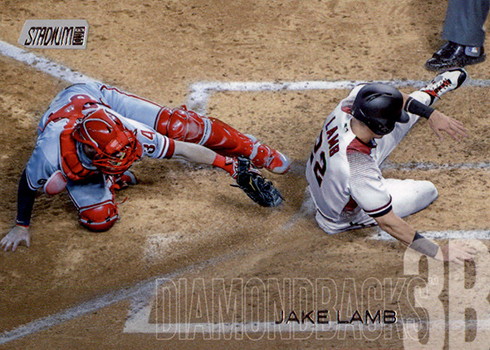 2. Jake Lamb #53
How do you capture a sense of motion in a still photograph? Have Jake Lamb slide through it, apparently. The action of the play itself is fantastic. The color is deep. But what takes this card to a special level is that third base line and how it encapsulates the story of the play from lead-up to follow-through. Notice how the line starts in the frame crisp and clear like one of those fancy TVs on display at your local electronics store.
But as you get closer to the plate, it quickly smudges and fades in the dirt until it's all but gone. It's like the baseball card equivalent of a frame from a manga comic where motorcycle speeds off leaving a bunch of motion lines in its wake.
---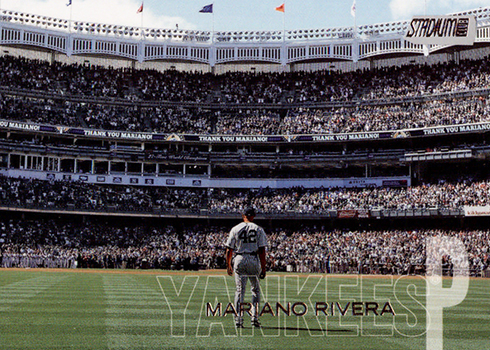 1. Mariano Rivera #248
Mariano Rivera made many trips across the Yankee Stadium outfield over the years. That walk from the bullpen to the mound was where he'd likely lock in and get ready to close things out over and over again. And this is the view he'd see. The Yankee Stadium arches. Tens of thousands of fans on their feet.
Although just a small part of the actual photo, this shot is a fitting tribute to the game's greatest closer. The humble body language. The message of thanks running around the park. Everyone, including the players, standing and paying their respects.
This is a photo that captures the present but doubles as a culmination of an extraordinary career.
It's also a big improvement from Rivera's not-so-fashionable baseball card beginnings in 1992 Bowman.