The Top 10 Potential Sports Cards Investments
Sports card collectors are always trying to find the next best potential card to invest in, both for the short term and long term. I've provided this list of all-time great players based on a number of different key factors, and which cards to invest in. I created this top 10 based on popularity, upside potential, scarcity, accomplishments and value. These players are amongst the elite and very popular throughout the entire hobby. Investing in any of these cards could pay off huge for collectors in near future.
#1 – 2003-04 Topps Chrome LeBron James Rookie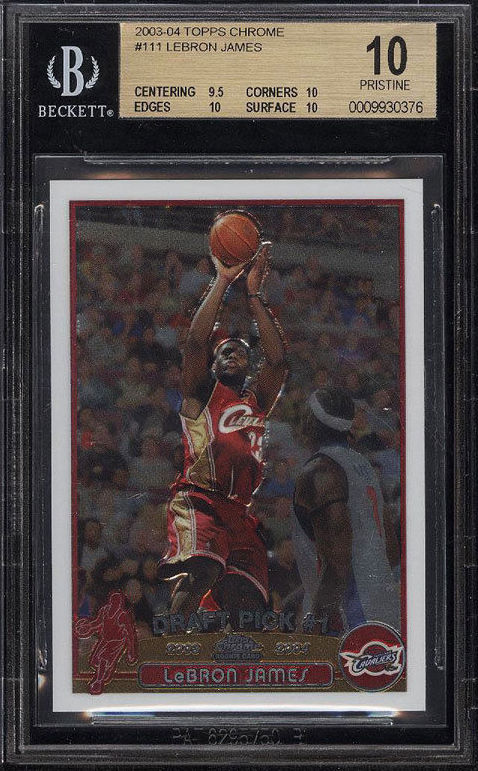 LeBron continues to build his legacy and is already regarded as one of the best all-time players in the history of the NBA. He has appeared in seven straight NBA finals and has won three NBA Championships. He easily could become the all-time leader in points scored when it's all said and done. Many basketball experts already have LeBron ranked just behind Michael Jordan. He's proven to be the ultimate team player and makes all of his teammates better with his phenomenal play. His Topps Chrome rookie remains as one of the most popular cards in the entire sports card hobby. LeBron's 2003-04 Topps Chrome rookie is valued at $1600 at eBay auction in a BGS 10 and $600-700 range in a BGS 9.5. Now is the time to invest in LeBron before it gets closer to the NBA Finals in June. LeBron's Chrome rookie will steadily increase over time as he achieves more accomplishments in his career. You can't go wrong with the King.
#2 – 1992 Little Sun High School Prospects Derek Jeter Autograph /250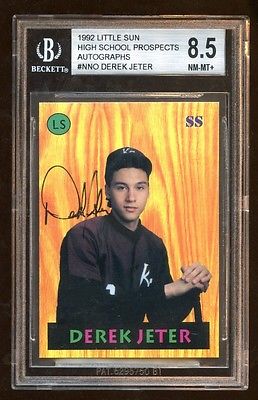 The Captain is one of the most collectible players in the entire card hobby. Jeter was the face of baseball from 1996 until 2014, he's remembered for being a team leader, performing in the clutch and having so many big moments in his career. One of Jeter's best cards worth investing in is his 1992 Little Sun Autograph Prospect card. The card is limited to only 250 copies and becoming tougher to find each year. Although the card has a streaky autograph it's still very sought out and extremely limited, this is a must-own for any Jeter collector. Jeter is set to get elected to the National Baseball Hall of Fame in the class of 2020. This card is valued at $1300-2000 graded in a BGS 8.5-9 or slabbed "Authentic." This card could easily double in value once Jeter is elected to the Hall.
#3 – 2001 Bowman Chrome Albert Pujols Autograph Rookie /500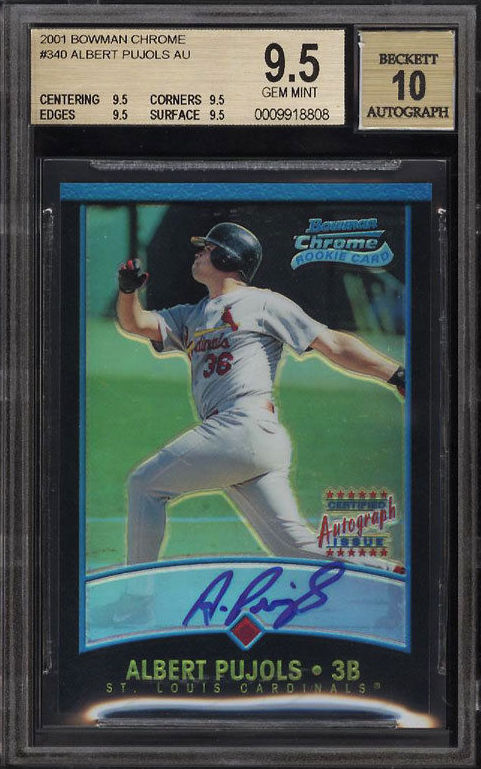 Pujols hit his 600th homerun last season and this season he is just 32 hits away from 3,000 career hits. Once Pujols accomplishes this milestone in 2018 it will give his cards a bump in value. His most sought-after card remains his 2001 Bowman Chrome Autograph rookie. The card has been regarded as one of the most desired cards in the last decade. Limited to just 500 copies, its very tough to find and many sport card hobbyist say there's even less than the print run of 500 available because many of these were not even redeemed, which adds even more value because there is less available than initially thought. This card has huge upside potential: a BGS 9.5/10 sold for over $14,000 at eBay auction, a card graded in a 7 sold for nearly $2,500, two BGS 9/10s are available for $10,000 or best offer, and another one graded an 8.5 is being sold for $5,800 or best offer. It's a very difficult card to obtain, but certainly worth the investment and will always be one of the most popular cards in the hobby.
#4 – 1951 Bowman Mickey Mantle Rookie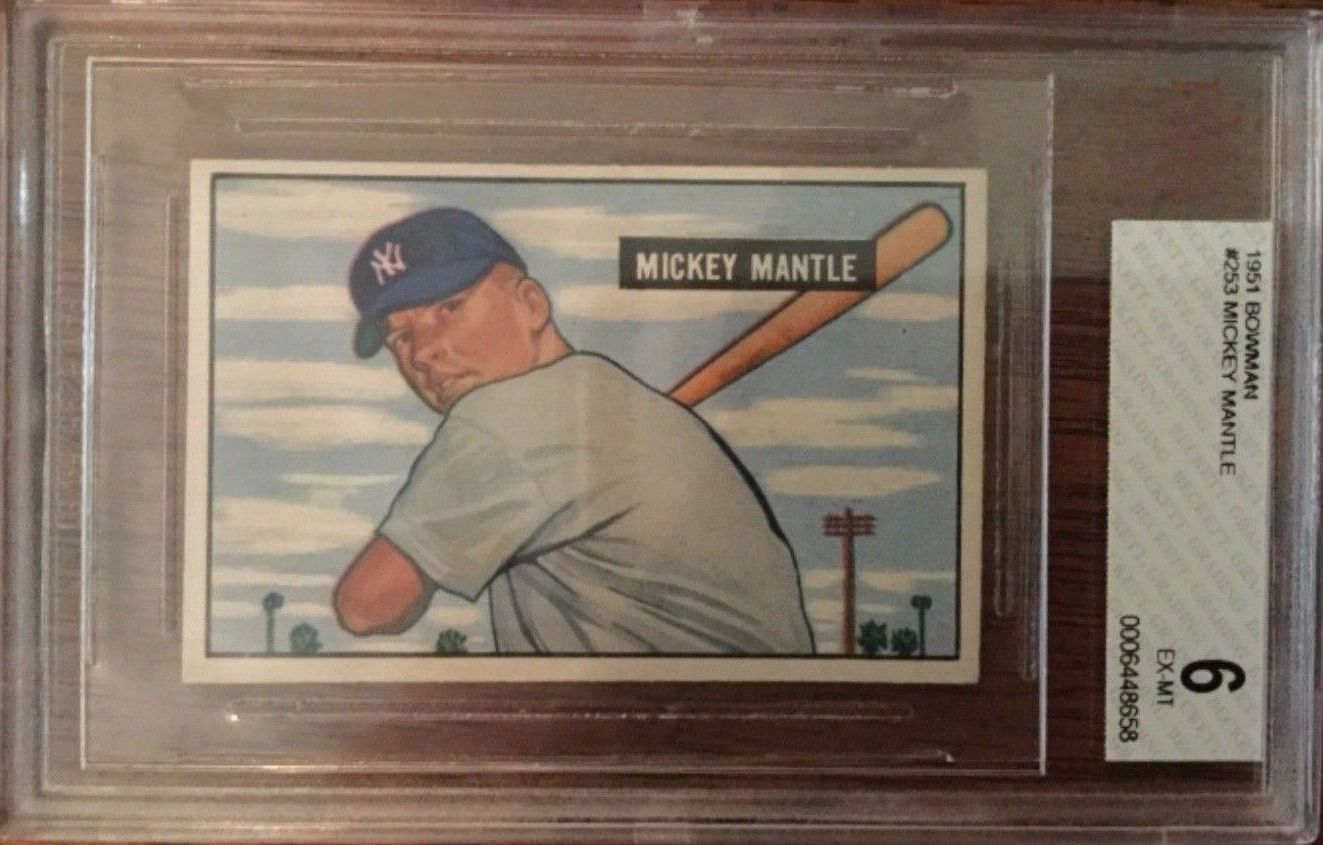 One of the most iconic players of all-time, the Mick would hit tape measure shots off the facade at the old Yankee Stadium. He was one the most popular players ever in the history of baseball. Mantle's 1952 Topps has been a very sought-after card for years, but Mantle's first year card is actually his 1951 Bowman rookie. This card has taken off within the last year! Mantle's Bowman rookie has nearly doubled in value in all grades since last year. One example of what these are valued at is a BGS 6 Bowman Mantle sold for over $10,000 at eBay auction. Even graded 1's are over $1500 range as well. A PSA 4 sale this past week sold for over $9,000 as well, which tells you that this card is red hot. This particular card should continue to grow and is a great investment because Mantle will always be one of the most popular sports icons of all-time.
# 5 – Aaron Rodgers 2005 Bowman Chrome Auto Rookie /199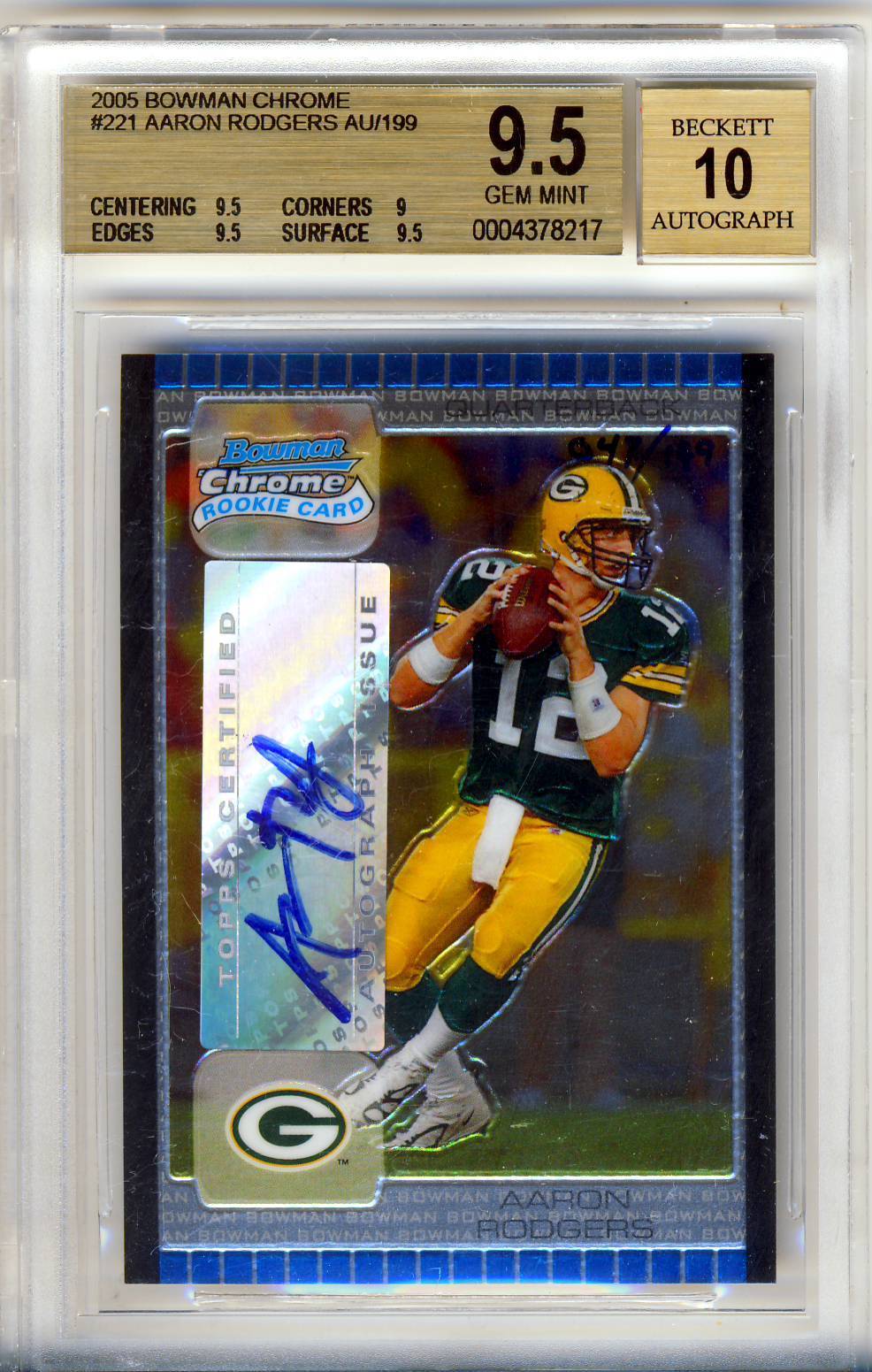 Rodgers is one of the most talented players ever to play the quarterback position. His ability to move around in the pocket and keep the play alive and make an accurate throw under pressure is what sets him apart amongst his competition. Rodgers is a future Hall of Famer and remains as one of the best players in the NFL. One of Rodger's best cards is his 2005 Bowman Chrome Rookie Auto which has a print run of just 199. This particular Rodgers card is very tough to find, the only listing is a BGS 9.5/10 with an asking price of $1800 or best offer. The card ungraded has ranged from $400-750 but doesn't appear for sale often, which makes this Rodgers card very valuable. This one has huge upside like Tom Brady's high-end autographs. Rodgers could pay off huge for someone that makes this type of investment in him.
#6 – 1992 Bowman Mariano Rivera Rookie Autograph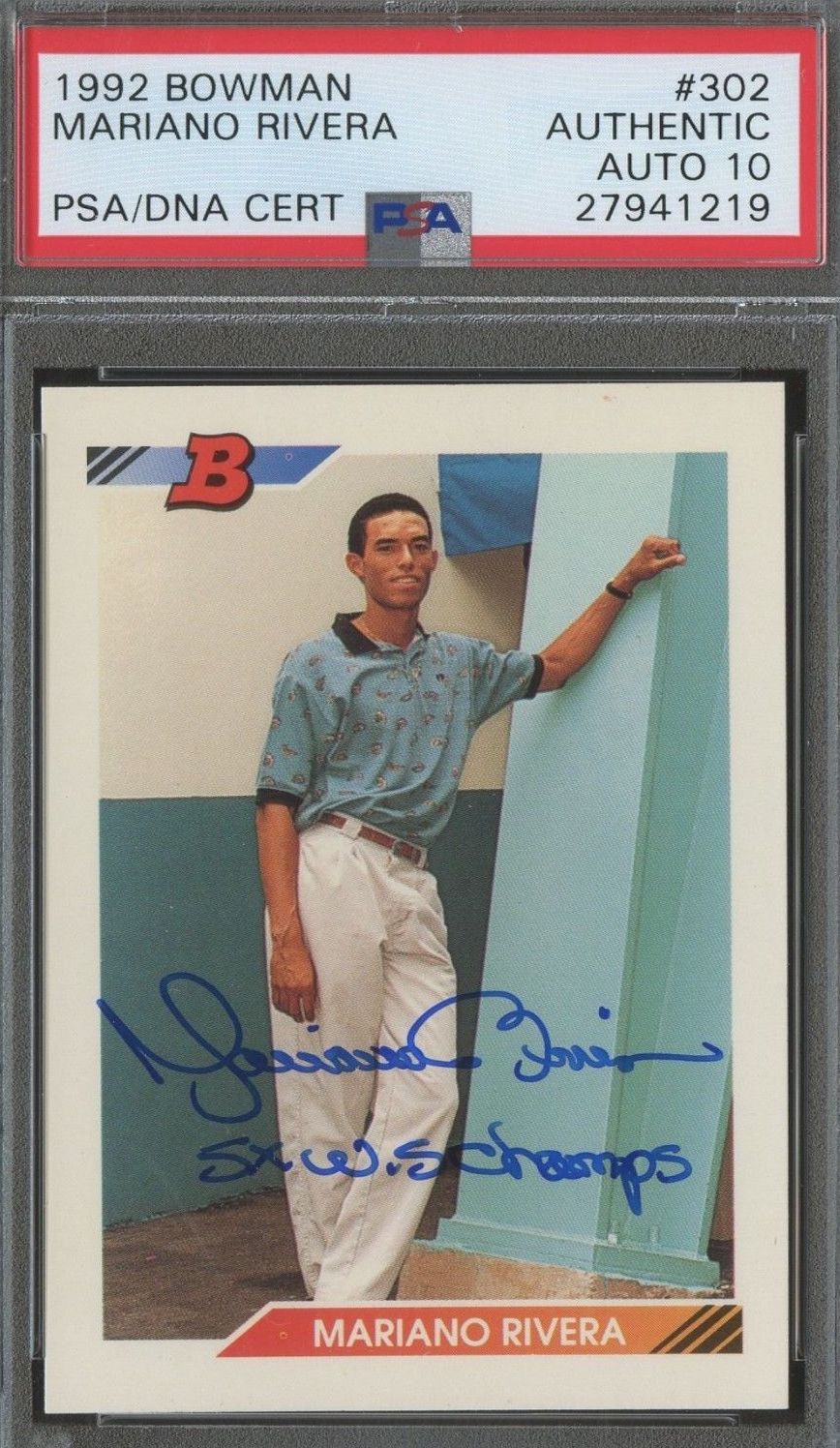 Nicknamed the "Sandman" and for good reason, Rivera is the greatest relief pitcher of all-time. He dominated the majority of his career using just one pitch: the cutter. Signed and slabbed rookie cards continue to soar throughout the hobby and are becoming more sought out each month. The same trend applies to this Rivera card, his Bowman Rookie Autograph signed and slabbed is selling in the $250-400 range which is higher than his PSA 10 non-auto rookie in the same card. Rivera is projected to set to get elected to the National Baseball Hall of Fame in 2019. This particular card should easily get a bump in value and could reach the $500-600 mark by next year. Look for the autograph copies that feature rare inscription from Rivera like "Last to Wear 42," which adds even more value.
#7 – 1998 Bowman Peyton Manning Autograph Rookie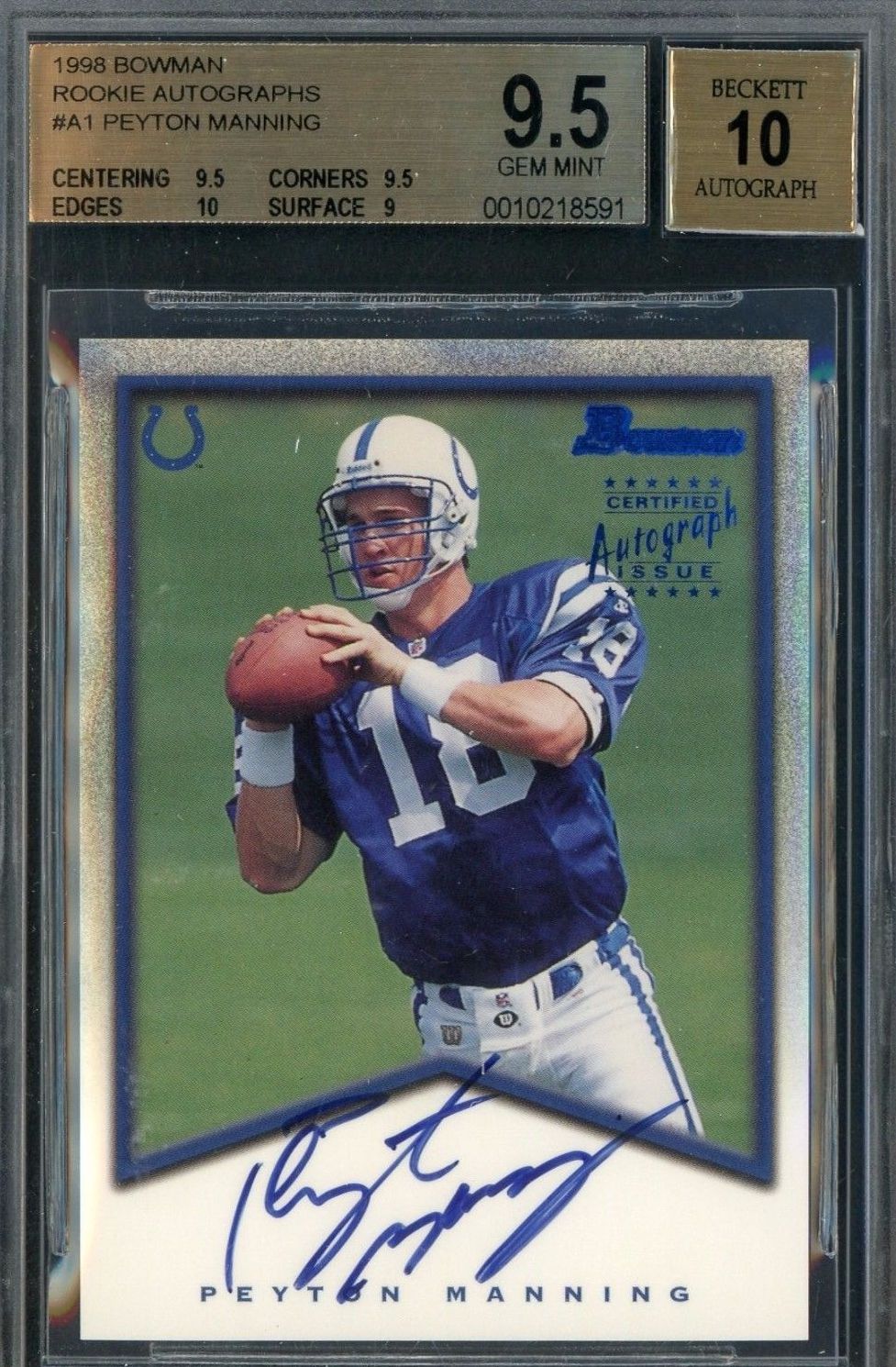 Manning holds a number of quarterback records including all-time leader in passing yards and touchdowns. He is easily a top quarterback of all-time and one of the most popular players of his era. Manning was often compared to Tom Brady and they played against each other often. With Brady cards sky-rocketing, Manning is the next best guy. He's a great buy-low investment with a huge potential payoff in the near future. Peyton's key card to look for is his 1998 Bowman Rookie Autograph which sells for nearly $500 in a BGS 9.5/10. Manning is set to be a lock for the NFL Hall of Fame in the coming years and this card will easily increase in value in the near future.
#8 – 1948 Jackie Robinson Leaf Rookie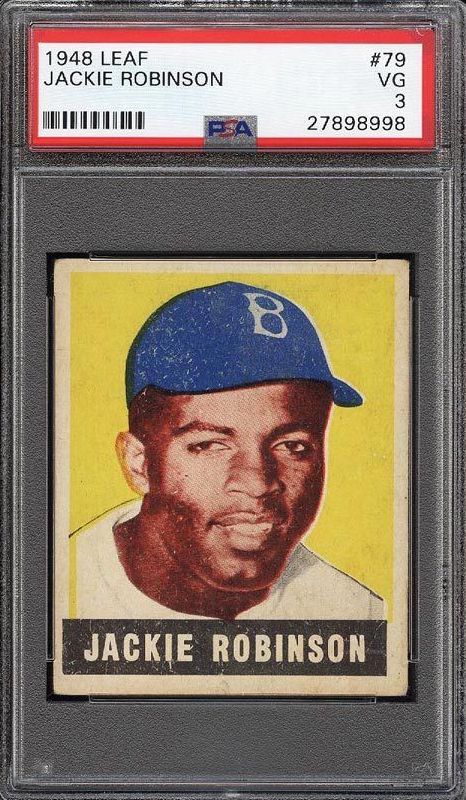 One of the most influential players ever, Jackie Robinson forever changed the game when he broke baseball's color barrier in 1947. Every player in the majors wears his jersey number 42 on April 15th to honor the date he made his debut. His jersey number is also retired by every major league team. His most sought-after card remains his 1948 Leaf Rookie card. One example would be a PSA 3 which sells in the $1800 range, another would be a PSA 4 which sells for $4300 both at eBay auction. Robinson will always be remembered for his courageous heroism, which is why his value should increase in value each year.
#9 – 1961 Fleer Oscar Robertson Rookie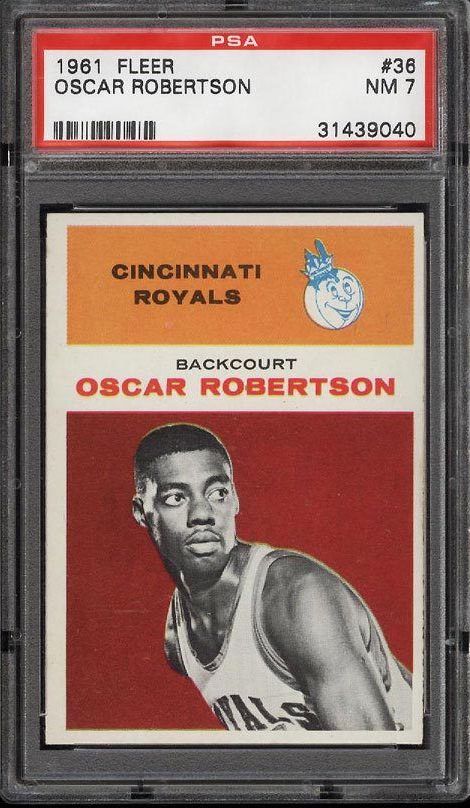 The Big O practically invented the triple double statistic in the NBA when he became the first player ever in NBA history to average one in a season in 1970-71. He was 12x All-Star, and changed the way the guard position was played during the era he played. Robertson is regarded as one of the greatest NBA players off all-time. His most sought-after card remains his 1961 Fleer Rookie card which sells in the $600 range in a PSA 6 and 900 in a PSA 7 range. There is plenty of room for these to grow, if you compare his value to Wilt Chamberlain who is in the same set as Robertson…Wilt's rookie card sells for triple the value! Robertson's stuff could easily get a bump in the coming years or near future especially with the way vintage rookies are trending up.
#10 – 1996-97 Kobe Bryant Topps Chrome Rookie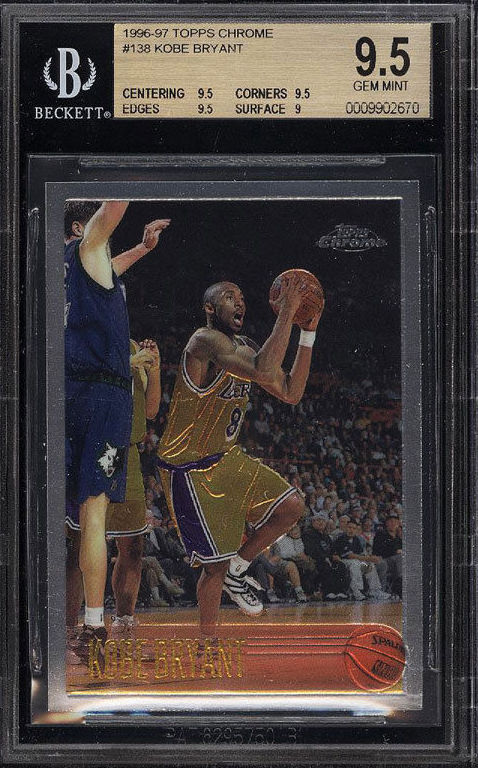 Bryant was one of the fiercest competitors to have ever played. Bryant played his entire career with the Lakers and would win five NBA Championships. He easily ranks as one of the most popular players to ever play the game. His most sought-after card remains his 1996-97 Topps Chrome rookie card which sells in the $700 to $1000 range in a BGS 9.5. Bryant's Chrome rookie will only continue to increase because it's regarded as one of the most popular basketball rookies in the entire hobby.