By the time that 1991 rolled around, sports cards were at their peak in popularity. And while changes had been in the works for a couple of years, the evolution continued. The number of card lines were growing and manufacturers were looking to make their collectibles more collectible. Inserts were nothing new. By definition, they'd been around for decades. But 1991 baseball card inserts were shifting away from simply being a bonus to something closer to a chase.
Inserts are commonplace today. But in 1991, they were an emerging and evolving trend. Like a locomotive burning down a long prairie straightaway, they were beginning to pick up momentum. Rarity, fancy printing technology and greater focus on big stars were all a part of it.
Here's a look at ten of the most important 1991 baseball card insert sets.
Top 10 1991 Baseball Card Insert Sets
10. 1991 Upper Deck Silver Sluggers
Buy on:
Hitters drive a lot of the secondary market. The majority of "stars" are the ones that put up the biggest offensive numbers. 1991 Upper Deck Silver Sluggers is all top hitters, nine from the National League and nine from the American. At the time, most of the players were stars. But time hasn't done the set a lot of favors. Barry Bonds and Rickey Henderson are on the checklist, but so is Don Robinson. While the design isn't a big departure from the base set other than the silver bat icon running down the side, the distribution was. Silver Sluggers are exclusive to jumbo packs, landing one per.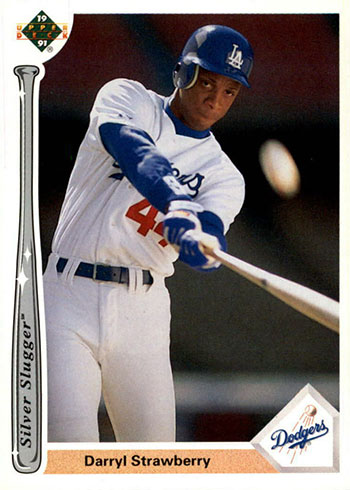 9. 1991 Upper Deck Comic Ball 2 Holograms
Buy on:
This one might be cheating a little bit. Technically, 1991 Upper Deck Comic Ball 2 is a non-sport set starring Bugs Bunny and the Looney Tunes gang. But in a prequel of sorts to Space Jam, Nolan Ryan and Reggie Jackson are along for the ride this time around. Besides the base set, the Hall of Famers are on the product's holograms as well, posing alongside Bugs, Daffy Duck, Marvin the Martian and even Gossamer.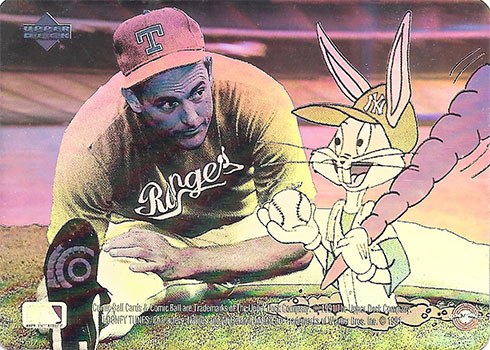 Today, Comic Ball cards don't carry much value. They're from 1991 — there's lots of them out there. But there's something to be said for fun and holograms.
8. 1991 Score Hot Rookies
Buy on:
The only place to find 1991 Score Hot Rookies was in the massive 101-card blister packs. The inserts may not have quite the impact of a shirtless Jose Canseco (or Kirby Puckett) or be as bold as some of its subsets, but they definitely bring the heat. The ten-card checklist is solid as well with plenty of notable '90s names like Frank Thomas, Dave Justice, Juan Gonzalez and even Kevin Maas.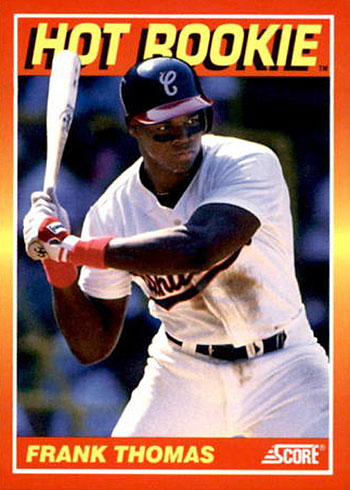 7. 1991 Studio Previews
Buy on:
1991 Studio Previews aren't in packs. Rather, they're a bonus inside retail versions of the 1991 Donruss Baseball factory set. There's 18 cards in the set but just four per set. They helped introduce one of the most memorable 1991 debuts. The black and white portraits were certainly something different and many of the photos oozed with personality. Pet birds might not be among the 1991 Studio Previews like the full set has but the checklist has a nice mix of stars of great images.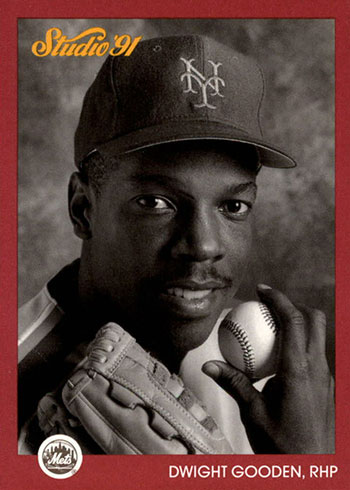 6. 1991 Fleer All-Stars
Buy on:
1991 Fleer All-Stars are found in cello packs. The black borders, dual photos and multi-colored stripes couldn't be any further than the yellow of the main set. For most, that's going to be a good thing. You don't hear a lot about this set today, which is a shame. They look good, have a strong ten-card checklist and the black edges aren't the easiest when it comes to top-condition cards.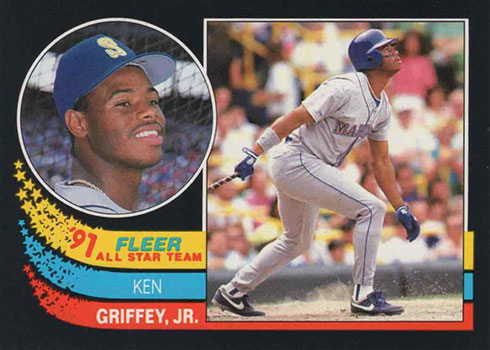 And if the cards have a sort of familiarity, some design inspiration may have been drawn from 1971 Topps Greatest Moments.
5. 1991 Upper Deck SPs
Buy on:
Upper Deck packed a lot of extras into the 1991 baseball sets. While not full-on insert sets, the SP cards generated a lot of chatter. Although they continued after 1991, maintaining the same numbering, the SP craze started with 1991 Upper Deck Low Series packs. The subject? The biggest athlete in the world — Michael Jordan.
Mention "1991 Upper Deck SP1 Michael Jordan" and long-time collectors will probably know exactly what you're talking about. There he was in a Chicago White Sox uniform taking batting practice. We can look back now and see the foreshadowing of what would come just a few years later, but at the time it was a novelty. And one that was easy enough to come by that every shop seemingly had one but tough enough that people got excited whenever they pulled one.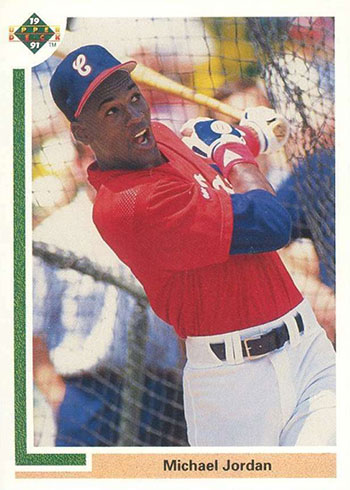 High Series packs have SP2, a card commemorating a couple of major May 1 events: Nolan Ryan's 7th No-Hitter and Rickey Henderson becoming baseball's all-time stolen bases leader. It doesn't bring quite the recognition as the Jordan but it does have the art of Vernon Wells (the player's father), who created lots of art for Upper Deck during the company's early years.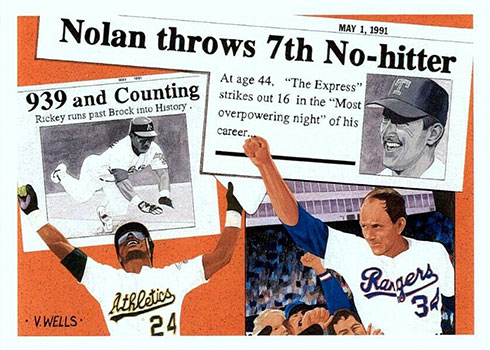 4. 1991 Leaf Gold Rookies
Buy on:
Gold foil was a huge design component throughout the '90s. It was a sign that a set was "premium" in some fashion. Plus, done right, it looks good. 1991 Leaf Gold Rookies was among the early modern adopters. There's a dozen cards in 1991 Leaf Series 1 plus 12 more in Series 2, led by Jeff Bagwell and Mike Mussina. Todd Van Poppel should bring a little added nostalgia.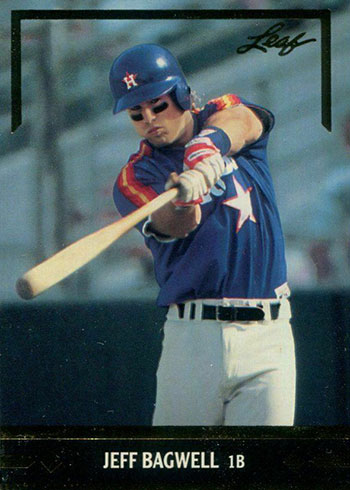 It's not just young players on the checklist. The final two cards belong to a couple of players that were anything but in 1991, Nolan Ryan and Rickey Henderson. Similar to their 1991 Upper Deck SP cards, these honor the Hall of Famer's dual achievements from early in the season.
Base versions of the set are relatively plentiful today, but there are some variations for the Series 1 cards. Instead of being numbered BC1 through BC12, they are #265-276 on the back.
3. 1991 Upper Deck Baseball Heroes
Buy on:
Upper Deck's Baseball Heroes enjoyed a run spanning several years. After making its debut in 1990's High Series with Reggie Jackson, 1991 Upper Deck Baseball challenged collectors to "Find the Nolan" (Low Series) and "Find the Hank" (High Series). Of course, these labels were referring to the scarce autographs of each that were randomly inserted in packs. Much more plentiful are the regular Baseball Heroes inserts in each series that highlight both players' accomplishments and big moments from their respective careers.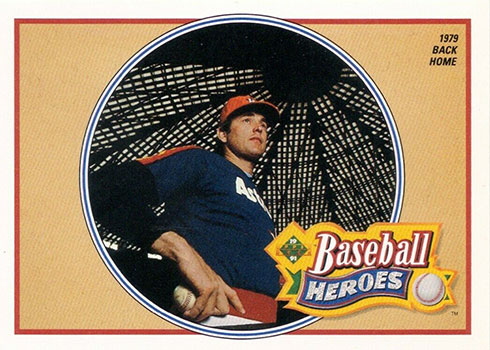 Don't forget the headers. Despite not having either of the players, landing one was the key to the set thanks their short print status.
Numbering offered continuity from one series and year to the next and the design is one that's among the most memorable of the era.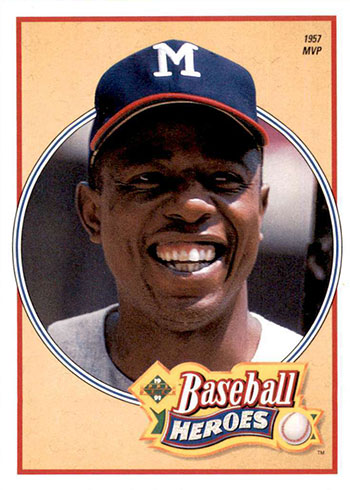 2. 1991 Fleer Pro-Visions
Buy on:
Art has been connected to baseball cards since the earliest days of the sport. Usually, it's standard portraits and painted action shots done with realism in mind. With 1991 Fleer Pro-Visions, Terry Smith kept the realism but added a fantasy spin to the players. Depicting star players in comic book types of settings, this is one of the most memorable art inserts of all-time. Falling regularly in packs, the eight-card set is easy to put together. Slightly more challenging (with an emphasis on slightly) are four additional white border Pro-Visions that were included in the 1991 Fleer Baseball factory set.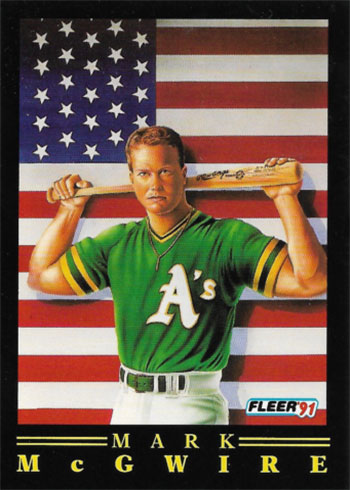 1. 1991 Donruss Elite
Buy on:
The legacy of 1991 Donruss Elite is still around today. Kicking off the craze of mainstream serial numbered cards, they put a cap on limited edition. Sure, 10,000 copies may be laughable today but 1991 was a very different time in baseball cards. Kids (and adults) would be ripping packs and boxes of Series 1 and Series 2 for months and not find one of the eight cards. At one point, people were attempting to use metal detectors to try to find the flashy foil cards. In many ways, it was like the hunt for a Golden Ticket in Roald Dahl's Charlie and the Chocolate Factory.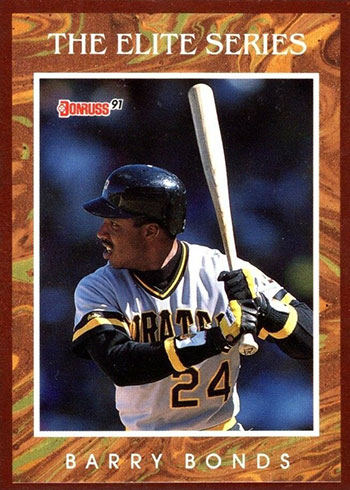 Today, it's just as much nostalgia that drives 1991 Donruss Elite inserts. Those who were kids at the time are rejoining the hunt, looking for heroes of the time like Barry Bonds, Jose Canseco, George Brett and Rickey Henderson. Heck, even landing a Doug Drabek today is bound to bring back the childlike glimmer to a 40-something's eyes.
In addition to the eight main cards, two tougher cards are on the checklist. Nolan Ryan's Legends Series card has 7,500 copies. And then there's Ryne Sandberg and one of the hobby's earliest autographs. It is numbered to just 5,000.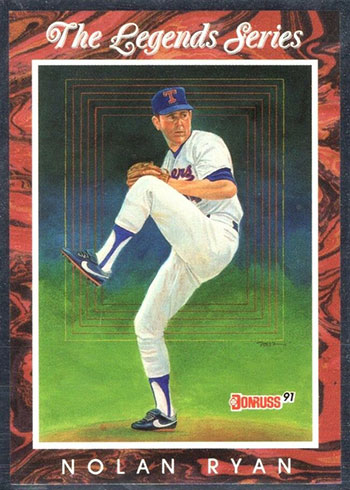 When it comes to falling print runs and adding some transparency to them, there's "before 1991 Donruss Elite" and "after."