10 Most Valuable 1986-87 Fleer Basketball Cards
It took a while for basketball cards to take hold. Although they were around for decades before, there was a chunk of time in the 1980s when they weren't widely distributed by traditional means. 1986-87 Fleer Basketball changed that. And change things it did.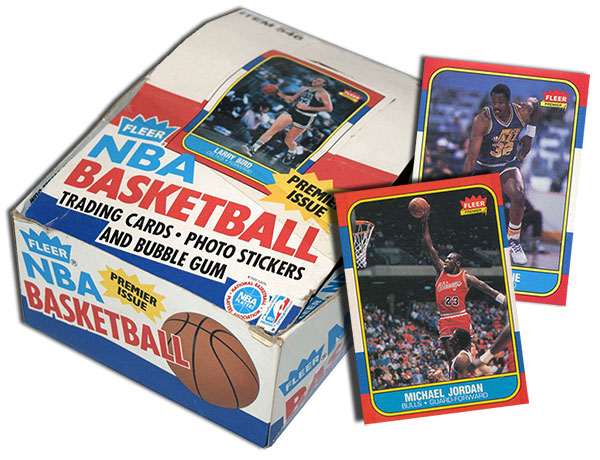 This is one of the most important sports cards sets of all-time, not just its era. Part of that is because of circumstance. 1981-82 Topps Basketball was the company's last for that sport until the 1990s. That meant that a huge chunk of the 1986-87 Fleer Basketball checklist consists of Rookie Cards. Star released some licensed cards during those gap years, but they're considered to be non-traditional in both structure and distribution.
The list of 1986-87 Fleer Basketball Rookie Cards is one of the strongest you'll ever find in a product from any sport. It includes several legends and Hall of Famers including Charles Barkley, Karl Malone, Hakeem Olajuwon and Patrick Ewing. Oh, yeah, there's the Michael Jordan Rookie Card, one of the most iconic cards of any generation.
Between the 132-card main checklist and 11 stickers, which are the most valuable 1986-87 Fleer Basketball cards? It's time to count them down.
Top 10 1986-87 Fleer Basketball Cards
Rankings are based on values in the Beckett Basketball Price Guide and Database.
Special Mention: 1986-87 Fleer Johnny Moore #76
Under normal circumstances, the 1986-87 Fleer Johnny Moore is a common. However, it's widely believed to be the toughest card to find in top condition. So when a BGS 9.5 or PSA 10 surfaces, those chasing Gem Mint sets jump on it. On multiple occasions PSA 10 copies of this card have topped $10,000. Before you get your hopes up, though, those prices are for top graded copies, not raw ones.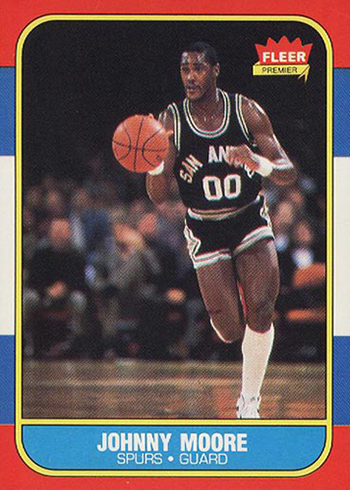 ---
10. 1986-87 Fleer Chris Mullin RC #77
Chris Mullin's playing career was a fairly quiet one — especially when you realize he's been inducted into the Basketball Hall of Fame twice, once as a player and another as a member of the 1992 Dream Team. Mullin also won a gold medal at the 1984 Summer Olympics in Los Angeles. While he may not have been basketball's biggest character or a highlight reel regular, Mullin was consistently great in every stage of his career.
Unlike a lot of players in 1986-87 Fleer Basketball, Mullin doesn't have any earlier cards from Star. This is his first cardboard appearance.
Buy on: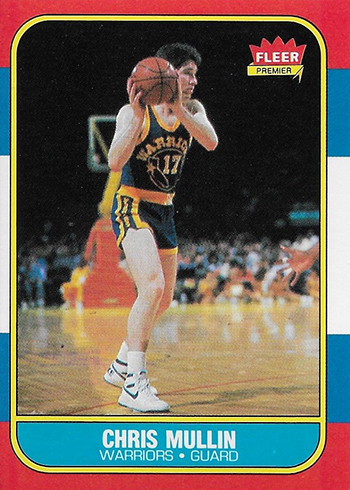 ---
9. 1986-87 Fleer Larry Bird #9
This isn't Larry Bird's Rookie Card, but with so many gaps with traditionally distributed NBA cards, it's one of his first. So you've got one of the most popular players of all-time, an early issue in a classic set. The result is a base card that's worth a lot more for an '80s athlete in the middle of his career.
Buy on: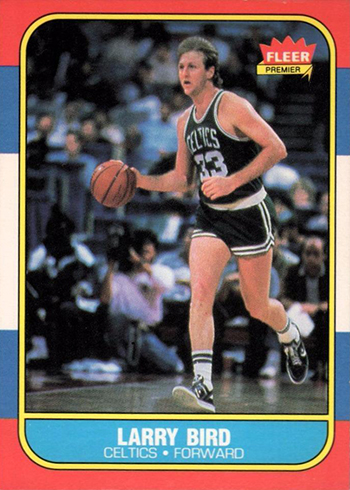 ---
8. 1986-87 Fleer Dominique Wilkins RC #121
You don't get the nickname The Human Highlight Film by simply playing well. That's part of it but there's a certainly level of flash that needs to come with it. The nine-time All-Star and two-time Slam Dunk Champion had no shortage of flash.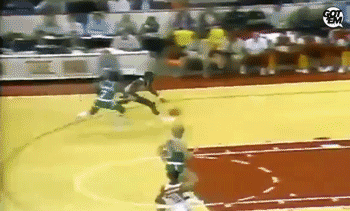 Buy on: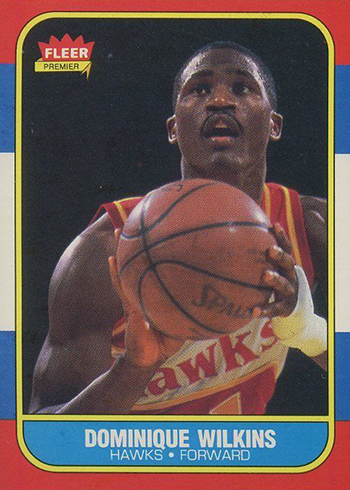 ---
7. 1986-87 Fleer Clyde Drexler RC #26
Clyde Drexler got the Portland Trail Blazers close to an NBA title but it wasn't until the last part of his career with the Houston Rockets that the Glide finally won one. Throughout his playing days, Drexler was respected by both his peers and fans. He was a ten-time All-Star and a member of the 1992 Dream Team as well.
Buy on: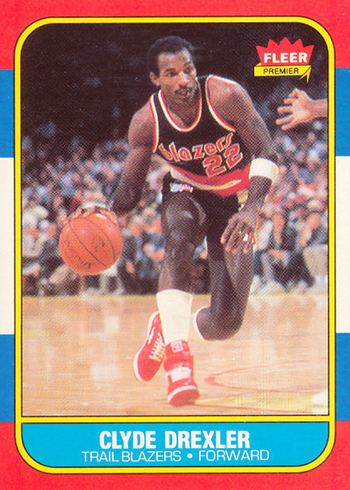 ---
6. 1986-87 Fleer Hakeem Olajuwon RC (Akeem) #82
Hakeem Olajuwon is regarded as one of basketball's best centers of all-time. Born in Nigeria, he was the first overall pick in the 1984 NBA Draft, which was ahead of Charles Barkley, John Stockton and even Michael Jordan. It took a while but Olajuwon helped lead the Rockets to a pair of NBA Championships in 1994 and 1995 where he was also named the MVP of both Finals.
Buy on: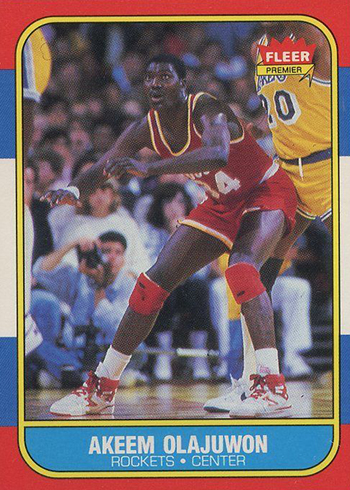 ---
5. 1986-87 Fleer Patrick Ewing RC #32
Olajuwon isn't the only great center to have a Rookie Card in 1986-87 Fleer Basketball. There's also Knicks legend Patrick Ewing. Following a stellar college career with the Georgetown Hoyas, Ewing was the first pick in the 1985 draft. He was the face of the franchise for more than a decade, averaging 20 points of more per game in his first 13 pro seasons.
Buy on: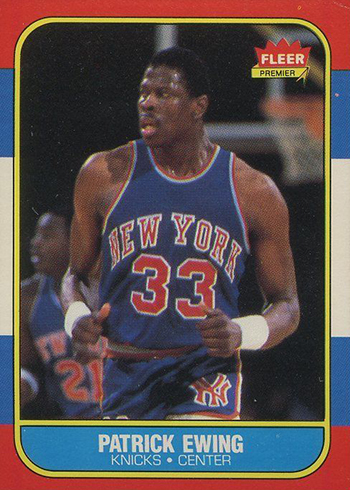 ---
4. 1986-87 Fleer Karl Malone RC #68
Karl Malone never brought an NBA Championship to Utah (or that one season with the Lakers), but he was still one of basketball's most dominant players that was made even better paired with John Stockton. Malone was named the NBA MVP in 1997 and 1999, he was an All-Star 14 times and won gold medals in the 1992 and 1996 Olympics.
Buy on: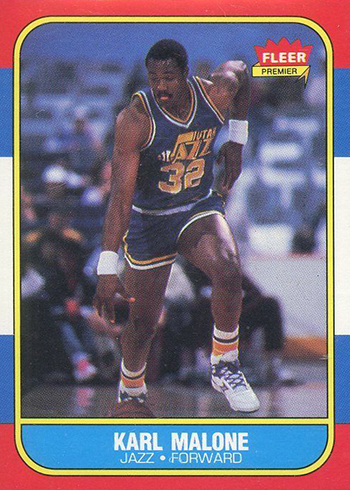 ---
3. 1986-87 Fleer Charles Barkley RC #7
Even in retirement, Charles Barkley continues to get his name out there. Charismatic on the court, he has brought that personality to broadcasting. Keep your name in the headlines, even for strange comments, and you maintain a level of relevancy. Combine that with being one of basketball's greatest of all-time — even without the championship ring — and you've got one of the top cards in basketball's best sets.
Buy on: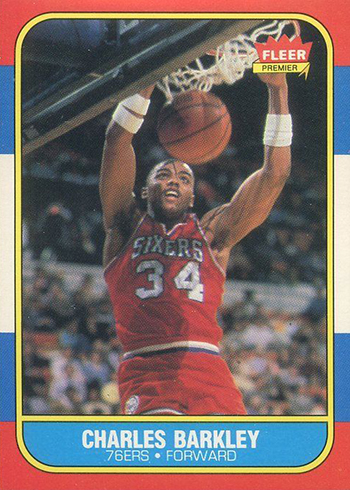 ---
2. 1986-87 Fleer Stickers Michael Jordan #8
By no means cheap, the 1986-87 Fleer Michael Jordan sticker is still more affordable than his Rookie Card. Stickers were inserted one per pack and with just 11 in the set, the quantity should be similar to the cards. For those chasing top-condition versions of the stickers, centering is a consistent issue with a lot of them. There's also wax stains to contend with.
Buy on: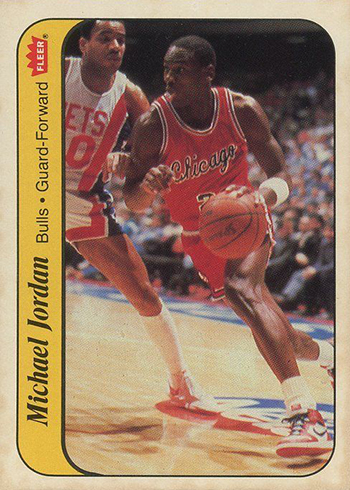 ---
1. 1986-87 Fleer Michael Jordan RC #57
Hailing from an era when most regular cards don't carry a lot of value no matter how popular, this is the exception. It's not the rarest basketball card of all-time, but the 1986-87 Fleer Michael Jordan Rookie Card is the most famous. It's at a point now where the card is so popular that it fetches significant sums no matter the condition. With that comes hefty price tags for top-condition cards.
Susceptible to fakes, professionally graded versions are probably the way to go unless it's coming from a dealer that you know and trust. But they're probably going to be selling graded versions themselves knowing the the card is a frequent target for forgers.
Buy on: