Top 10 1980s Donruss Baseball Rookie Cards
Donruss, along with Fleer, changed the landscape of 1980s baseball cards when they joined Topps in 1981. Over the next several years, Donruss would include many Rookie Cards in their products. Some memorable, others a little less so.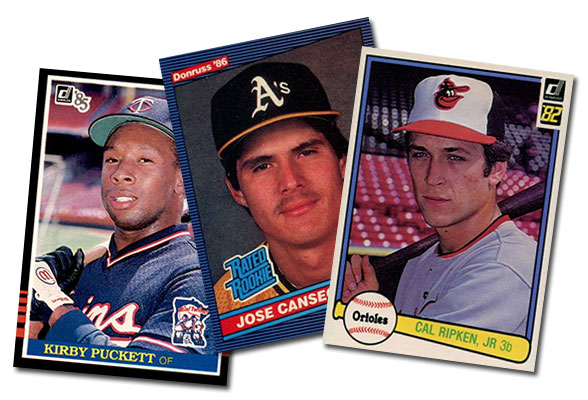 With the introduction of the Rated Rookie in 1984, it gave many Donruss Rookie Cards a little branding. This was particularly true in the latter part of the decade.
The 1980s were a big time for baseball cards. With that came several great RCs under the Donruss banner. While on-field play, awards and Hall of Fame status play big roles in where the values on these cards stand, they're not the only factors. Print runs, condition sensitivity and basic nostalgia can also come into play.
For the most part, Donruss Rookie Cards from the 1980s remain affordable, even the biggest ones. But that's common for most cards from the decade. Professionally graded copies can be much more valuable, although that's still very much relative.
So what are baseball's most valuable Donruss Rookie Cards from the 1980s? Let's count them down.
Top 10 Donruss Baseball Rookie Cards of the 1980s
Ranks are based on values in the Beckett Baseball Card Database and Price Guide. Specific values are available to subscribers.
10. 1983 Donruss Wade Boggs RC #586
As far as hobby popularity goes, Wade Boggs may be the third wheel when it comes to the impressive list of 1983 Rookie Cards. But what a third wheel he is.
Buy on: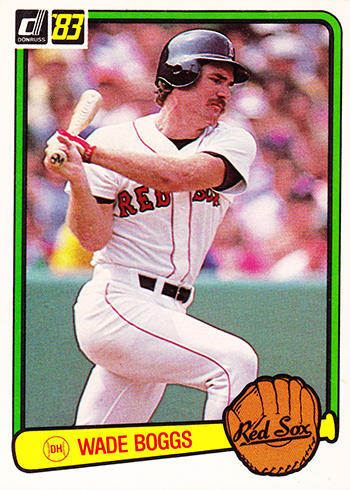 9. 1987 Donruss Greg Maddux RC #36
Greg Maddux would go on to be one of the greatest pitchers of his generation. Maybe the best. And yet, here's a Rookie Card that one could argue is still overlooked. Yes, there are tons of them. But that can be said for every 1980s Rookie Card. You don't hear a lot of complaints about the 1987 Donruss Baseball design, either. It must be the mustache.
Buy on: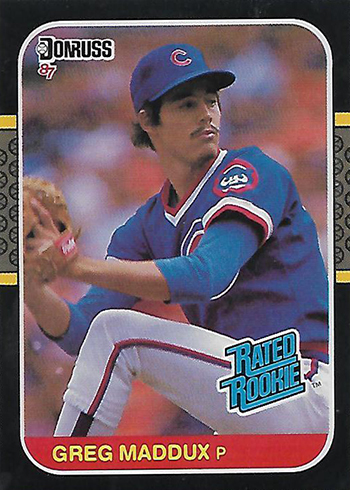 8. 1983 Donruss Ryne Sandberg RC #277
Great player, great uniform and a great design have all the makings of a great baseball cards. And that's exactly what the 1983 Donruss Ryne Sandberg Rookie Card is.
Buy on: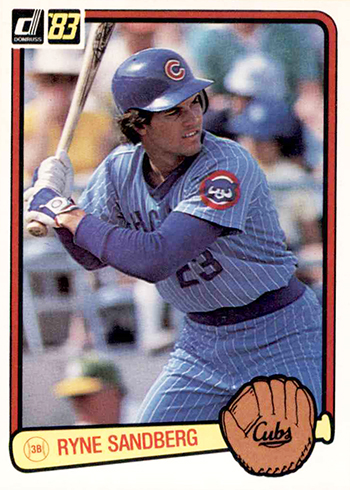 7. 1987 Donruss Barry Bonds RC #361
You can argue and debate about the merits of Barry Bonds' career but according to the record books, he's baseball's all-time leader when it comes to home runs. Bonds himself seems to be softening his personality now that he's retired. At the same time, some of the politics surrounding him and the Hall of Fame are also shifting.
1987 Donruss is one of the brand's best of the decade and this is the top card. Part of the reason why it remains so affordable — other than print run — is the fact that Bonds has a few XRCs in 1986 update sets that are also on the plentiful side.
Buy on: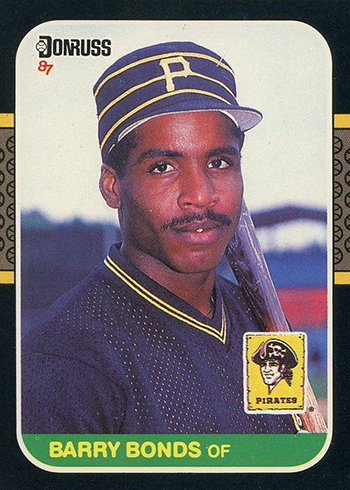 6. 1985 Donruss Kirby Puckett RC #438
Whether by design or by convenience, Donruss definitely had a thing for using portraits of rookies with the bat-on-shoulder pose. The 1985 Donruss Kirby Puckett Rookie Card is one such example. And this is a great looking card. The simple design is enhanced by the fact that Puckett plays for Minnesota, a team whose team colors match up nicely with the borders. It may not play a major factor in the card's value but it certainly does make it nice to look at.
But what makes this one of the best 1980s baseball cards — it's Kirby.
Buy on: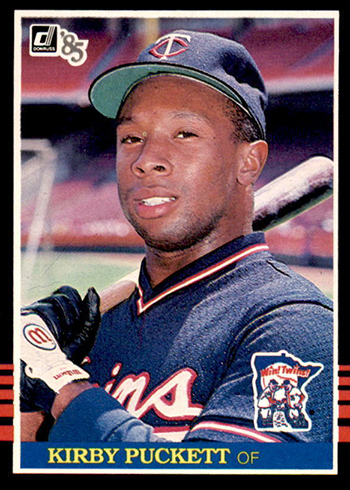 5. 1986 Donruss Jose Canseco RC #39
It's hard to believe this was once a card that topped $100. Today, it's not even close. Still, there's plenty of nostalgia surrounding the card, the player and the fact that it's still one of the most memorable (and disappointing) baseball cards of the 1980s.
Buy on: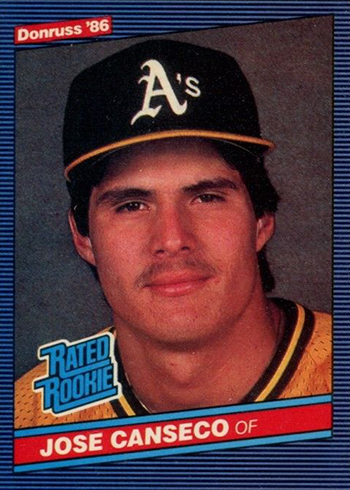 4. 1985 Donruss Roger Clemens RC #273
Like Bonds, Roger Clemens continues to see a lot of love from collectors despite the lack of Hall of Fame votes. Whether he eventually makes it or not, that won't hold back the appeal of this card. Supply may not be an issue but the black borders tend to show every bit of damage. The result is top-condition can be a little more tricky to come by.
Buy on: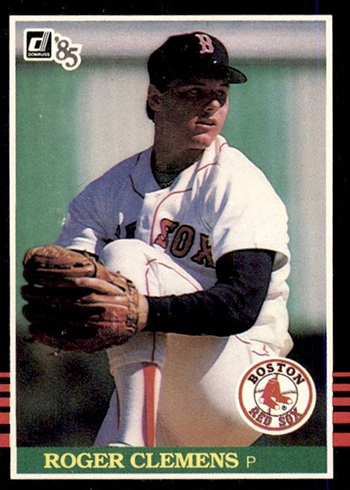 3. 1983 Donruss Tony Gwynn RC #598
One more card from 1983 Donruss? As he does in the 1983 Fleer and Topps sets, Tony Gwynn's Rookie Card tops 1983 Donruss Baseball. Overall, the look stays true to the previous year's set. The biggest change is the glove illustration taking over from 1982's ball.
Buy on:
2. 1982 Donruss Cal Ripken Jr. RC #405
Cal Ripken Jr. was no stranger to baseball cards in 1982, all of them popular. But that's what happens when you're, arguably, the most beloved player of your generation. Like a lot of their early Rookie Cards, the photo is simple and that's not a bad thing. The bat and ball elements on the front also helped make 1982 Donruss Baseball one of the most recognizable of the decade.
Buy on: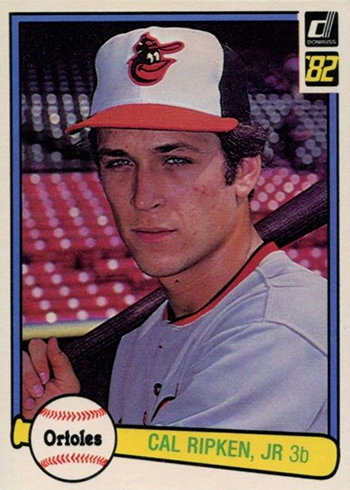 1. 1984 Donruss Don Mattingly RC #248 $30
He may not be enshrined in Cooperstown, but the 1984 Donruss Don Mattingly Rookie Card deserves a spot in the unofficial baseball card equivalent. It may not carry the value of some vintage gems but this is one of those cards that everyone who collected in the 1980s wanted. The design is classic, the portrait is fantastic and compared to most other sets of the era, 1984 Donruss Baseball is tougher to find.
Put it all together and you've got the most valuable Donruss baseball card of the 1980s.
Buy on: