Is Tom Brady the GOAT When it Comes To Cards?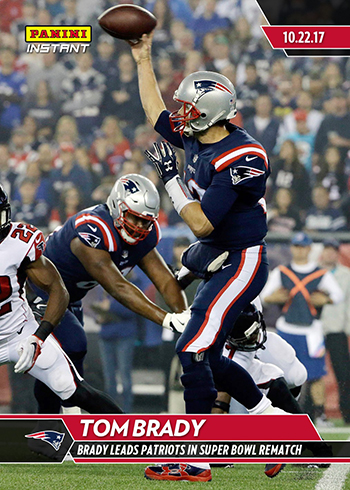 Tom Brady is one of the best quarterbacks to ever play the game. At age 40 this season Brady hasn't fallen off at all. The five-time Super Bowl champ stands out among the greatest athletes of all-time and is one of the most collectible players in the hobby. This season, Tom Brady cards remain some of the most sought out, especially his autographs and Rookie Cards.
Some of Brady's accomplishments include an undefeated regular season, five Super Bowls, four Super Bowl MVPs and two regular season MVP awards.
His longevity is what sets him apart, especially when compared to other all-time great athletes like Babe Ruth, Michael Jordan and Wayne Gretzky. Tom Bradys cards and autographed memorabilia have reached prices that no one could have predicted when he was drafted in 2000.
1. 2000 Playoff Contenders Tom Brady RC Autograph #144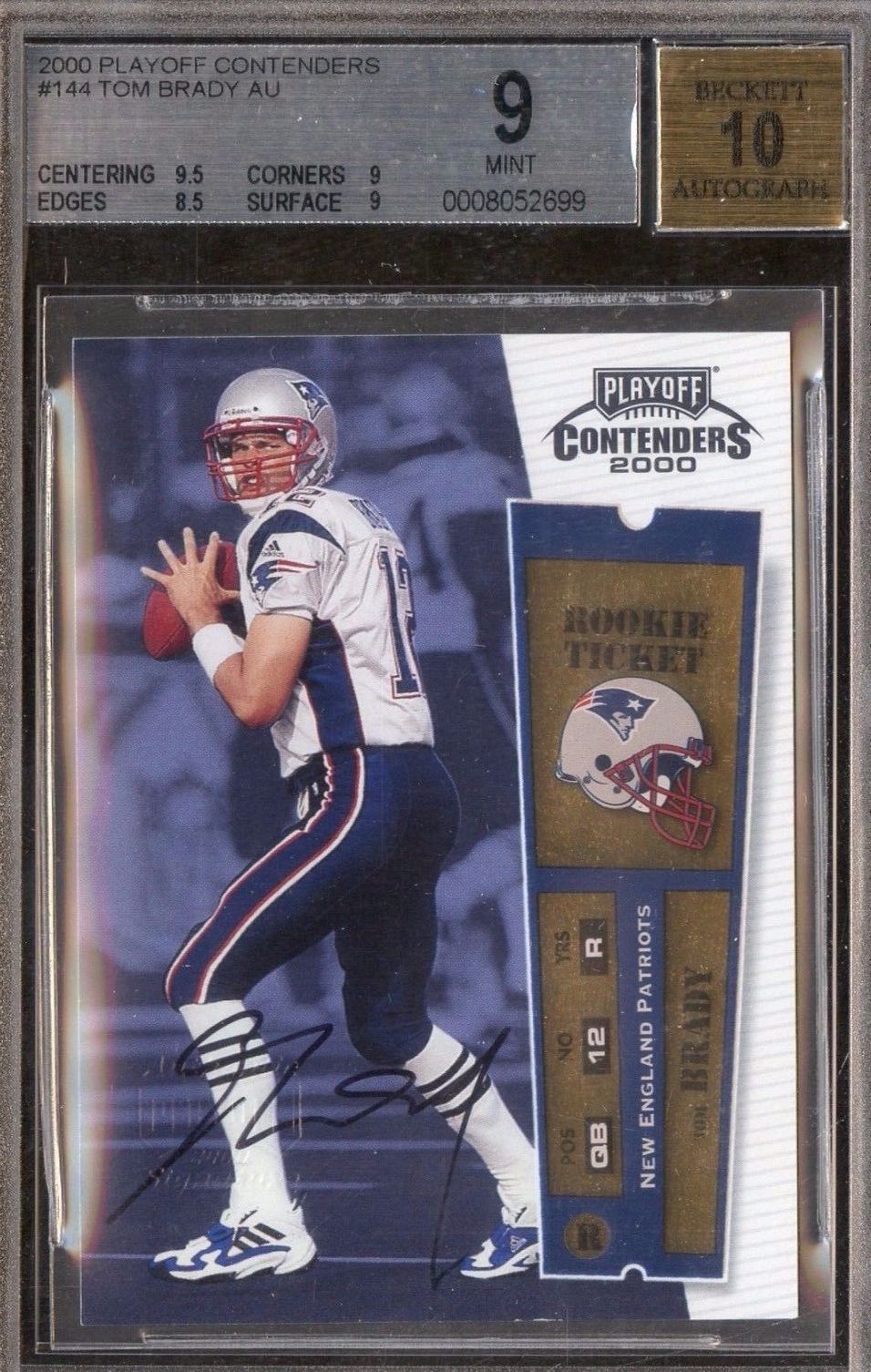 This 2000 Playoff Contenders Tom Brady rookie autograph one of the most sought after cards in the entire card hobby. The card has become so popular and valuable that it, unfortunately, has become a target of counterfeiters. Now, ungraded copies submitted to BGS need to go to Beckett Authentication (BAS) prior to being graded.
Since the start of the 2017 season this card's value has already increased by a thousand dollars. A BGS 9 with a 10 autograph sold for $10,800 at eBay auction. Earlier in the season, a similar copy went for $9,500.
The highest known sale of this card this season is for $17,500 in a PSA 8.5. The Championship Ticket parallel is numbered to 100 copies, so rare that none have been listed in recent months.. This Brady card easily stands out as the cream of the crop especially since it's his first autographed Rookie Card.
2. 2000 SP Authentic Tom Brady RC #118 /1250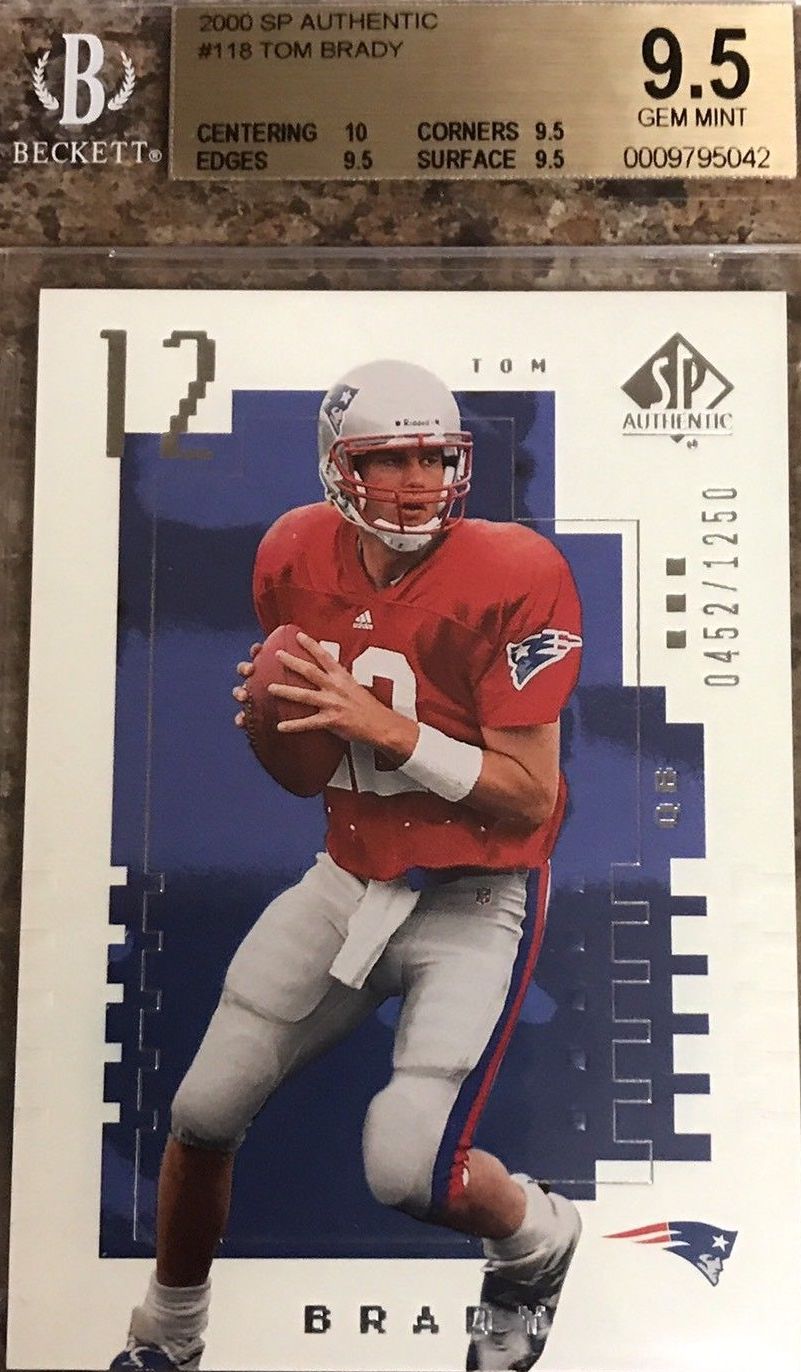 The 2000 SP Authentic Tom Brady is another one of his key Rookie Cards. It can be hard to find due to its low limited print run of just 1,250 copies.
Since the start of the 2017 season, top sales include a BGS 9.5 going on eBay for $11,900. A PSA 10 sold for $16,000. Copies graded BGS 9 have reached as high as $8,000.
This is a must-own for any Tom Brady super collector!
3. 2000 SPX Tom Brady RC #130 /1350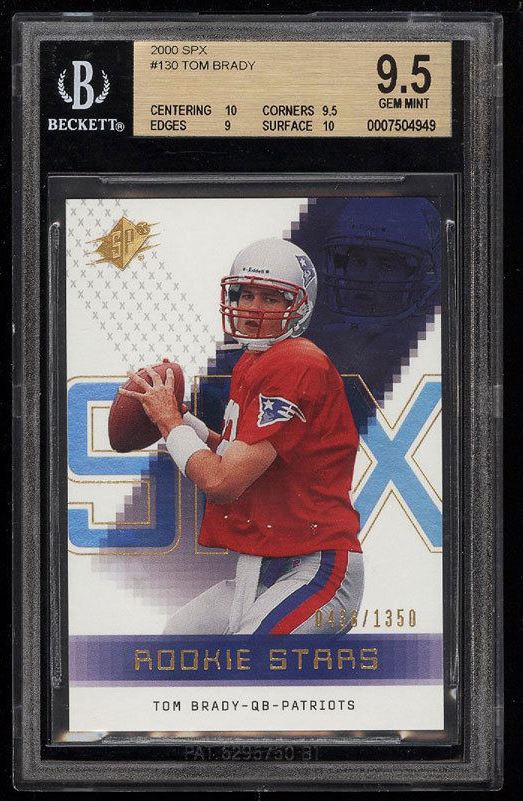 Another rare Tom Brady Rookie Card, this SPX has 1,350 copies. Needless to say, it is one of his most popular cards. Recent sales on eBay include $2,500 for a BGS 9.5 and $1,650 for a BGS 9.
Numbered to 25, the Spectrum parallel  is even more sought after. It sells for over $6,000.
4. 2000 Leaf Limited Tom Brady RC #378 /350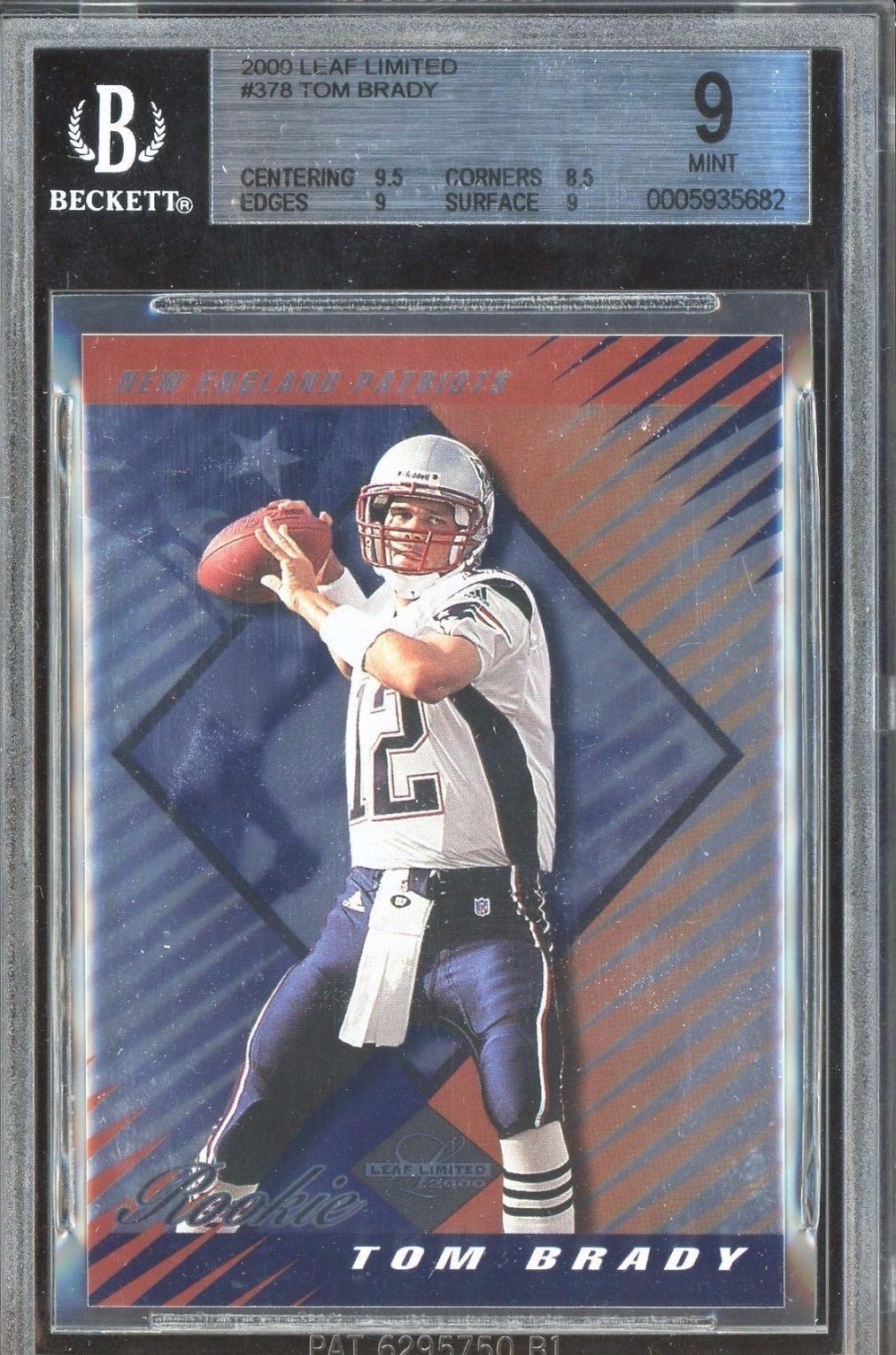 The 2000 Leaf Limited Tom Brady Rookie Card is hard to find due to its low print run of just 350 copies.
Just six have been listed this season on eBay where a BGS 9 sold for $1,720 and PSA 10 went for $4,100.
The Limited Series parallel, which is numbered to 50, has sold for as much as $18,000 (BGS 9.5).
5. 2000 Bowman Chrome Tom Brady Rookie #236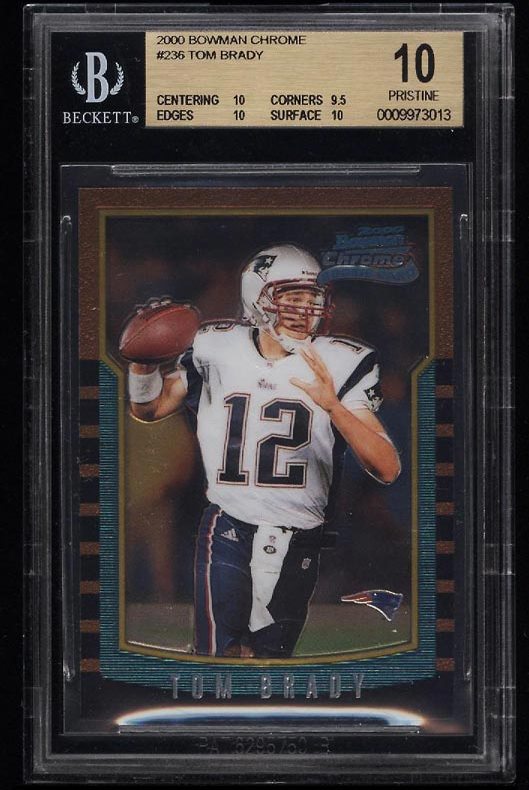 Chrome rookies are some of the most popular cards in the hobby. The same applies to the 2000 Bowman Chrome Tom Brady.
A BGS 10 of this card recently sold on eBay for $3,895. There are currently just 101 total BGS 10s of the key card.
A BGS 9.5 has sold for as high as $985 and has gone up each month this season. Last year after the Super Bowl the card reached over $1,100 in a BGS 9.5. This could very well happen again in 2018.
A PSA 10 copy of the Refractor parallel can sell for $45,000.
Tom Terrific has had quite the career and is one of the most collectible athletes of all time. The Patriots are one of the favorites to win the Super Bowl again this season, which would give Brady six rings.
If he isn't already the greatest of athlete of all-time, would one more Super Bowl victory solidify it? We will wait and see this postseason.