Tom Brady 2000 Playoff Contenders Championship Ticket Sells for Record $2.25 Million
A football card has topped the $2 million mark for the first time. A 2000 Playoff Contenders Championship Ticket Tom Brady autograph sold for $2,252,854.80 including the buyer's premium. The sale came on April 2 through a Lelands Spring Classic 2021 auction.
The card is graded a BGS 8.5 with a 9 for the autograph. The subgrades break down to 9.5 for centering, 8.5 for both corners and edges, and 8 for surface.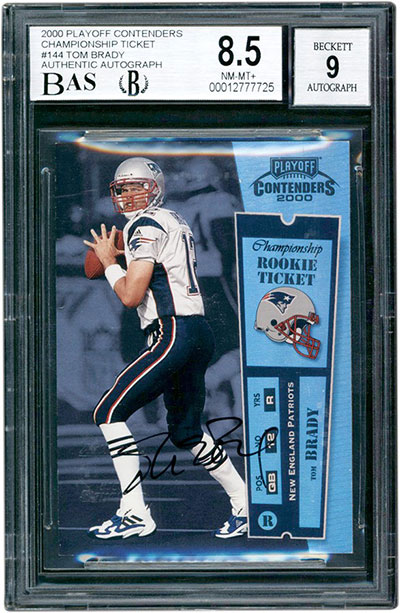 The sale breaks a record set less than a month ago when another copy of the 2000 Playoff Contenders Championship Ticket Tom Brady sold for $1.32 million in a private sale. That copy was graded a BGS 8 with a 10 signature.
The Championship Ticket is a parallel of Brady's most valuable Rookie Card. It has a print run of 100 copies. The world record Lelands sale is copy 099/100.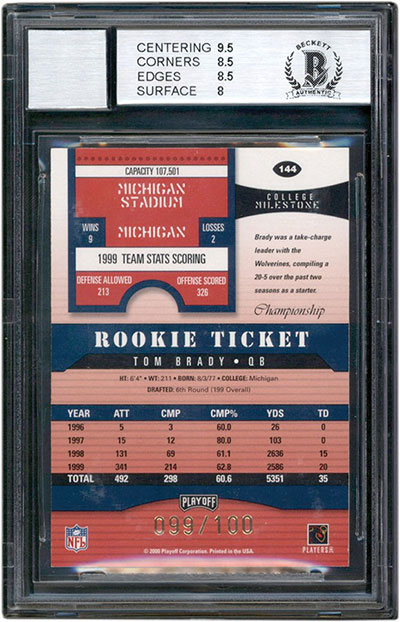 According to the auction description, the card has been sitting in a collection for more than a decade after been purchased off of eBay.
The Brady was one of 11 cards in the Lelands auction to top $100,000. Other cards include a 2003-04 Bowman Chrome Gold Refractors LeBron James /50 BGS 9.5 ($304,770), 2019-20 Panini National Treasures Gold Zion Williamson RPA /10 BGS 9 ($269,549) and a 2019-20 Immaculate Collection Logoman LeBron James 1/1 BGS 9.5 ($191,563).