To rip or not to rip … that is the Ginter question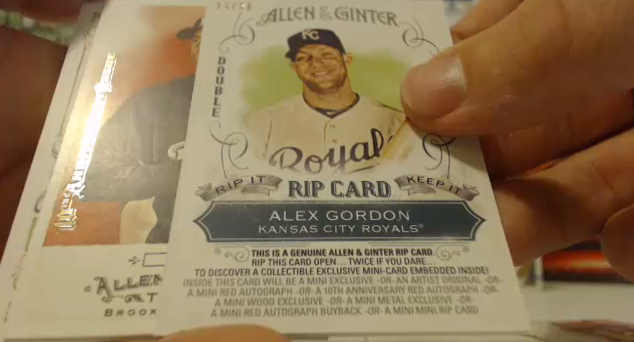 By Chris Olds | Beckett Baseball Editor | Commentary
It's a question that has probably sparked many a debate for collectors during the last decade, and a situation that ultimately comes down to a personal choice about what to do with your cardboard.
With the latest edition of Topps' popular Allen & Ginter line arriving this week, the question arises again with a new batch of Rip Cards and a third helping of Double Rip Cards.
Do you rip it? Do you dare to tear?
The concept isn't unique to Topps' retro brand — it's something that we've seen before in late-1990s Pinnacle cards with oversized releases containing a regular-size card inside. However, the cards back then weren't found one per case and they weren't serial-numbered and among the rarest cards in a brand. Now, though, the debate can be had — and if you're lucky enough to pull a Double Rip then the debate might be twice as tough.
It's one that I am faced with myself.
On the eve of Ginter's arrival, I had decided to visit my local card shop the next day and bust a single hobby box to open on Opening Day. My plan was mostly to do a first-day Box Busters  video but also to get a taste of a brand I have bought perhaps more than any other during the last decade. However, with breaks beginning at midnight for at least one group-breaker, this one being LiveCaseBreaks.com, I decided to watch a case being busted as single boxes. (They sold box by box, figuring a team-style break would not be that appealing to collectors given its eclectic nature and the fact that autographs typically are only found six per 12-box case.)
I watched the first six boxes opened — six boxes purchased by a single collector — but nothing totally wowed me. I like Ginter — even at its worst — but I was still unsure about how this one would shake out.  After the six remaining boxes were set aside, up next was a full case that was ripped and filmed in a single sitting — an early morning marathon that wore out the thumbs of the ripper and probably didn't help that early morning haze for us viewers. I noted what was found in that case, though, and it woke me up when I realized that those six remaining six boxes from the first case had more potential than I thought.
And then I waited to see if they would go. Two more boxes were sold and were ready to be ripped. Knowing that there was still a one-per-case Red Mini pack and at least one Rip Card remaining among the six — along with at least three autographs — I decided to do something I had never done before. I bought a box and let someone else open it, promising to mail the contents to me.  After the two boxes were opened before me with none of the case hits pulled, the pressure was on. I stared down the four boxes on the screen, looking for some odd reason to pick my box. Initially, I selected one box and then made a last-second switch to a different one.
And I'm glad I did.
Once the cellophane wrap was removed on my box and the lid was lifted, my first surprise was there — a one-per-case Red Mini pack where every card inside is serial-numbered to only 40 copies per card. I pulled one of these packs last year and this year my pack was an interesting one with Rocky character Apollo Creed and ESPN's Buster Olney inside along with Albert Pujols. That was a win, but then as the clock ticked deep into the morning the packs began shredding.
My first Relic — if I remember correctly — was Michelle Beadle, a unique card but not anything that topped the box-topper. But then a different surprise appeared.
I pulled the other one-per-case inclusion — a Rip Card — in the same box. The difference on my card? It was a rarer Double Rip meaning there are two mini cards inside the card if I dare to tear.
I watched a Rip Card of Johnny Cueto become scrap and a Hanley Ramirez mini earlier in the night, so I figured I would hold off and film my own Rip Card video for right here on Beckett.com despite the wishes of the chat room members who had dared to watch early into the morning. Interestingly, this is the second time I've pulled a Double Rip as I had a Matt Harvey/Zack Wheeler card limited to only 25 last year.
Last year, Harvey was still hurt at the time I pulled the card so I opted to rip it just like all the other Rip Cards I have pulled since 2006. Although the Double was rarer than all of those who came before it, I figured I had twice as much of a chance at some good stuff inside. Inside that card was a Yu Darvish Mini Rip limited to 25, meaning inside that card was a 1/1 Mini Mini if I chose to tear into the Darvish. That was a tough decision, but I wanted to know what my 1/1 card could be.
It was Clay Buchholz, and it's a card I recently had graded. Considering I tore into a Darvish card (carefully so it still looked good), that find was disappointing.
And it's something that will be in my mind when my 2015 card of Kansas City Royals Alex Gordon and Salvador Perez arrives in the mail along with the rest of my box.
Will I rip the Dual? Yes, without a doubt. What will I find? Who knows. Maybe I'll find a 1/1 Wood Nick Swisher parallel or a Kris Bryant red-ink autograph. Perhaps I'll find another Buchholz or a Harvey. Or, maybe I'll land a Metal Mini and something else. But if there's another Mini Rip inside with another 1/1 Mini Mini inside of that?
Well, that's a tougher call.
—
Loading ...
—
Loading ...
—
Loading ...
—
Chris Olds is the editor of Beckett Baseball and Beckett Sports Card Monthly magazines. Have a comment, question or idea? Send an email to him at colds@beckett.com. Follow him on Twitter by clicking here.