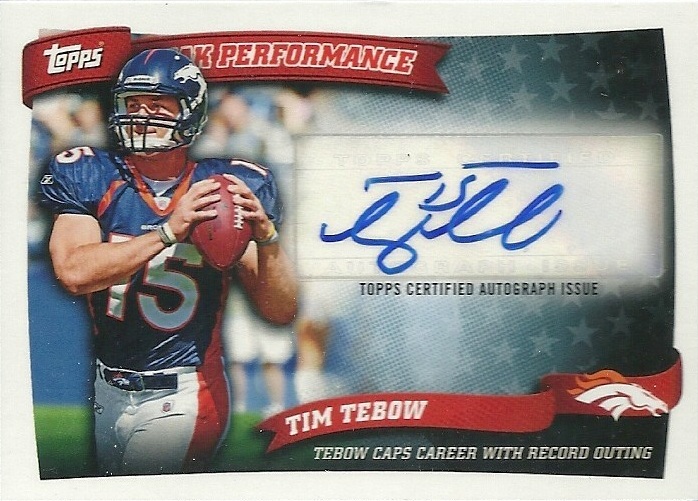 By Susan Lulgjuraj | Beckett Football Editor
Tim Tebow heard the chants. Thousands of fans yelled his name in Denver, calling for him to quarterback the team.
Even after leading the Broncos to the playoffs and winning a game, Denver traded Tebow to the New York Jets, relegated as a backup and stuck on special teams.
Tebow is still popular among fans. Jets fans wear his jerseys on game day and plenty of them root for him to get in games with the Jets at 2-1 and tied for the top of the AFC East this season.
But his popularity hasn't transferred to cards as of late. He was once one of the most collectible players in the NFL with autographs selling for hundreds of dollars.
However, Tebow's cards prices have fallen over the last month – yet some would say too much for a backup quarterback.
His 2010 Topps Peak Performance autographs are a good example of the change in sales. The card has a book value of $50-$100, but in the last week, his autos have fallen even lower than that.
On Sept. 25, one of these cards sold for $38.51 and on Sept. 28, another sold for $46 on eBay. From August 18-27, three of the 2010 Topps Peak Performance autographs sold for $80, $80 and $85, respectively.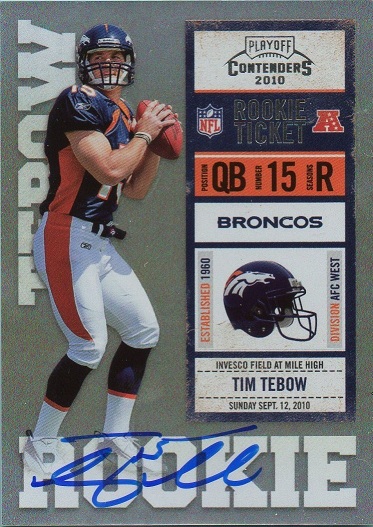 That's a change of about $40 in a month.
Another example is his 2010 Certified #304 jersey/autograph numbered to 299, which has a book value of $75-$135. In August, five of these cards sold at auction for an average of $94.60, including a high of $149 on August 21.
That changed drastically in September. Four sales of 2010 Certified #304 sold for an average of $57.28 with the highest sale at $80.
Most of his cards follow the trend. Low-numbered and high-graded cards still sell well of Tebow. A 2010 Playoff Contenders autograph 1/1 sold for $1,175 and a BGS 9 2010 National Treasures Platinum numbered to 5 sold for $807 recently.
But these cards seem to be the exception with Tebow's cards as of late.
To give one more example, recent sales of his 2010 Playoff Contenders #234 autograph card numbered to 400 followed the same pattern. The white and blue variations fall at the same rate and both have a book value of $90-$175.
In August, five ungraded versions of these cards sold for an average of $112.98, including a sale for $125 on August 23.
September was not kind to these cards though. Four ungraded versions of 2010 Playoff Contenders sold for an average $74.84. The best sale was on Sept. 16 for $93 in the month.
If any collector wanted a Tebow autograph to add to their collection, this seems to be the time to do it
Susan Lulgjuraj is the editor of Beckett Football Monthly. You can email her here with questions, comments or ideas. Follow her on Twitter here.