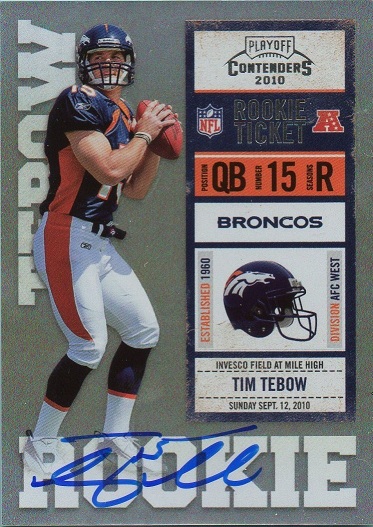 By Susan Lulgjuraj | Beckett Football Editor
The high-profile New York Jets backup quarterback is out.
The Jets released Tim Tebow this morning, according to several media reports, after the team drafted West Virginia graduate Geno Smith in the second round.
That crunching sound you hear is the bottom falling out of Tebow's card values. When it was clear that Tebow would never get a chance in New York, his card values dipped – and it seems they will only get lower.
In a post from September, I studied Tebow's card values and noticed the drop in his 2010 Playoff Contenders card:
To give one more example, recent sales of his 2010 Playoff Contenders #234 autograph card numbered to 400 followed the same pattern. The white and blue variations fall at the same rate and both have a book value of $90-$175.

In August, five ungraded versions of these cards sold for an average of $112.98, including a sale for $125 on August 23.
September was not kind to these cards though. Four ungraded versions of 2010 Playoff Contenders sold for an average $74.84. The best sale was on Sept. 16 for $93 in the month.

Now, cards won't even sell that for that price and the last Contenders sold for $49.99. Over the past month, $50 seems to be the magic number for his Contenders auto.
This is a bad time to be unemployed in football. The three-day draft was just held where team filled voids, including the quarterback slot. One of the few bright notes is that the draft wasn't particularly quarterback heavy and there might be a team willing to take a chance on a player who seems to draw great fan interest.
Where do you think Tebow lands?
In the meantime, check out his full checklist in the Beckett OPG here.
Susan Lulgjuraj is an editor of Beckett Football. You can email her here with questions, comments or ideas. Follow her on Twitter here. Follow Beckett Media on Facebook and Twitter.