Tim Tebow tops latest eTopps offering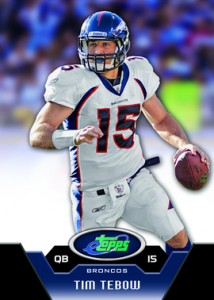 By Susan Lulgjuraj | Contributing Editor
Love him or hate him, NFL fans cannot stop talking about Denver Broncos quarterback Tim Tebow.
However, the undeniable fact is that with him as the starting QB, the Broncos are 7-1. Can Tebow take all the credit? Absolutely not. Luck, bad plays by the opposition and some great kicking are some of the reasons the Broncos are where they are now.
But that doesn't mean collectors aren't going to ride the Tebow wave as long as they can.
That includes card companies. Tebow and New York Giants wide receiver Victor Cruz are this week's offerings on the eTopps website.
There are 999 Tebow cards made and are currently going for $6 each. There are 499 of the Cruz cards, but for only $5.
The cards will be offered until Dec. 19.
Putting in an order doesn't guarantee the cards. At the end of the week, the cards are allocated to different collectors based on availability. The cards are then placed in a portfolio where the prices can be tracked.
Cards in your portfolio can be traded, sold or delivered.
Thirty-three cards have already been offered in this year's eTopps, which includes Tom Brady, Drew Brees and Cam Newton.
Check out more eTopps cards here.
Susan Lulgjuraj is a contributing editor for Beckett Media. You can email Susan here. Follow her on Twitter here.