Even More Tiger King Spoofs in 2020 Topps Garbage Pail Kids Gone Exotic Series 3
How do you know that a show is a phenomenon? Being spoofed as Garbage Pail Kids within a couple weeks of premiering is certainly one metric. And that's exactly what's happened with Netflix's The Tiger King and 2020 Topps Garbage Pail Kids Gone Exotic.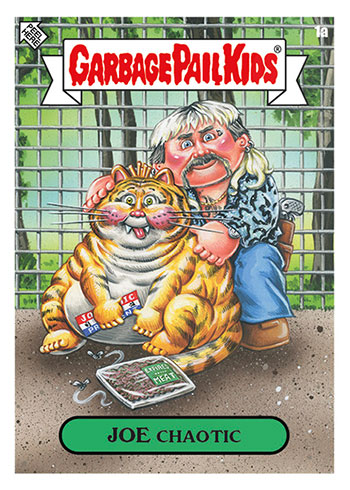 The online-only mini set transforms Joe Exotic, Carole Baskin and others from the show that has no shortage of strange storylines and bizarre moments.
Following the popularity of the initial release, which sold more than 3,000 sets, Topps put out a second one with new gags. That one saw the print run drop by more than 50 percent, however it was good enough to warrant a third and, according to Topps, final installment.
Each series has ten total cards, breaking down to five different illustrations each with A/B name variations.
The cost of each set is $19.99 or $179.99 for a lot of ten. Available for one week each, it's a print-on-demand release. The print run matches the number of sets purchased.
Some of the first Series 1 sets to get delivered contained errors with card fronts only on some then the backs only on others. Not all arrived this way and corrections were sent out to those who received the printing errors.
2020 Topps Garbage Pail Kids Gone Exotic Checklist
Series 1
Print Run: 3,285 sets
1A JOE Chaotic
1B Schmo EXOTIC
2A Judas JAMES
2B Gangsta' GARRETSON
3A JEFF Joke
3B LOWE Point
4A Cool Cat CAROLE
4B Batty BASKIN
5A Disturbing DOC
5B Party Animal ANTLE
Series 2
Print Run: 1,378 sets
6a Humiliated HOWARD
6b Bruised Ego BASKIN
7a Roasted RICK
7b Kindled KIRKHAM
8a ALLEN Assassin
8b Gunman GLOVER
9a Lenient LAUREN
9b LOWE Standards
10a Jazzy JOE
10b Toxic EXOTIC
Series 3
Print Run: 1,193 sets
11a Ortho-JOHN-tist
11b Tooth Fairy FINLAY
12a Political Junkie JOSHUA
12b Don't Vote DIAL
13a Savage SAFF
13b Spiteful SAFFERY
14a Nutty NICOLAS
14b TigerR CAGE
15a TY-Grrr
15b Lounging LEO