Ticket stub for Wilt Chamberlain 100-point game up for auction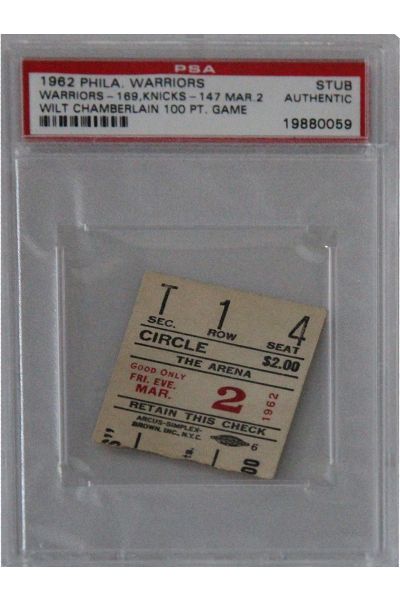 By Susan Lulgjuraj | Beckett Basketball Editor
Thousands and thousands of people have said they were at Wilt Chamberlain's 100-point game.
Way more than the 4,000 or so that actually attended the game in Hershey, Pa. But you can make a claim to being there by winning an auction for a ticket stub in Steiner Sport's Fall Classic Auction.
The opening bid started at $1 – it's up to $21 – but has two weeks to go before the end of the auction.
The ticket has been encapsulated by PSA as authentic.
Chamberlain scored 100 points for the Philadelphia Warriors in a 169-147 win over the New York Knicks on March 2, 1962. There isn't much proof this game existed. There was no video footage and an audio file was finally produced in 1988.
But there were newspaper reports, although scattered, in the Philadelphia and New York newspapers.
According to eyewitnesses, there was a large celebration when Chamberlain reached that triple-digit mark. He hit 36-of-63 field goals and 28-of-32 free throws.
Susan Lulgjuraj is an editor at Beckett Media. You can email her here with questions, comments or ideas. Follow her on Twitter here. Follow Beckett Media on Facebook and Twitter.